Armory
The
Armory
[1]
[2]
is an in-game complement to the Premium Shop, offering items in exchange for in-game currencies. It is available to all players.
Access
The Armory can be accessed in-game by clicking the 'Armory' button in Port, upper left. It can also be accessed directly from a web browser via these links for the English language version: North America  Europe  Asia  (You must be logged in to the WoWS web site to see the Armory in context of your account.)
Legal Tender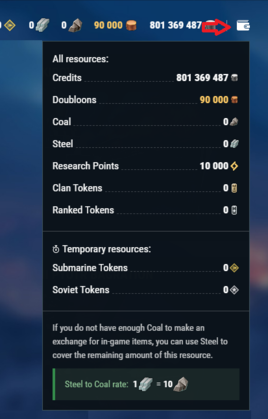 Across the top of the main Armory screen there is a bar displaying the primary currencies available for use in Armory[1] exchanges.
From left to right in the image above, two (temporary) Event Currencies, two Resources (Steel and Coal), Doubloons 

, and Credits 

. At far right is the player's Wallet, displaying all currencies and resources.
Additional currencies may be shown when appropriate to the selected page. For example, Community Tokens on the Naval Community page. (All currencies can be seen in the Wallet.)
Currencies
The displayed currencies can be exchanged for loot, much of which is unavailable elsewhere. Each item or bundle is offered for a single currency (only Steel can convert to Coal during an exchange, but that is rarely advisable). In the few cases that an item can be acquired for more than one currency (e.g. signal flags for either Coal or Credits), the item is listed twice — once for each currency.



Top Bar
Above the Currency Bar is the Top Bar. Click the magnifying glass to find an item by name (this is especially useful for ships). The bell opens a window showing Notifications. 'Coupons' provides access to the Armory coupons (see below). 'Purchase Doubloons' opens the same page as the Doubloons and Premium button on the side bar.
Coupons
Each account starts with a fresh set of coupons. Coupons can be used for a one-time discount on an exchange in the corresponding category. Only one coupon can be used per exchange. For high-ticket items such as ships, this discount can be quite significant.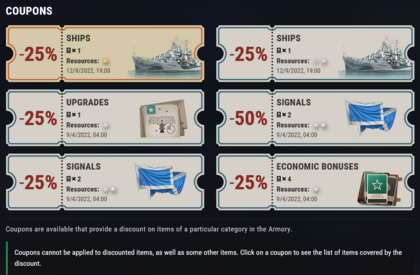 Coupons are periodically refilled, and cannot be stockpiled -- a coupon unused when a refill occurs simply has its refill date updated. Refill frequencies are as follows:
Ships (25% off): 1 coupon each for Resources and Doubloon ships every 6 months.
Upgrades for Coal (25% off): 1 coupon every update.
Signals (50% off): 2 coupons every update.
Signals (25% off): 2 coupons every update.
Economic Bonuses (25% off): 1 coupon every update.
other coupons may appear from time to time.
A coupon refresh need not occur with an update. When an update is delayed, the coupon refresh may occur on the originally projected date.
Loot
Down the left side of the main Armory screen there is a list of categories of items available for exchange. The main categories are described below. Additional categories may appear, notably for events.
Featured
The default page displaying the more popular loot from other pages.
Ships
The many premium ships that can be exchanged for Coal

or Steel

or for Doubloons

[3] appear here. (Coupons are available for ships in this section. See above.) There are filters available to reduce the number displayed. (Or use the Search function on the Top Bar to quickly select a single ship.)
Commanders
Seasoned commanders can be hired for Coal 

or Doubloons 

.
Containers
Containers for certain collections, e.g. Battle of the North Cape Collection, are available for Coal

. With these, a player can complete older, now-inactive collections. Current collection containers may occasionally be available for Doubloons 

or other currencies.
Customizations
This is a notebook with the following six tabs:
Featured
The more popular items from all Customizations tabs.
Economic Bonuses
Levels 1 and 2 expandable economic bonuses can be purchased in lots of 10 for Coal 

. (A coupon is available for loot on this page. See above.)
Upgrades
Special upgrades, e.g. Damage Control Party Modification 1
, can be exchanged for Coal 

. Standard and unique or legendary upgrades are not available here.[4] (A coupon is available for loot on this page. See above.)
Signals
Standard combat and economic signals are available for Coal

. Standard combat signals are also available for Credits

.[5] Signals are bundled in lots of twenty (20). (Coupons are available for loot on this page. See above.)
Camouflages
A selection of camouflages is available for Coal

in lots of twenty (20). Special permanent camouflages for Steel ships are available for Ranked Tokens 

and Clan Tokens 

. Other camouflages may occasionally be available for Doubloons 

or other currencies. (A coupon is available for loot on this page. See above.)
Patches
Backgrounds for personal patches bearing the player's clan hack can be exchanged for Coal 

. Some patches that are no longer granted with daily containers, notably the player design contest winners, are also available for Coal and Doubloons.
A place to spend Community Tokens 

for ships, containers, camos, signals, and other good loot.
Research Bureau
This page appears only if you qualify (five Tier X tech tree ships) for the Research Bureau or have otherwise earned Research Points 

. Here RP can be exchanged for unique ships, Unique Upgrades (for Tier X ships), and signal flags.
Events pages
Mixed types of items may be grouped into an event category. Typically, the items in these categories can be exchanged only for the currencies corresponding to the event, or for Doubloons. In some cases, event currencies can be converted directly to Credits 

or Doubloons 

. There can be more than one event page in the Armory.
Doubloons and Premium
This page is essentially a subset of the Premium Shop where Doubloons and Premium Time can be purchased for cash.
Making the Exchange
To exchange currency for an item or bundle, click on the item. A page bearing the item/bundle description will appear (Read it) with, if there is sufficient of the currency available, a large orange Exchange button. If the item is eligible for a coupon discount, a Use Coupon button will appear directly above it; select the coupon to use. To return to the category page, use the <- Back button in the upper left corner.
To make multiple exchanges easier, a slide counter may appear above the Exchange button. Set the counter to the number of exchanges desired to make them all in one transaction. (Note that Coupons apply only to a singe exchange.)
To initiate the exchange, click the orange Exchange button. You will be asked for confirmation. Exchanges are not conditional or reversible.
Some items may be exchanged only once per account. If you have already obtained the item, it will be greyed out.
Notes