Germany

The Luftwaffe developed its own fighter aircraft doctrine and implemented it consistently. German fighters were mainly designed for achieving superiority in the air by way of specially planned airborne operations and "free hunting."
Preferences were given to aircraft optimized for vertical combat at mid to high altitude. This concept is reflected in the aircraft design of all German tech branches.
---
German fighters have decent health pools and good firepower. Their auto cannons are usually well built and overheat slowly. Most don't maneuver very well though.
German heavy fighters are the only ones in the game until tier 4. They have medium health pools and are high altitude planes.
German attack aircraft Come into play at tier 4, two tiers after the Soviets. They are faster and more maneuverable than the Russian counterparts but have less hitpoints. Fortunately, all of their Attack Aircraft feature rear-gunners except for the second tier 5 Hs 129 B
---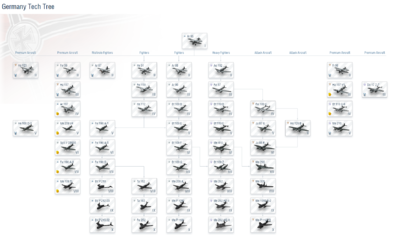 Note that the bomber line is missing here, which should be starting at IV (researched from tier III heavy fighter) up to tier VI.
Fighters
Multirole Fighters
Heavy Fighters
Attack Aircraft
Bombers