IS
IS (Stock)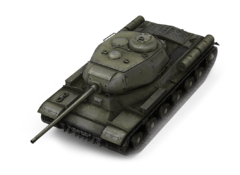 Totals
1424000
Cost
1130 HP
Durability
44.88 / 48.4
Weight
Crew
Commander
Radio Operator
Gunner
Driver
Loader
Armor
120/90/60
Hull Armor

(front/sides/rear, mm)
100/90/90
Turret Armor

(front/sides/rear, mm)
Maneuver
600 h.p.
Engine Power
34 km/h
Top Speed / Reverse Speed
24 deg/s
Traverse Speed
Firepower
200
damage
120 mm
Average Penetration
6.25
Time for Complete Loading
25 deg/s
Gun Traverse Speed
Communication
230 m
View Range
500 m
Signal Range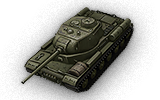 The IS-1 (IS-85) heavy tank was a thorough modernization of the KV-1. The tank featured the 85-mm D-5T gun. The IS-1 entered mass production in October 1943, but work was discontinued at the beginning of 1944, as the IS-2 (IS-122) tank entered mass production in December 1943. A total of 107 vehicles were manufactured.


Turret
| Level | Turret | Turret Armor (front/sides/rear, mm) | Gun Traverse Speed (deg/s) | View Range (m) | Experience | Weight (t) |
| --- | --- | --- | --- | --- | --- | --- |
| VI | IS-85 | 100/90/90 | 25 | 230 | 0 | 7200 |
| Level | Gun | Average Penetration (mm) | | Rate of Fire | Dispersion at 100 m | Aiming Time | Experience | Weight (t) |
| --- | --- | --- | --- | --- | --- | --- | --- | --- |
| VI | 85 mm D-5T | 120/161/43 | 200/200/300 | 9.6 | 0.46 | 2.9 | 0 | 1500 |
| VII | 85 mm D5T-85BM | 144/194/44 | 200/200/300 | 9.22 | 0.37 | 2.9 | 18290 | 1850 |
| VII | 100 mm D10T | 175/235/50 | 280/280/350 | 6.12 | 0.42 | 2.9 | 16500 | 2257 |
| Level | Turret | Turret Armor (front/sides/rear, mm) | Gun Traverse Speed (deg/s) | View Range (m) | Experience | Weight (t) |
| --- | --- | --- | --- | --- | --- | --- |
| VII | IS-122 | 100/90/90 | 22 | 240 | 12200 | 7500 |
| Level | Gun | Average Penetration (mm) | | Rate of Fire | Dispersion at 100 m | Aiming Time | Experience | Weight (t) |
| --- | --- | --- | --- | --- | --- | --- | --- | --- |
| VI | 85 mm D-5T | 120/161/43 | 200/200/300 | 9.6 | 0.46 | 2.9 | 0 | 1500 |
| VII | 85 mm D5T-85BM | 144/194/44 | 200/200/300 | 9.22 | 0.37 | 2.9 | 18290 | 1850 |
| VII | 100 mm D10T | 175/235/50 | 280/280/350 | 6.67 | 0.42 | 2.9 | 16500 | 2257 |
| VII | 122 mm D-2-5T | 175/217/61 | 400/400/500 | 3.53 | 0.46 | 3.4 | 20060 | 2600 |
| VIII | 122 mm D-25T | 175/217/61 | 400/400/500 | 4 | 0.46 | 3.4 | 19000 | 2590 |

Engine
| Level | Engine | Engine Power (h.p.) | Chance of Fire on Impact | Experience | Weight (t) |
| --- | --- | --- | --- | --- | --- |
| VII | V-2IS | 600 | 15 | 0 | 750 |
| IX | V-2-54IS | 700 | 12 | 32500 | 700 |

| Level | Suspension | Load Limit | Traverse Speed (deg/s) | Experience | Weight (t) |
| --- | --- | --- | --- | --- | --- |
| VI | IS-1 | 48.4 | 24 | 0 | 11500 |
| VII | IS-2M | 48.4 | 26 | 8125 | 11500 |

Radio
| Level | Radio | Signal Range (m) | Experience | Weight (t) |
| --- | --- | --- | --- | --- |
| VII | _10RK | 500 | 0 | 100 |
Compatible Equipment
























Compatible Consumables
History for this tank not found
ja:Blitz:IS