T-34-85 Victory
T-34-85_Victory (Stock)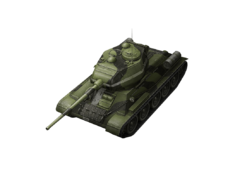 Totals
3300
Cost
930 HP
Durability
33.33 / 35.3
Weight
Crew
Commander
Gunner
Radio Operator
Driver
Loader
Armor
45/45/40
Hull Armor

(front/sides/rear, mm)
90/75/52
Turret Armor

(front/sides/rear, mm)
Maneuver
520 h.p.
Engine Power
54 km/h
Top Speed / Reverse Speed
48 deg/s
Traverse Speed
Firepower
200
damage
126 mm
Average Penetration
7.82608695652174
Time for Complete Loading
46 deg/s
Gun Traverse Speed
Communication
240 m
View Range
500 m
Signal Range
This modernization of the T-34 can be considered a new tank. A total of 21,048 vehicles were produced from 1944 through the end of World War II. The T-34-85 Victory is a holiday version of the traditional T-34-85. The tank features special camouflage.
A special premium version of the T-34-85 made available for a limited time as part of the Victory Day special event. This tank is so far one of the only four tanks in Blitz (Pre patch 2.5) to possess any type of camo or design (The others being the E 25 "#1", Snowstorm Jagdtiger 8,8 and the T34 1776). This tank features a slightly faster ROF compared to the T-34-85, at the expense of less accuracy. Generally considered a quick and versatile tank that is easy to play.
Compatible Equipment
Compatible Consumables
Pros and Cons
Pros:
Decent gun, though lacking good gun depression
Very fast and agile.
Sloped front armor can be angled to a small extent.
Earns a MASSIVE amounts of credits (can be competitive to tier 7-8 premium tanks)
Improved ROF to the regular T-34-85
Cons:
No better than the standard T-34-85
Somewhat of a target due to its special designation.
Accuracy is worse (by 0.02) than the regular T-34-85
Performance
Preforms well in most situations, very adaptable like its standard variant. Can preform well as a scout or support tank, whenever needed. Though its gun is slightly underwhelming, it is dependable. Like the regular tank, the special lacks any sort of armor, this should be taken into account. If you want to earn massive credits for a lower tier tank, this is the tank for you.
Early Research
None, premium.
A T-34-85 modified for the Victory Day event. Otherwise the same.
ko:Blitz:T-34-85 Victory
ja:Blitz:T-34-85 Victory