AT 7
GB75_AT7 (Stock)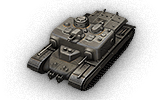 Totals
1400000
Cost
1250 HP
Durability
43.5 / 48
Weight
Crew
Commander
Gunner
Driver
Radio Operator
Loader
Loader
Armor
203.2/101.6/101.6
Hull Armor

(front/sides/rear, mm)
18/16/16
Turret Armor

(front/sides/rear, mm)
Maneuver
395 h.p.
Engine Power
20 km/h
Top Speed / Reverse Speed
20 deg/s
Traverse Speed
Firepower
90
damage
110 mm
Average Penetration
15
Time for Complete Loading
26 deg/s
Gun Traverse Speed
Communication
240 m
View Range
500 m
Signal Range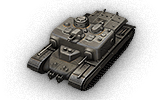 Conceived as an assault breakthrough tank, this design was completed by June 10th, 1943. No complete prototypes were built. However, some parts and components of the AT7 were used in the A39 Tortoise.

Gun
| Level | Gun | Average Penetration (mm) | | Rate of Fire | Dispersion at 100 m | Aiming Time | Experience | Weight (t) |
| --- | --- | --- | --- | --- | --- | --- | --- | --- |
| V | QF 6-pdr AT Gun Mk. V | 110/180/15 | 90/90/100 | 24.18 | 0.37 | 1.7 | 0 | 450 |
| VII | OQF 77 mm AT Gun Mk. II | 148/208/20 | 160/160/200 | 15.78 | 0.32 | 1.7 | 17110 | 681 |
| VII | OQF 17-pdr AT Gun Mk. VII | 171/239/20 | 160/160/200 | 14.74 | 0.32 | 1.7 | 15000 | 826 |
| VIII | OQF 20-pdr AT Gun Type A Barrel | 226/258/42 | 190/190/250 | 11.93 | 0.31 | 2.1 | 16400 | 1242 |

Engine
| Level | Engine | Engine Power (h.p.) | Chance of Fire on Impact | Experience | Weight (t) |
| --- | --- | --- | --- | --- | --- |
| IV | Nuffield Liberty Mk. III | 395 | 20 | 0 | 383 |
| V | Ford GAA | 500 | 20 | 1400 | 708 |
| V | Nuffield Liberty Mk. V | 410 | 20 | 1180 | 383 |

| Level | Suspension | Load Limit | Traverse Speed (deg/s) | Experience | Weight (t) |
| --- | --- | --- | --- | --- | --- |
| VI | AT 7 | 48 | 20 | 0 | 11000 |
| VII | AT 7 Mk. II | 48 | 22 | 8800 | 11000 |

Radio
| Level | Radio | Signal Range (m) | Experience | Weight (t) |
| --- | --- | --- | --- | --- |
| VII | N19Mk2 | 500 | 0 | 40 |
Compatible Equipment




















Compatible Consumables
Pros and Cons
Pros:
Right side mounted gun makes it possible to shoot the enemy while hiding the left side of the hull,
Stock gun is an autoloader
Cons:
Large hatch weakpoint,very slow(easy to flank because of terrible gun arc).
The stock autoloader has TERRIBLE penetration(same as the 152mm AP shells of the KV-2!)
History for this tank not found
ko:Blitz:GB75 AT7
ja:Blitz:GB75 AT7