Paris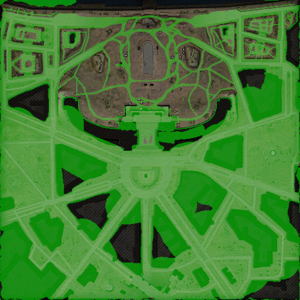 In sight of the Eiffel Tower, the avenues of the City of Lights converge on the Place du Trocadero. It is here, in its heart, that the fate of Paris will be decided.
Battle Strategy
Paris is a map which is typically viewed as one-dimensional, but whose wide open spaces and strange sight lines can create unexpected tactics and breakthroughs.
The focus of attention in the map is at the extreme "south", under and around the bridge; this is where the heavies want to be, fighting it out in close quarters in the pit. Up on the bridge tends to be the domain of mediums and light tank destroyers; fighting around the bridge is always heavy and usually decides the fate of the round. To the left and right of the bridge are the back streets, used to circumvent the central square or provide a fighting defense behind the bridge.
"North" of the bridge in the center of the map is the Place du Trocadero. Cover in the middle of this square is nonexistent, and scarcely better on the streets leading away from it, but the streets are just out of alignment enough that shooting across the entire map is impossible. Any tank trying to cross through the square risks crossfire from multiple angles, but risk can be rewarded with flanking opportunities. Some of the map's few bushes screen the north approaches to the Trocadero.
Directly above the square is the imposing Palais de Chaillon. Its terrace, in the center, can be a crucial point for the match. While there is no cover on the terrace, tanks on it can fire south all the way to the brawl at the bridge (usually to the detriment of the right side force) or north across the gardens. Getting onto the terrace safely can be nerve-wracking, but potentially highly rewarding. The left and right arms of the palace sweep to high embankments with bushes overlooking the gardens, which can be very important.
Above the Palais at the top of the map are the Jardins du Trocadero, in a tragic state of reconstruction due to the war. The yawning open expanse of the gardens provides an ideal killing field for tank destroyers situated in the bushy hills at the corners, with spotting positions for light tanks at the hills closer to the center. Some cover can be found in the ditch on the very top edge, but generally crossing the Jardins is almost suicidally bold. The potential rewards are immense, however, as artillery tends to hide in the upper left and right--a bold stroke could take out the enemy team's support.
Trivia
--The actual Place de Trocadero is not south of the Eiffel Tower, but northwest. --The terrace above the square is the site of one of World War II's most famous photographs, showing Adolf Hitler in front of the Eiffel Tower.
This article is a stub.
You can help the Wargaming wiki by expanding it.