Container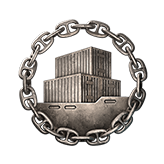 A
Container
is a box (think shipping container) with one or more rewards inside. Containers can be obtained in a number of different ways, depending on the type of container. This feature becomes available to captains starting at
Account Level 5
.
[1]
Sources
Containers can be collected from a variety of sources, including:
Daily containers
Daily containers of known type are also called 'standard' containers. It is possible to obtain a few standard containers by means other than daily XP earnings.
Earning
Players are able to collect up to three Daily Containers per day by earning XP in battles. For the purposes of these containers, a 'day' is the 24-hour period (usually) beginning and ending at 3:00 AM local time. XP from battles is counted at the time the battle ends. During the 'day' modified XP accumulates and earns daily containers.
Note: Containers are earned by modified XP, not by base XP. Bonuses from a Premium Account, camouflage, signals, first-win bonus, and so forth count towards the total.
Collecting
Newly earned daily containers are not yet typed. When each is earned the player may select the type of container by collecting it. To collect, click on the "Containers" button in the port screen. The Containers screen opens. Click the Collect Container button, then select the desired option.
Collected (or pre-typed) containers can be opened at any time: On the Containers screen click the Open Container button.
If a captain accumulates 100[2] unopened containers, adding more will cause the oldest containers to be opened automatically.
At the beginning of the next day, uncollected containers are automatically collected and randomly typed (Try Your Luck cannot occur randomly). The XP accumulator is then reset.
When three or more typed containers accumulate, the option to open them all simultaneously is offered.
Container types
There are four[3] types of daily containers. When a container is collected manually, the player may choose the type:
More Credits
Three items:
50,000 Credits.
More Signals and Camouflages
Three items:
4x standard signals.
The same possibilities as the second item.
More Resources
Three items.
400 Coal 
Try Your Luck
Each daily container has a chance to become a Supercontainer when manually collected. The Try Your Luck (TYL) option is twice as likely to produce a Supercontainer. If one is not produced the award is a Small Container that contains one of the following:
Other rewards
Port Slots
Rarely, a Port Slot may be awarded in any of the above except More Resources containers. The Port Slot is awarded in place of, not in addition to, other contents.[4]
Collection items
Elements of active collections may appear in standard containers. This is in addition to the above rewards. Note that only some collections are eligible for this, and only one collection at a time can be active.
Patches
There is a chance for a Patch symbol or background to appear in a standard container in addition to the above rewards. A duplicate grants 15,000

instead.
Supercontainers
Supercontainers hold much more valuable rewards than standard containers. Every collected daily container has a small chance (~1.5%) to become a Supercontainer. Supercontainers are occasionally awarded directly. Possible contents include:[5]
The more valuable the item (e.g. premium ship), the less likely it is to occur. The same rule applies for the amount: 1,000

is received more often than 2,500

, 25x than 100x special signals, etc.
Ships from a Container
A player's ships are taken into account when a container is collected. If a container includes a Premium ship that the player already possesses, it is replaced by another randomly-selected ship. The player that already possesses all ships obtained via containers receives Doubloons equal to the price of the ship in the collected container. [6]
——  Supercontainer Ship Drop List  ——  
Oil
Oil is obtained when the container is obtained, not when the container is earned. Currently this affects only daily containers. An earned daily container has not been obtained until it is collected. Containers that are auto-collected do not earn Oil.
Event Containers
——  2016 Event Containers  ——  
——  2017 Event Containers  ——  
——  2018 Event Containers  ——  
——  2019 Event Containers  ——  
——  2020 Event Containers  ——  
——  2021 Event Containers  ——  
Recruiting Station Containers
Can be bought using Community Tokens earned, for example, from the recruiting station program.
Junior Recruiting Station Container
Can be bought using 500 Community Tokens. One of the following can be obtained:
Seasoned Recruiting Station Container
Can be bought using 1,500 Community Tokens. One of the following can be obtained:
Veteran Recruiting Station container
Can be bought using 3,000 Community Tokens. One of the following can be obtained:
Notes