Kaga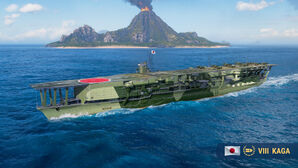 Tech Tree Position
Squadrons under Command
3 

pcs.
Aircraft in Squadron
8 

pcs.
Hangar Capacity
85 

pcs.
200 mm/50 3rd Year Type mod. A
10 х 1 

pcs.
Firing Range
4.5 

km.
Rate of Fire
4 

shots/min.
Reload Time
15 

sec.
HE Shell
203 mm Common Type4 HE 
Maximum HE Shell Damage
3,300 
Initial HE Shell Velocity
870 

m./s.
Chance of Fire on Target Caused by HE Shel
17 

%
127 mm/40 Type89 A1
6 х 2 

pcs.
Firing Range
4.5 

km.
Rate of Fire
12 

shots/min.
Reload Time
5 

sec.
HE Shell
127 mm HE Type0 
Maximum HE Shell Damage
2,100 
Initial HE Shell Velocity
725 

m./s.
Chance of Fire on Target Caused by HE Shel
8 

%
127 mm/40 Type89 A1 mod. 2
2 х 2 

pcs.
Firing Range
4.5 

km.
Rate of Fire
10 

shots/min.
Reload Time
6 

sec.
HE Shell
127 mm HE Type0 
Maximum HE Shell Damage
2,100 
Initial HE Shell Velocity
725 

m./s.
Chance of Fire on Target Caused by HE Shel
8 

%
25 mm/60 Type96 Twin mod. 1
14 х 2 

pcs.
. . . Average Damage per Second
37.8 
. . . Firing Range
2.49 

km.
127 mm/40 Type89 A1
6 х 2 

pcs.
. . . Average Damage per Second
60.6 
. . . Firing Range
5.01 

km.
127 mm/40 Type89 A1 mod. 2
2 х 2 

pcs.
. . . Average Damage per Second
20.2 
. . . Firing Range
5.01 

km.
Maximum Speed
28 

knot
Turning Circle Radius
1 080 

m.
Rudder Shift Time
14.4 

sec.
Surface Detectability Range
12.6 

km.
Air Detectability Range
10.9 

km.
Battle Levels
Kaga — Japanese promo premium Tier VIII aircraft сarrier.
Until the early 1940s, she was one of the biggest aircraft carriers of the Imperial Japanese Navy. Initially laid down as a battleship, she was redesigned during construction to become a carrier. The ship had good armor protection for her type, carried quite numerous air group and powerful secondary battery guns.

Kaga first went on sale on 2 June 2017 on the EU servers, and on 5 June 2017 on the NA servers.


Modules
Compatible Upgrades
 Slot 1 
 Slot 2 
 Slot 3 
 Slot 4 
 Slot 5 
Player Opinion
Performance
Kaga is a Tier VII premium Japanese aircraft carrier. Unlike Saipan's style of having fewer, higher tier aircraft, Kaga instead provided her captain with large numbers of lower tier aircraft. She is able to launch copious amounts of bombers at the enemy team, but must be careful of the anti-aircraft abilities of same and higher-tier ships. Her planes are also slower than other carriers at her tier, meaning they are unable to outrun enemy aircraft and will spend more time under fire by enemy anti-aircraft batteries.
Kaga features a powerful flight module with two potential loadouts. Her default setup allows her to punish anything that has inadequate AA, or has had its AA reduced over the course of the battle. Featuring two fighter squadrons, two torpedo bomber squadrons, and one dive bomber squadron, this configuration provides potentially devastating offensive power; her six-plane torpedo squadrons can push home a punishing strike while her fighters tie up the fighter squadron(s) of the enemy carrier(s). Her second flight module is less attractive, dropping one fighter squadron and one torpedo squadron in favor of two additional dive bomber squadrons. While the drop reticle for her dive bombers is small and getting all bombs to hit enemy capital ships is not difficult, the bombs themselves are very anemic, doing minimal damage and with the lowest fire chance of all carrier-dropped bombs in the game. Her primary flight module is radically more effective at doing what Kaga does best: wrecking enemy surface ships with torpedo strikes.
Like Hiryu — her contemporary in the Japanese tech tree — Kaga's fighters are capable of holding their own if her captain invests in the Dogfighting Expert commander skill and mounts all available fighter-enhancing upgrades. Kaga also has 203mm secondary guns, but as they are secondaries, they are short range and relatively inaccurate, making them more for entertainment value than actual combat.
Captains who purchase relevant fighter and torpedo bomber upgrades and skills while focusing their energy on pushing home torpedo strikes against enemy targets will be happy with their investment in Kaga.
Pros:
Has an unprecedented number of reserve aircraft on deck, enough for at least three full sized strikes on each plane type and significantly more if the player intentionally reduces squadron size.
Kaga carries a powerful secondary armament consisting of several 127mm and 203mm guns.
Is generally durable, with a healthy hp pool and a surprisingly well protected citadel.
Has a 22% torpedo protection damage reduction.
The drops four attacking torpedoes in one run, only matched by Saipan.
He dive bombs can start fires and will exceed AP contemporaries unless the later can score citadels.
Attackers can make up to four passes at a target under ideal conditions. This keeps target spotted for longer.
Drops a superior number of dive bombs in one pass at four compared to Shokakau.
Is deceptively a superior scout to her contemporaries due to the generally expendable nature of her aircraft.
Cons:
Travelling at a speed of 28 knots, Kaga is somewhat slow in comparison to her counterparts.
Kaga is hard to maneuver. The ship has a rudder shift time of 14.4 seconds and a turning circle radius of 1080m.
Kaga's planes can be fragile against higher tier anti-aircraft or other aircraft and generally don't survive clusters of AA even at top tier.
The aircraft are slow, especially in comparison to that of Saipan's.
The Attackers use only two planes per run versus the normal three resulting in less rockets and less kit chance.
Her use of He dive bombs the normal IJN AP means that battleships and relevant cruisers can heal most damage they deal to them. AP dive bombs scoring a large number of citadels can exceed the functional raw damage of her bombs.
Inferior individual torpedo damage compared to other tier eight carriers, unusual for the IJN.
Research
As a Premium ship, Kaga doesn't have any upgrades to research.
Optimal Configuration
Upgrades
The recommended upgrades for Kaga are as follows:
Upgrade Slot 3 is the main choice of upgrades with Kaga. For players looking to improve their fighter's capabilities, Air Groups Modification 2 (

) is highly recommended, especially when using the Type 7 mod. 2 flight control system. Otherwise, the Flight Control Modification 1 (

) helps players land and launch Kaga`s multiple flight squadrons.
Commander Skills
Recommended Commander Skills
Cost
(points)

Endurance

Attack

Support

Versatility



1

 

 

 

 

 

 

 

 



2

★

★

 

★★★

 

 

 

 



3

 

 

★★★

 

★★

 

 

 



4

★

 

 

 

★★

★★

 

★★

Key: ★★★ - Extremely Useful       ★★ - Frequently Useful       ★ - Occasionally Useful      No stars - Not Useful
Consumables
Kaga can equip the following consumables:
Due to Kaga's poor concealment, the premium version of this consumable is recommended in case enemy surface ships decide to focus fire on her with high explosive rounds.
Camouflage
As a Premium ship, Kaga comes included with Type 10 camouflage that lowers her detection radius, reduces the accuracy of incoming shells, and increases the amount of experience she earns.
Signals
As a carrier, Kaga is able to mount a maximum of four signal flags simultaneously. Mounting a November Echo Setteseven (

) is recommended to improve the ship's anti-aircraft defenses as well as her aircraft's rear gunner damage. Juliet Whiskey Unaone (

) flags may also be mounted to improve the flooding chance for the torpedo bombers. India Yankee (

) and Juliet Yankee Bissotwo (

) flags are also recommended to decrease time of fire and flooding recovery respectively. Lastly, economic flags such as Equal Speed Charlie London (

), Zulu (

), and Zulu Hotel (

) can be mounted to improve credit or experience gain per battle.
Recommended Signal Flags
Combat

★★★

★

★★

★★★

★★

 

★★

★

 

★

★★

 

Economic

★★

★

★★★

★★

★

Special

 

 

★★

 

 

 

 

 

Key: ★★★ - Extremely Useful       ★★ - Frequently Useful       ★ - Occasionally Useful      No stars - Not Useful
Gallery
References