Löwe
Lowe (Stock)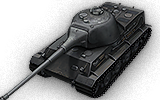 Totals
12500
Price
1650
Hit Points
89.85 / 99.85 kg
Weight
Crew
Armor
120/100/80
Hull Armor

(front/sides/rear, mm)
120/80/80
Turret Armor

(front/sides/rear, mm)
Maneuver
800 h.p.
Engine Power
35 km/h
Speed Limit
24 deg/sec
Traverse Speed
Firepower
320
Standard Shell Damage
234 mm
Standard Shell Penetration
12
Time for Complete Loading
23 deg/sec
Turret Traverse Speed
Communication
400 m
View Range
710 m
Signal Range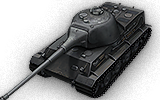 A super-heavy tank blueprint developed by the Krupp company. Several designs, varying in armament and configuration, were drafted. No prototypes were ever built. The vehicle did not undergo any trials.
Designed for sniping, the Löwe is armed with the very accurate 10.5 cm KwK46 L/70, and is paired with a rather decent hull. While not quite as heavily armored as the Pz.Kpfw. Tiger II, it's sufficient to protect it from tier 7 guns. The turret however is heavily sloped allowing it to bounce even high tier guns . The performance of this tank is quite good for its tier, provided that it does not engage in close quarter combat, which is almost certain death for this tank. It has poor acceleration, so any reversal in direction will take some time. As a premium tank, it produces a significantly higher credit income than a typical tier 8 tank. The Löwe was added in the 0.6.4. patch, along with the KV-5 heavy tank.
| | Level | Turret | Weight (t) | Turret Armor (front/sides/rear, mm) | Gun Traverse Speed (deg/s) | View Range (m) |
| --- | --- | --- | --- | --- | --- | --- |
| | VIII | Löwe | 15000 | 120/80/80 | 23 | 400 |
| | Level | Gun | Weight (t) | Average Penetration (mm) | | Rate of Fire | Dispersion at 100 m | Aiming Time |
| --- | --- | --- | --- | --- | --- | --- | --- | --- |
| | IX | 10,5 cm KwK46 L/70 | 3600 | 234/294/60 | 320/320/420 | 5 | 0.33 | 2.86 |
| | Level | Engine | Weight (t) | Engine Power (h.p.) | Chance of Fire on Impact |
| --- | --- | --- | --- | --- | --- |
| | VIII | Maybach HL 234 P 30 Ausf. A | 750 | 800 | 20 |
| | Level | Suspension | Weight (t) | Load Limit | Traverse Speed (deg/s) |
| --- | --- | --- | --- | --- | --- |
| | VIII | Löwe | 22000 | 99.85 | 24 |
| | Level | Radio | Weight (t) | Signal Range (m) |
| --- | --- | --- | --- | --- |
| | IX | FuG 12A | 0 | 710 |
Compatible Equipment
























Compatible Consumables


















Pros and Cons
Pros:
Excellent accuracy
Excellent gun for a tier 8 heavy
Better accuracy and penetration than thr Tiger II's top gun
Very strong gun mantlet (comparable to JagdTiger's superstructure)
Excellent money maker
Cons:
Sluggish
Large size, easy artillery target
Large lower glacis
Easily catch on fire
Tank has under average hp/weight ratio
Performance
"The Lion" is primarily a support tank. Do not use it to lead an attack. It will perform better when fighting from the rear of an attack group, from ambush, or sniping at long range. It shoots accurately, quickly, and painfully. The Löwe suffers from classic German disadvantages: a tendency to easily suffer damage to the engine, and (often as a result) to light on fire. With a top speed of only 35, you might want to consider using high-octane Gasoline. Despite this, the Löwe is very maneuverable, or at least it is when on firm ground.
The Löwe has earned a perhaps undeserved reputation for being piloted by bad players, due to new players often buying this tank without proper previous experience in driving a heavy. Make no mistake - on the whole, the Löwe is an awesome weapon. However it is quite difficult to fulfill its potential. The armor is quite thin for a heavy tank and often even mediums or lower tier heavies will be able to penetrate it. It is strongly advised you get some experience piloting a Pz.Kpfw. VI Tiger before attempting to master the Löwe. Adding equipment will improve this tank's performance considerably.
The development of super heavy tank started as early as 1941, when Krupp started the studies of super-heavy Soviet tanks. In November of 1941, it was specified that the new heavy tank was to have 140mm front and 100mm thick side armor. The vehicle was to be operated by 5 men crew - 3 in the turret and 2 in the hull. This new panzer was to have maximum speed of some 44km/h being powered by 1000hp Daimler-Benz marine engine used in Schnellboot (torpedo boat). The main armament was to be mounted in the turret. The weight was to be up to 90 tons.
In the early months of 1942, Krupp was ordered to start the process of designing new heavy tank designated PzKpfw VII Lowe (VK7201). Its design was based on previous project by Krupp designated VK7001 (Tiger-Maus) and created in competition with Porsche's designs (including first Maus designs). VK7001 was to be armed with either 150mm Kanone L/37 (or L/40) or 105mm KwK L/70 gun. Lowe was to utilize Tiger II's components in order to simplify the production and service.
Designers planned to build two variants of this streamlined vehicle with rear mounted turret. Light (leichte) variant would have frontal armor protection of 100mm and it would weight 76 tons. Heavy (schwere) variant would have frontal armor protection of 120mm and it would weight 90 tons. Both variants would be armed with 105mm L/70 gun and coaxial machine gun. It is known that 90ton schwere Lowe was to have its turret mounted centrally and in overall design resembled future Tiger II. Variants of Lowe were both to be operated by the crew of five. It was calculated that their maximum speed would range from 23km/h (schwere) to 27km/h (leichte). Adolf Hitler ordered that the design Leichte Lowe was to be dropped in favour of Schwere Lowe. Lion was to be redesigned in order to carry 150mm L/40 or 150mm L/37 (probably 150mm KwK 44 L/38) gun and its frontal armor protection was to be changed to 140mm. In order to improve its performance, 900-1000mm wide tracks were to be used and top speed was to be increased to 30km/h. In late 1942, this project was cancelled in favour of the development of the Maus. During the development of Tiger II, designers planned to build redesigned version of Lowe (as suggested by Oberst Fichtner), which would be armed with 88mm KwK L/71 gun and its frontal armor protection would be 140mm (as planned before). Redesigned Lowe would be able to travel at maximum speed of 35km/h and it would weight 90 tons. It was to be powered by Maybach HL 230 P 30, 12-cylinder engine producing 800hp. Lowe would be 7.74 meters long (with the gun), 3.83 meters wide and 3.08 meters high. Lowe would be operated by the crew of five. It was planned that Lowe would eventually replace Tiger II.
From February to May of 1942, six different designs were considered, all based on the requirements for Lowe. On March 5/6th of 1942, order for heavier tank was placed and project Lowe was stopped in July of 1942. Lowe project never reached the prototype stage but it paved the way for its successor's development - Porsche's Maus.
Sources and External Links