Edinburgh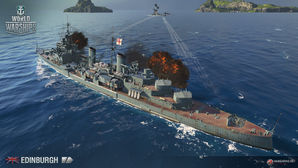 Tech Tree Position
152 mm/50 Mk XXIII
4 х 3 

pcs.
Rate of Fire
8 

shots/min.
Reload Time
7.5 

sec.
Rotation Speed
7 

deg./sec.
180 Degree Turn Time
25.71 

sec.
Firing Range
14.02 

km.
Maximum Dispersion
129 

m.
Chance of Fire on Target Caused by HE Shell
0 

%
AP Shell
152 mm AP 6crh Mk IV 
Maximum AP Shell Damage
3,100 
Initial AP Shell Velocity
841 

m./s.
AP Shell Weight
50.8 

kg.
102 mm/45 QF Mk XIX
6 х 2 

pcs.
Firing Range
5 

km.
Rate of Fire
20 

shots/min.
Reload Time
3 

sec.
HE Shell
102 mm HE 35 lb 
Maximum HE Shell Damage
1,500 
Initial HE Shell Velocity
811 

m./s.
Chance of Fire on Target Caused by HE Shel
6 

%
533 mm TR Mk IV
2 х 3 

pcs.
Rate of Fire
0.83 

shots/min.
Reload Time
72 

sec.
Rotation Speed
25 

deg./sec.
180 Degree Turn Time
7.2 

sec.
Torpedo
533 mm Mk IX* 
Maximum Damage
15,867 
Torpedo Speed
61 

knot
Torpedo Range
8.01 

km.
20 mm Oerlikon Mk IV
8 х 1 

pcs.
. . . Average Damage per Second
28.8 
. . . Firing Range
2.01 

km.
40 mm Vickers 2-pdr. Mk VIII
3 х 8 

pcs.
. . . Average Damage per Second
59.4 
. . . Firing Range
2.49 

km.
20 mm Oerlikon Mk V
5 х 2 

pcs.
. . . Average Damage per Second
30.5 
. . . Firing Range
2.01 

km.
102 mm/45 QF Mk XIX
6 х 2 

pcs.
. . . Average Damage per Second
56.4 
. . . Firing Range
5.01 

km.
Maximum Speed
32.5 

knot
Turning Circle Radius
680 

m.
Rudder Shift Time
13.4 

sec.
Surface Detectability Range
11.7 

km.
Air Detectability Range
8.13 

km.
Battle Levels
Edinburgh — British Tier VIII cruiser.
The most powerful light cruiser in the Royal Navy during World War II. Outrivaled most other same-type ships in terms of armor protection. She inherited powerful main guns from her predecessors. Among other Royal Navy cruisers of the 1930s, Edinburgh carried more powerful AA weapons.
Modules
Compatible Upgrades
 Slot 1 
 Slot 2 
 Slot 4 
 Slot 5 
 Slot 6 
Player Opinion
Performance
Edinburgh will feel familiar to captains progressing up the British cruiser line; her four turrets of triple 152mm barrels are identical to the configuration of her immediate predecessor, Fiji. In point of fact, Edinburgh has only a few upgrades from Fiji, but those upgrades make a measurable difference in her effectiveness.
By now, veterans of the branch are accustomed to having access to the Repair Party consumable. Edinburgh is no different in this regard, though she has access to a much more potent version of the consumable; one that restores as much as 40% of her health pool per use. Neptune and Minotaur have heals of similar effectiveness, meaning that ships at the high end of the Royal Navy cruiser branch can be exceedingly difficult to sink if they are allowed to escape sustained fire with any health remaining. Like her predecessors, Edinburgh has the tools to make good that escape — should it become necessary — through her ability to equip the Smoke Generator consumable. Additionally, Edinburgh is the first ship in the line given access to Surveillance Radar. Though she must give up her access to Smoke Generator in order to have Surveillance Radar available, the combination of radar and Hydroacoustic Search make her an incredibly potent destroyer hunter. Any destroyers that find themselves within 9.0 km of a radar-equipped Edinburgh are in a very vulnerable position.
Her armor is improved over that of Fiji, and while she will stand up to heavy cruiser fire better than her predecessor, Edinburgh will still suffer when under fire from enemy battleships. Her torpedoes gain some extra range and are now capable of reaching targets at ranges out to 10 km, and her anti-aircraft damage per second is nearly double that of Fiji. She is a well-rounded cruiser, but one that must be played very carefully in order to maximize her ability to punish lighter enemy units while minimizing her exposure to fire from enemy capital ships.
Cons:
Armor is largely for show and offers little real protection; incoming rounds larger than 203mm will penetrate Edinburgh easily.
Really only effective against lighter enemy units, such as destroyers and other cruisers. Edinburgh barely registers as a threat to enemy battleships.
Lightly-armored turrets are incapacitated more frequently than many of her contemporaries.
Shortest main battery range of all Tier VIII cruisers.
Research
Hull B should be researched first, as it improves survivability with some sorely-needed hit points and improved rudder shift, as well as reinforcing the AA suite. Next should be the torpedoes; in contrast to Fiji's anemic torpedo upgrade, the extra range greatly increases opportunities for their use. The fire control should be upgraded last, as the ballistics are quite poor near maximum range.
Optimal Configuration
There are a three key choices that dictate how Edinburgh will play: the upgrades in Slots 2 and 6, and which consumable she chooses to go along with Hydroacoustic Search.
Upgrades
Full Concealment Build: Captains who wish to be as stealthy as possible will want to equip Concealment System Modification 1 in Upgrade Slot 6. This gives Edinburgh has the capability - like her Russian counterpart Chapayev - to have a radar range that is equal to or exceeds her detectability radius (assuming her commander also has the Concealment Expert skill). Combined, these two upgrades lower her detection radius to 9.0 km, exactly the same as her radar range. This configuration of Edinburgh is a supreme destroyer hunter; if she is detected by something she can't see, then there's a destroyer already within range of her Surveillance Radar. Upgrade Slot 2 in this configuration is best fitted with Aiming Systems Modification 1 to ensure maximum accuracy against enemy destroyers while they are spotted.
Generalist Build: Players who wish to eschew Surveillance Radar for Smoke Generator will likely want to customize their Edinburgh a little more generally. For a build of this nature, AA Guns Modification 2 is recommended for Upgrade Slot 2 while Concealment System Modification 1 remains a solid choice for Upgrade Slot 6. Stacking Steering Gears Modifications 2 and 3 is also a very good choice for Upgrade Slots 5 and 6 in a more general build of the ship, giving Edinburgh a rudder shift time that has to be seen to be believed.
Commander Skills
Full Concealment Build: Level 4's Concealment Expert is the most important skill an Edinburgh commander can possess in this style of build. Prior to that, key skills are Expert Marksman at Level 2 and Superintendent at Level 3.
Generalist Build: Edinburgh captains that are less concerned with hunting enemy destroyers should invest points in their anti-aircraft suite. Priority Target is recommended at Level 1, as is Manual Fire Control for AA Armament at Level 4 (though Concealment Expert should be the next skill taken). Level 2's Expert Marksman and Level 3's Superintendent remain important skills.
Recommended Commander Skills
Cost
(points)

Endurance

Attack

Support

Versatility



1

★★★

★

 

 

 

 

★

 



2

★

★★

★★★

★

★★

 

★★★

★



3

★

★★

★

 

 

★★★

 

★★



4

 

 

 

 

 

★

★★

★★★

Key: ★★★ - Extremely Useful       ★★ - Frequently Useful       ★ - Occasionally Useful      No stars - Not Useful
Consumables
Players can equip the following consumables on this cruiser: Damage Control Party, Repair Party, Hydroacoustic Search, and a choice between Smoke Generator, Spotting Aircraft, Catapult Fighter, or Surveillance Radar.
At this Tier in the game, Captains who have opted for the Full Concealment Build and are focused on eradicating enemy destroyers should equip Surveillance Radar. All other builds should stick to Smoke Generator for maximum survivability. Catapult Fighter is still not recommended due to the same reason as for the preceding Tier ships, and Spotting Aircraft is not recommended due to the difficulty in shooting at targets at long range, as it is already fairly difficult to hit targets with Edinburgh's current range. Spending doubloons or credits on Repair Party II is highly recommended for the additional charge and reduced cooldown time, as Edinburgh is the first Royal Navy cruiser to have the special "Super Heal".
Camouflage
Type 1, 2, or 5 camouflage can be equipped for credits; Types 2 or 5 are recommended at a minimum to reduce the accuracy of incoming shells.
Players who wish to spend doubloons can equip
Edinburgh
with
Type 18 camouflage
that lowers her detection radius, reduces the accuracy of incoming shells, reduces her repair costs, and increases the amount of experience she earns.
Gallery
Edinburgh fires torpedoes individually at an enemy Yamato class battleship.

Torpedo bombers from an enemy Shokaku commit the attack.

A Shokaku torpedo attack is partially thwarted by Edinburgh's anti-air guns.