Hakuryu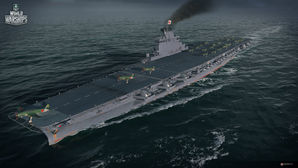 Tech Tree Position
100 mm/65 Type98
12 х 2 

pcs.
Firing Range
5 

km.
Rate of Fire
20.98 

shots/min.
Reload Time
2.86 

sec.
HE Shell
100 mm HE Type98 
Maximum HE Shell Damage
1,700 
Initial HE Shell Velocity
1000 

m./s.
Chance of Fire on Target Caused by HE Shel
6 

%
100 mm/65 Type98
12 х 2 

pcs.
. . . Average Damage per Second
249.6 
. . . Firing Range
5.01 

km.
40 mm/60 Type5
22 х 2 

pcs.
. . . Average Damage per Second
242 
. . . Firing Range
3.51 

km.
Maximum Speed
34.5 

knot
Turning Circle Radius
1 250 

m.
Rudder Shift Time
17.1 

sec.
Surface Detectability Range
15.66 

km.
Air Detectability Range
11.42 

km.
Battle Levels
Hakuryū — Japanese Tier X aircraft сarrier.
An aircraft carrier designed to be an enlarged and enhanced version of the Taiho class. Hakuryu was superior to her predecessor in size, armor and artillery power. Owing to an increased hangar, she could carry the largest air group among all Japanese aircraft carriers.


Modules
Compatible Upgrades
 Slot 1 
 Slot 2 
 Slot 3 
 Slot 4 
 Slot 5 
 Slot 6 
Player Opinion
Pros:
Highest ship speed among Tier 10 aircraft carriers
Very thick flight deck armor, preventing overmatch from even the largest caliber BB guns
All plane types are reasonably fast
Very powerful AP bombs, excellent against virtually all cruisers and battleships
Highest torpedo damage among all Tier 10 aircraft carriers
A full torpedo bomber squadron can attack a target as many as six times in a row
Good concealment
Cons:
Second lowest plane health among Tier 10 aircraft carriers after German carrier, Manfred von Richthofen.
AA defenses are strong, but inferior compared to American counterpart Midway
Weak hull armor and low hitpoint pool, Hakuryu is a fragile ship
Attack aircraft rockets have fairly low penetration and might struggle to damage heavily armored ships
Torpedo bombers drop only two torpedoes per attack run
AP bombs are mostly useless against destroyers
Research
Like other Tier 10 aircraft carriers, Hakuryu does not come elite on purchase. Players are encouraged to prioritize researching dive bombers and torpedo bombers, and leave the attack aircraft for last.
Optimal Configuration
Upgrades
Commander Skills
  Recommended Commander Skills  
Cost
(points)

Attack

Defense

Support



1

 

 

 

★★

 

 



2

★★

 

★★

 

 

 



3

★★

★★

 

★★

★★

 



4

 

★★

 

 

 

 

Key: ★★★ - Extremely Useful      ★★ - Frequently Useful      ★ - Occasionally Useful     No stars - Not Useful
Consumables
Hakuryū can equip the following consumables:
All aircraft carrier consumables are automatically activated.
Attack Aircraft:
Torpedo Bombers:
Bombers:
Camouflage
Type 1, 2, or 5 camouflage can be equipped for credits; Types 1 or 5 are recommended at a minimum to reduce detectability range.
Players who wish to spend doubloons can equip Hakuryū with Type 20 camouflage that lowers her detection radius, reduces the accuracy of incoming shells, reduces cost of post-battle service, and increases the amount of experience she earns.
Alternative space camo is available during Halloween.
Signals
As a carrier, Hakuryū has no risk of detonating. Players should mount Equal Speed Charlie London (

), Zulu Hotel (

), and, for the last two: November Echo Setteseven (

) and Juliet Whiskey Unaone (

).
Recommended Signal Flags
Combat

★★★

★

★★

★★★

★★★

 

★

★

★★

 

 

 

 

 

Economic

★

 

★★★

★★★

 

Special

★

★

★

 

★

 

 

 

Key: ★★★ - Extremely Useful       ★★ - Frequently Useful       ★ - Occasionally Useful      No stars - Not Useful
Gallery