Ashitaka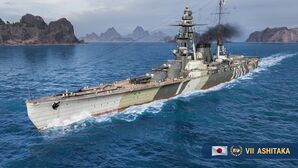 Tech Tree Position
410 mm/45 3rd Year Type in a twin turret
5 х 2 

pcs.
Rate of Fire
1.94 

shots/min.
Reload Time
31 

sec.
Rotation Speed
4 

deg./sec.
180 Degree Turn Time
45 

sec.
Firing Range
19.88 

km.
Maximum Dispersion
227 

m.
HE Shell
410 mm HE Type0 
Maximum HE Shell Damage
6,500 
Chance of Fire on Target Caused by HE Shell
30 

%
Initial HE Shell Velocity
805 

m./s.
HE Shell Weight
938.5 

kg.
AP Shell
410 mm AP/APC Type91 
Maximum AP Shell Damage
12,600 
Initial AP Shell Velocity
806 

m./s.
AP Shell Weight
1020 

kg.
120 mm/45 10th Year Type on a Model C mount
4 х 1 

pcs.
Firing Range
5.6 

km.
Rate of Fire
12 

shots/min.
Reload Time
5 

sec.
HE Shell
120 mm HE Type0 
Maximum HE Shell Damage
2,000 
Initial HE Shell Velocity
825 

m./s.
Chance of Fire on Target Caused by HE Shell
8 

%
140 mm/50 3rd Year Type on a casemate mount
16 х 1 

pcs.
Firing Range
5.6 

km.
Rate of Fire
7.5 

shots/min.
Reload Time
8 

sec.
HE Shell
140 mm HE Type0 
Maximum HE Shell Damage
2,400 
Initial HE Shell Velocity
850 

m./s.
Chance of Fire on Target Caused by HE Shell
10 

%
120 mm/45 10th Year Type on a Model C mount
4 х 1 

pcs.
. . . Average Damage per Second
10 
. . . Firing Range
4.5 

km.
25 mm/60 Type 96 on a triple mount
9 х 3 

pcs.
. . . Average Damage per Second
29.7 
. . . Firing Range
2.49 

km.
25 mm/60 Type 96 on a twin mount
4 х 2 

pcs.
. . . Average Damage per Second
10.8 
. . . Firing Range
2.49 

km.
Maximum Speed
30 

knot
Turning Circle Radius
870 

m.
Rudder Shift Time
14.9 

sec.
Surface Detectability Range
16.76 

km.
Air Detectability Range
10.97 

km.
Battle Levels
Ashitaka — Japanese premium Tier VII battleship.
Ashitaka would have been the fourth battlecruiser of the Amagi-class. She was laid down in 1921 but was never completed; instead, she was cancelled and broken up for scrap in 1924. When launched, Ashitaka would have boasted a very high speed and carried ten 410 mm guns.

Ashitaka was first released for sale worldwide on 1 December 2017.
Modules
Compatible Upgrades
 Slot 1 
 Slot 2 
 Slot 3 
 Slot 4 
Player Opinion
Performance
Warning. The data presented in the AA Defense sidebar section may be incorrect.
For a graphic summary of ships Tiers VIII thru XI see LittleWhiteMouse's "Actual AA DPS".

Veteran captains who worked through Amagi's old Hull (A) before it was removed will have a good idea of what to look forward to when captaining Ashitaka. She follows the same trend as Mutsu, where a ship's original stock hull is removed and presented as a premium one tier lower. Ostensibly, this is what Ashitaka is: a slightly worse Amagi which has been brought down to Tier VII.
Ashitaka has ten 410mm guns mounted in five turrets, in the exact same arrangement as her sister ship, Amagi. However, this is about where the similarities between the two end, and the Ashitaka becomes more comparable to the other Tier VII Japanese battleship, Nagato. Similar to all other battleships from Tiers VI and VII, Ashitaka has 25mm of bow armor plating protection, leaving her vulnerable to overmatch by many battleships at her matchmaking spread. Her main guns represent those of the T8 Japanese Battleship Amagi, firing the same shells however at a slightly longer reload. This makes Ashitaka's broadside one of the most devastating broadside of any T7 Battleship, losing only to the French Lyon which however has a smaller caliber and worse accuracy.
Ashitaka also has the same accuracy as her sister ship Amagi, with identical dispersion and sigma values. She even has the same range, but unfortunately loses the ability to mount a Spotting Aircraft 

. She also has an armor belt extending from just in front of her first gun all the way back to near her aft. While it only covers half of Ashitaka's broadside, this is enough to bounce a good number of shells while angled.
Anyone who enjoys
Amagi
will likely feel at home with
Ashitaka
's play style. Angling into or away from enemies will cause her to become much more survivable, and her guns are good enough. Just watch for cruisers, as HE typically deals a significant amount of damage to her. Also, be very wary of aircraft carriers;
Ashitaka
doesn't have enough AA to dissuade potential strikes, and her long hull makes for a prime target.
Pros:
Like her sister-ship Amagi, Ashitaka boasts an impressive main battery armament of ten 410mm guns.
Long main battery range for her tier at 19.9km.
Main guns are accurate and usually have little trouble hitting distant targets.
Can outrun most other Tier VII battleships with her 30 knot speed.
The ship's main armor belt extends to cover most of the stern, allowing her to tank more effectively when angled away.
Immense broadside firepower; number of shells will frequently guarantee citadel hits against broadside targets.
Tier bully. Tier V's will often not realize the fate they will get if they run up on her.
Research
As a premium ship, Ashitaka doesn't have any upgrades to research.
Optimal Configuration
Upgrades
The recommended upgrades for Ashitaka are as follows:
Upgrade Slot 3 allows for specialization in certain roles. Aiming Systems Modification 1 is a generally viable choice which benefits the main and secondary armaments. Players may also choose to equip Secondary Battery Modification 1

to significantly improve the range and dispersion of the ship's secondary guns. This upgrade is useful for players who wish to maximize damage output in close-range engagements.
Commander Skills
As a battleship, Ashitaka features high detection ranges that make concealment builds not very effective. Thus, damage mitigation builds are recommended. Fire Prevention is extremely useful for reducing incoming fire damage, as well as other survival skills like High Alert, Vigilance, and Basics of Survivability. Ashitaka does not have strong AA, so captain skills for this are less useful.
  Recommended Commander Skills  
Cost
(points)

Attack

Defense



1

★★

 

★

★★

 

★



2

★★★

 

★

★★

★★

 



3

 

 

★★★

★★★

 

 



4

 

 

 

★★★

★★★

★★★

Key: ★★★ - Extremely Useful      ★★ - Frequently Useful      ★ - Occasionally Useful     No stars - Not Useful
Consumables
Ashitaka can equip the following consumables:
Camouflage
As a premium ship, Ashitaka comes with Default permanent camouflage and a set of permanent combat bonuses.
Signals
The Ashitaka, as a Tier VII premium battleship, has a fairly standard set of signal flags that are recommended. Typical to most battleships, India Delta (

) and India Yankee (

) are highly recommended to increase survivability of the ship, while November Foxtrot (

) and Sierra Mike (

) are recommended for better versatility. November Echo Setteseven (

) may also be mounted as well, however that will only boost the meager anti-aircraft armament slightly.
Note: Use of the Juliet Charlie signal makes detonation impossible.
Gallery
References
See here for links to Update notes.

Available for testing by supertesters in the game starting from Update 0.6.13.
First appeared on sale in December 2017.
Update 0.6.15:

A bonus was added to the "Type 10" permanent camouflage: a -10% discount to the cost of post-battle service.

Update 0.7.2:

Players who have collected the "Rewards" sub-collection of the "Yamomoto Isoroku" collection can use an alternate permanent camouflage color.

Update 0.7.6:

Improved display of thin elements on the hull.

Update 0.7.7:

Available in the game client for purchase for doubloons.
Characteristics of the armor-piercing projectile were changed:

Initial speed: 806 instead of 790 m/s.
Damage: 12,600 instead of 12,400.

Update 0.7.11:

Armor-piercing shells of 140-mm secondary battery guns were replaced with high-explosive shells.

Update 0.10.0:

The firing range of the secondary battery was increased to 5.6 km.