Akizuki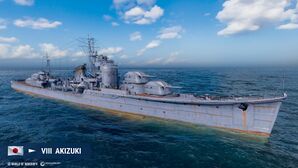 Tech Tree Position
100 mm/65 Type 98 on a Model A mount
4 х 2 

pcs.
Rate of Fire
20 

shots/min.
Reload Time
3 

sec.
Rotation Speed
16 

deg./sec.
180 Degree Turn Time
11.25 

sec.
Firing Range
11.33 

km.
Maximum Dispersion
99 

m.
HE Shell
100 mm HE Type98 
Maximum HE Shell Damage
1,200 
Chance of Fire on Target Caused by HE Shell
5 

%
Initial HE Shell Velocity
1000 

m./s.
HE Shell Weight
13 

kg.
AP Shell
100 mm AP Type98 
Maximum AP Shell Damage
1,700 
Initial AP Shell Velocity
1000 

m./s.
AP Shell Weight
13 

kg.
610 mm Quad
1 х 4 

pcs.
Rate of Fire
0.59 

shots/min.
Reload Time
101 

sec.
Rotation Speed
25 

deg./sec.
180 Degree Turn Time
7.2 

sec.
Torpedo
Type90 mod. 1 
Maximum Damage
17,233 
Torpedo Speed
62 

knot
Torpedo Range
9.99 

km.
100 mm/65 Type 98 on a Model A mount
4 х 2 

pcs.
. . . Average Damage per Second
83.2 
. . . Firing Range
5.01 

km.
25 mm/60 Type 96 on a twin mount
6 х 2 

pcs.
. . . Average Damage per Second
16.2 
. . . Firing Range
2.49 

km.
25 mm/60 Type 96 on a triple mount
1 х 3 

pcs.
. . . Average Damage per Second
3.3 
. . . Firing Range
2.49 

km.
Maximum Speed
33 

knot
Turning Circle Radius
730 

m.
Rudder Shift Time
7.8 

sec.
Surface Detectability Range
7.76 

km.
Air Detectability Range
3.55 

km.
Battle Levels
Akizuki — Japanese Tier VIII destroyer.
One of the most sophisticated destroyers in the Japanese Navy. This ship was specifically designed to provide anti-aircraft defense. Due to her significantly increased dimensions, she was equipped with new dual-purpose main gun mounts that had a very high rate of fire. Among the drawbacks of the ship were the relatively weak torpedo armament and an insufficiently high speed.
Modules
Compatible Upgrades
 Slot 1 
 Slot 2 
 Slot 3 
 Slot 4 
 Slot 5 
Player Opinion
Performance
With Tier VIII Akizuki, the IJN tech tree "gunboat" branch has her first true gunboat — a major departure from the rest of the Japanese destroyer line. She requires a very different approach than the typical ninja-like play style of other Japanese destroyers that attempt to overwhelm their enemies with torpedoes fired from stealth. Akizuki sets the mold for later IJN gunboats.
Akizuki's main battery is comprised of four (4) double 100mm turrets that turn quickly, roughly on par with those found in the middle tiers of the American destroyer line aboard Nicholas, Farragut, and Mahan. She can get all of her guns on target even while maneuvering, and their rate of fire rivals that of Tier X Gearing (although Akizuki's shells do far less damage than Gearing's). Also notable is the initial velocity of those shells: 1000 meters per second. This gives Akizuki's guns a relatively flat arc at close range. They are comfortable to fire and fairly easy to guide on to target. However, her shells lose velocity quickly, and around 10 km they will have a high ballistic arc similar to those of Atlanta. This is not necessarily a bad thing, as it enables her to fire over islands when needed. Her main battery is equally capable of chewing up battleship and cruiser superstructures with armor-piercing rounds or dueling enemy destroyers with high explosive ones. Akizuki's armor-piercing shells are deceptive: individually, they do very little damage, but her rate and volume of fire will ensure AP damage racks up quickly against un-angled targets. Using her AP shells against the flat, broadside hulls of enemy destroyers is likewise a valid option, as the 100mm shells will not over-penetrate them. Thanks to the special HE penetration attributes of the 100mm Japanese gun,[1] use of Inertia Fuse for HE Shells is not required, but captains who do gain the ability to penetrate 37mm of armor.
While her guns are excellent, her torpedo armament is lacking. She mounts only a single quadruple launcher — compared to the double quadruple launchers of Kagero, Shiratsuyu, and Yūgumo — on a relatively long reload of 112 seconds. Akizuki does have access to an improved version of the Torpedo Reload Booster 

consumable without having to give up a Smoke Generator 

— the only Tier VIII tech tree destroyer able to do so. While a build should focus on her guns, Akizuki is quite capable of ruining an unsuspecting captain's day, especially with the Type93 mod. 2 torpedo module. And like Shiratsuyu, her Torpedo Reload Booster 

consumable reloads faster than the one found on most other ships.
Her handling takes some getting used to. She is far slower to respond to helm commands than Japanese destroyer captains will be accustomed to, and her slow top speed is a notable handicap. She will also eat lots of damage due to her large size, although her oversized health pool will help mitigate this problem to some extent. Thanks to her dual-purpose 100mm main battery, her anti-aircraft suite is very good, surpassed only by her successors in the gunboat branch.
Akizuki
requires some adaptation in play, but she's more than capable of dishing out copious amounts of punishment in the hands of a captain who has taken the time to decipher how to play her well.
Pros:
Quick-turning, fast-firing main battery.
Armor-piercing rounds are punishing against broadside ships thanks to her rate of fire.
Excellent HE penetration, even without the IFHE commander skill.
Flat shell arcs in close combat means she will land consistent hits on enemy ships.
Equips a Torpedo Reload Booster  that reduces torpedo reload time to 5 seconds with a fast cooldown.
Decent AA for the tier.
Cons:
HE shells have low damage and fire chance.
Only one torpedo launcher on a long reload.
Slow to accelerate and low top speed for a destroyer.
Handles more like a cruiser than a destroyer; large turning circle and slow rudder shift make Akizuki feel sluggish.
Research
Hull (B) is a huge boost to Akizuki's survivability, and should be researched first. After that, the Fire Control System upgrade to boost her range is probably the best bet, leaving the Torpedo module for last.
Optimal Configuration
Upgrades
The recommended upgrades for Akizuki are as follows:
Akizuki's gunboat play style means that her upgrade modules will look very similar to that of similarly-tiered cruisers and Russian destroyers. Aiming Systems Modification 1 in Slot 3 is one of the best options, though a case can be made for AA Guns Modification 1

. Either Steering Gears Modification 1

or Propulsion Modification 1 should be slotted into Slot 4 either for faster acceleration or better rudder shift.
Commander Skills
  Recommended Commander Skills  
Cost
(points)

Attack

Defense



1

★

 

 

 

★

★★



2

★★

 

 

 

★

★★★



3

★★

 

★★

★★

 

★★



4

★

 

★

 

★★★

 

Key: ★★★ - Extremely Useful      ★★ - Frequently Useful      ★ - Occasionally Useful     No stars - Not Useful
Consumables
Akizuki can equip the following consumables:
Camouflage
Type 1, 2, or 5 camouflage can be equipped for credits; Types 1 or 5 are recommended at a minimum to reduce detectibility range.
Players who wish to spend doubloons can equip Akizuki with Type 18 camouflage that lowers her detection radius, reduces the accuracy of incoming shells, reduces her repair costs, and increases the amount of experience she earns.
Signals
Victor Lima (

) and India X-Ray (

) signal flags will help boost Akizuki's meager fire chance, especially when combined with Demolition Expert. Juliet Charlie (

) should also go along with those flags in order to prevent detonations. Sierra Mike (

) will help make up some of her deficiency in top speed.
Recommended Signal Flags
Combat

★★

 

★★★

★★

★★★

 

★★

★★★

 

 

 

★★★

 

 

Economic

 

 

★★

★

 

Special

 

★

★

 

 

 

 

 

Key: ★★★ - Extremely Useful       ★★ - Frequently Useful       ★ - Occasionally Useful      No stars - Not Useful
Note: Use of the Juliet Charlie signal makes detonation impossible.
Gallery
Akizuki engages an enemy Izumo class battleship with torpedoes and gunfire.
References
See here for links to Update notes.

Available to supertesters in the game starting from Update 0.5.12.
Introduced into the game as a researchable ship in Update 0.5.15.
Update 0.5.16:

The national flag was moved to the stern.

Update 0.6.0:

Armor penetration of high-explosive shells decreased from 19 to 17 mm.

Update 0.6.2:

The national flag was moved from the stern to the mast.

Update 0.6.3:

Base firing range increased from 9,236 to 11,330 m.
Fixed minor visual bugs at low and medium settings.
Fixed the intersection of the torpedo tube with the crane support, added a rangefinder.

Update 0.6.6:

Improved appearance of the ship using a special technology for high-quality rendering of thin elements (mainly rigging).

Update 0.6.8:

The reload time of the Torpedo Reload Booster consumable was reduced:

Torpedo Reload Booster I - from 360 to 240 s.
Torpedo Reload Booster II - from 240 to 160 s.

Update 0.6.12:

Detectability when firing main guns in smoke changed to 2.39 km.

Update 0.6.13:

Fire extinguishing time now 30 s instead of 60 s.

Update 0.7.2:

Players who have collected the "Rewards" sub-collection of the "Yamomoto Isoroku" collection can use an alternate permanent camouflage color..

Update 0.7.6:

Improved display of thin elements on the hull.

Update 0.7.7:

Armor penetration of high-explosive shells increased from 17 to 25 mm.
Detectability by ships increased from 7.56 to 7.76 km.
Detectability after firing main guns in smoke increased from 2.39 to 2.48 km.
Rudder shift time on Hull (B) was increased from 4.8 to 5.8 s.
Rudder shift time on Hull (A) was increased from 6.5 to 7.8 s.

Update 0.8.0:

Minor fixes to geometry and textures.

Update 0.9.2:

Armor penetration of high-explosive shells increased from 24 mm to 30 mm.