Yūdachi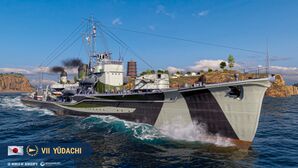 Tech Tree Position
127 mm/50 3rd Year Type mod. C
2 х 2 / 1 х 1 

pcs.
Rate of Fire
6.67 

shots/min.
Reload Time
9 

sec.
Rotation Speed
6 

deg./sec.
180 Degree Turn Time
30 

sec.
Firing Range
11.81 

km.
Maximum Dispersion
103 

m.
HE Shell
127 mm HE Type1 
Maximum HE Shell Damage
2,150 
Chance of Fire on Target Caused by HE Shell
9 

%
Initial HE Shell Velocity
915 

m./s.
HE Shell Weight
23 

kg.
AP Shell
127 mm AP Type0 
Maximum AP Shell Damage
2,200 
Initial AP Shell Velocity
915 

m./s.
AP Shell Weight
23 

kg.
610 mm Quad
2 х 4 

pcs.
Rate of Fire
0.6 

shots/min.
Reload Time
100 

sec.
Rotation Speed
25 

deg./sec.
180 Degree Turn Time
7.2 

sec.
Torpedo
Type90 
Maximum Damage
15,633 
Torpedo Speed
57 

knot
Torpedo Range
15 

km.
40 mm "HI" Type91
2 х 1 

pcs.
. . . Average Damage per Second
11.2 
. . . Firing Range
2.01 

km.
Maximum Speed
34 

knot
Turning Circle Radius
570 

m.
Rudder Shift Time
3.2 

sec.
Surface Detectability Range
7 

km.
Air Detectability Range
3.01 

km.
Battle Levels
Yūdachi — Japanese promo premium Tier VII destroyer.
One of the Shiratsuyu-class destroyers tasked with escorting the major forces of the Japanese Navy and delivering torpedo attacks against enemy ships. The ship carried quadruple torpedo tubes.
Yūdachi was first released for sale on 13 September 2019.
Modules
Compatible Upgrades
 Slot 1 
 Slot 2 
 Slot 3 
 Slot 4 
Player Opinion
Performance
Yūdachi is a Shiratsuyu class destroyer representing the Imperial Japanese Navy at Tier VII. Despite visible similarities between herself and her tech tree counterpart, Yūdachi features many improved features, such as increased torpedo range, hit point (HP) pool, and access to the Torpedo Reload Booster consumable without having to sacrifice her smoke generator.
Overall,
Yūdachi
represents the essential Japanese destroyer play style, wherein players must engage by delivering patient and deliberate strikes.
Yūdachi
features long-range torpedoes and excellent concealment, providing her with an enormous window to fire her torpedoes without being spotted. Her main guns exist purely as a last resort and will be primarily ineffective due to slow turret traverse and reload times. In a situation where
Yūdachi
is spotted, it is recommended that players deploy smoke and return to concealment unless the enemy is at very low health. Even so, with such a small HP pool, it is important to preserve health whenever possible.
Yūdachi
will excel in stalking and hunting enemy capital ships, but it is recommended that players avoid contesting objectives early in the game or straying far from the fleet when there is a threat of encountering aircraft.
Cons:
Very poor main battery DPM and turret traverse speed
Torpedoes have poor speed and are easily spotted
Small hitpoint pool
Worse concealment than techtree counterpart Shiratsuyu
Abysmal AA defenses, very vulnerable to plane attacks
Research
As a premium ship, Yūdachi doesn't have any upgrades to research.
Optimal Configuration
Upgrades
The recommended upgrades for Yūdachi are as follows:
Commander Skills
Key skills for Yūdachi commanders include Survivability Expert, Torpedo Armament Expertise, and Concealment Expert.
Recommended Commander Skills
Cost
(points)

Endurance

Attack

Support

Versatility



1

★★★

★★

 

Χ

Χ

Χ

 

Χ



2

 

 

 

★★

★

Χ

★★

★★★



3

 

★★★

★★★

Χ

 

★★★

 

 



4

 

 

 

Χ

 

 

 

★★★

Key: ★★★ - Extremely Useful      ★★ - Frequently Useful      ★ - Occasionally Useful     No stars - Meh     

Χ

- Not recommended
Consumables
Yūdachi can equip the following consumables:
Camouflage
As a premium ship, Yūdachi comes with Type 10 camouflage that lowers her detection radius, reduces the accuracy of incoming shells, reduces her repair costs, and increases the amount of experience she earns.
Signals
Recommended Signal Flags
Combat

 

 

 

★★★

 

 

★★★

★★★

 

 

 

★★★

 

 

Economic

 

 

 

 

 

Special

 

 

 

 

 

 

 

 

Key: ★★★ - Extremely Useful       ★★ - Frequently Useful       ★ - Occasionally Useful      No stars - Not Useful
Gallery
References