Furutaka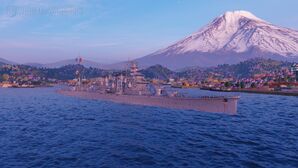 Tech Tree Position
IDS_PJGM144_200MM50_TYPE_E_RF
3 х 2 

pcs.
Rate of Fire
2.73 

shots/min.
Reload Time
22 

sec.
Rotation Speed
6 

deg./sec.
180 Degree Turn Time
30 

sec.
Firing Range
12.62 

km.
Maximum Dispersion
109 

m.
HE Shell
200 mm HE Common Type4 
Maximum HE Shell Damage
3,300 
Chance of Fire on Target Caused by HE Shell
17 

%
Initial HE Shell Velocity
870 

m./s.
HE Shell Weight
110 

kg.
AP Shell
200 mm AP Type5 
Maximum AP Shell Damage
4,500 
Initial AP Shell Velocity
870 

m./s.
AP Shell Weight
110 

kg.
76 mm /40 3rd Year Type on a single mount
4 х 1 

pcs.
Firing Range
4.3 

km.
Rate of Fire
17.14 

shots/min.
Reload Time
3.5 

sec.
HE Shell
76 mm HE Mk2 
Maximum HE Shell Damage
1,300 
Initial HE Shell Velocity
680 

m./s.
Chance of Fire on Target Caused by HE Shell
5 

%
610 mm Quad
2 х 4 

pcs.
Rate of Fire
0.67 

shots/min.
Reload Time
90 

sec.
Rotation Speed
25 

deg./sec.
180 Degree Turn Time
7.2 

sec.
Torpedo
Type8 
Maximum Damage
14,600 
Torpedo Speed
63 

knot
Torpedo Range
6 

km.
76 mm /40 3rd Year Type on a single mount
4 х 1 

pcs.
. . . Average Damage per Second
6.4 
. . . Firing Range
3 

km.
13 mm/76 Type 93 on a twin mount
4 х 2 

pcs.
. . . Average Damage per Second
8 
. . . Firing Range
1.2 

km.
7.7 mm/80 Type 92 on a single mount
2 х 1 

pcs.
. . . Average Damage per Second
3.2 
. . . Firing Range
0.99 

km.
Maximum Speed
34.5 

knot
Turning Circle Radius
750 

m.
Rudder Shift Time
9.2 

sec.
Surface Detectability Range
11.87 

km.
Air Detectability Range
5.78 

km.
Battle Levels
Furutaka — Japanese Tier V cruiser.
A powerful scout cruiser employed to carry out reconnaissance operations and to protect battleship fleets from enemy light naval forces. Furutaka's primary distinction from her predecessors was an enhanced artillery armament featuring a pyramid arrangement of turret mounts.
Modules
Compatible Upgrades
Player Opinion
Performance
The first heavy cruiser within Japan's cruiser tree and one of the first heavy cruisers in the game, Furutaka carries a powerful complement of six 203mm guns after upgrading from the 200mm, allowing her to deal with anything she encounters. While slow-firing, their large caliber and accuracy allows Furutaka captains to deal large amounts of damage in a single salvo. Fully upgraded, her guns have a range of 13.9km, while her torpedoes can hit 10km after researching the improved range. A common tactic is to close in on an isolated target and launch all available torpedoes before turning around to disengage. While she is faster than most cruisers at her tier, she rapidly slows down when turning, as such you will be the most vulnerable when turning to run away from the opponent.
If possible, captain's are recommended to remain undetected, as Furutaka's poor armor prevents her from tanking damage effectively. Avoid getting drawn into a close range gunfight at all costs, as Furutaka will almost always lose. The ship excels most when firing at unsuspecting targets from a distance. Despite her poor armor, playing Furutaka plays more like a strike cruiser rather than a typical heavy cruiser. Often the best way to play the cruiser, especially in higher tier battles, is to find a battleship or destroyer to support.
Furutaka's
weak armor can be compensated for by conducting evasive maneuvers and angling. While her hull can withstand armor piercing shells from other cruisers when angled, most battleships will have little to no problem over-matching most sections of the ship.
Pros:
Very thick central deck armor (48 mm): even the biggest AP shells can ricochet.
Powerful, accurate guns for her tier with large firing arcs on all turrets.
HE shells have a high fire chance, great penetration, and damage.
Superb torpedo bulges that make the citadel rather small.
Powerful torpedoes with good range, speed, and damage.
Torpedo mounts have excellent firing angles compared to higher tier Japanese cruisers.
Fastest turret traverse of all Japanese heavy cruisers.
Reasonable fast with a fast rudder shift time.
Cons:
Very lightly armored for a heavy cruiser, takes large chunks of damage from anything being fired at her.
Due to her larger gun caliber, the ship has a longer reload time than most other cruisers at her tier.
Despite the torpedo protection covering most of the citadel, it is useless against shells fired by ships larger than a destroyer.
Poor main battery firing range at 13.9km.
Stock guns has the 3rd longest reload time of any cruiser in the game at 21 seconds.
The ship's anti-aircraft armament is weak and leaves the ship vulnerable to carrier strikes.
Research
Captains should first research the second main battery module for the reduction in reload time it provides. Then the B Hull for the reconfigured main battery, two more torpedo tubes, better maneuverability, health pool, and better AA suite. Next either the gun range buff or the much better mod.2 torpedoes, depending on whether you value her guns or torpedoes more highly.
Optimal Configuration
Upgrades
The recommended upgrades for Furutaka are as follows:
Commander Skills
The key skills for Furutaka include Grease the Gears at Level 1, Priority Target at Level 2, Adrenaline Rush at Level 3, and Concealment Expert at Level 4. Captains who use the ship's torpedoes often may also wish to invest in one or more of the torpedo skills if they have points remaining after investing in her main guns and concealment. The AA skills, particularly Expert AA Marksman, are almost always a good choice for leftover skill points on cruisers. While Pyrotechnician could be taken at Level 2 to improve her shells' fire chances, her rate of fire is too low to properly take advantage of the relative small boost to fire chance per shell. Captains may also with to invest in Top Grade Gunner to improve the slow rate of fire when they find themselves unable to drop off detection using her concealment.
  Recommended Commander Skills  
Cost
(points)

Attack

Defense



1

★★

★

 

★★

 

★



2

★★

★

 

 

★★

★★



3

 

★

★★★

★

★★

★



4

★

★★

★

 

★★★

 

Key: ★★★ - Extremely Useful      ★★ - Frequently Useful      ★ - Occasionally Useful     No stars - Not Useful
Consumables
Furutaka equips the following consumables:
Signals
Furutaka captains should mount the standard flags to improve the ship's performance in battle. To improve upon the ship's armaments, India X-Ray (

), Victor Lima (

), and Juliet Whiskey Unaone (

) flags are recommended to increase the fire chance and flooding chances respectively. To improve the ship's survivability, captains should mount November Foxtrot (

) and India Yankee (

) flags. Sierra Mike (

) flags are recommended to increase the ship's already high top speed. Lastly, economic and special signal flags can be mounted to improve the ship's economic gains per battle.
Note: Use of the Juliet Charlie signal makes detonation impossible.
Gallery
References
See here for links to Update notes.

Added to the game in Update 0.3.1.
Update 0.3.1.2:

The duration of the Spotting aircraft consumable was increased.

Update 0.4.0:

The Fighter Aircraft consumable was added for use on the top researchable hull.

Update 0.4.0.4:

The "Hydroacoustic Search" consumable was added to the base hull configuration.

Update 0.5.0:

Rudder shift time on the upgraded hull was decreased by 1.1 s.
Type 8 mod 2 torpedoes were added.
The gun modules are now researched sequentially.
Increased 203 mm main battery turret traverse speed from 4 to 5 degrees per second.
Main battery reload time decreased from 17 to 15 s.

Update 0.5.2:

Experience earnings reduced by 7%.

Update 0.5.6:
Performance characteristics were improved for the top hull.
Hull (C) was replaced by a new one, with improved performance characteristics:
Her main guns were reinforced: now the ship is equipped with three twin main turrets (3х2) instead of the previous 6х1 arrangement. Now her new twin main turrets are arranged in a more reasonable and conventional way (two forward turrets and one aft turret) and have higher traverse speed.
Her torpedo tubes were reinforced: 2х4 instead of the previous 2х3 configuration. The new torpedo tubes reload slower, but they can launch one extra torpedo in each torpedo salvo.
New set of AA defenses: 2х2 13mm/76 Type93 Twin, 4x2 25mm/60 Type96 Twin mod. 1, and 4х1 120mm/40 10th Year Type mod. B2/C:

The AA damage within the 1km AA engagement area radius was nullified (3 -> 0 points).
The average AA damage within the 1.2km AA engagement area did not change (7 points).
The average AA damage within the 3.1km AA engagement area was added (0 -> 20 points).
The average AA damage within the 4.5km AA engagement area radius increased by 10 points (from 10 to 20 points).

Hull (В): rudder shift speed and amount of HP now correspond with Hull (C).
The hull will now reflect the landmark modernization of the ship when she had her main gun turrets upgraded. By making this change, we moved the ship a bit closer to later-period Japanese heavy cruisers to better prepare the player for a change in battle tactics.
Added anti-torpedo protection like that of Tier VI Aoba.

Update 0.5.8:

The armor model of the hull was refined.

Update 0.5.10:

Fixed display of the rangefinder.

Update 0.5.11:

Secondary Battery Modification 2 is now available in Upgrade Slot 2.

Update 0.6.2:

The national flag was moved from the stern to the mast.

Update 0.6.3:

Base firing range increased from 11,790 to 12,620 m.
Fixed the operation of the "Manual Fire Control for AA Armament" Skill.

Update 0.6.12:

Detectability when firing main guns in smoke changed to 6.92 km.

Update 0.6.13:

Fire extinguishing time now 30 s instead of 60 s.
Improved display of thin elements.
Minor fixes to ship geometry and textures.
Hull (B): durability of the casemate reduced by 200, durability of the superstructure increased by 200. The change does not affect the HP of the ship in any way.

Update 0.6.14:

The position of the catapult in the stowed position was changed, the guns now elevate over the catapult when shifting the barrels to the other side. The changes do not affect the game balance in any way.

Update 0.7.6:

Improved display of thin elements on the hull.

Update 0.7.10:

The range of the Hydroacoustic Search consumable was unified: 4 km for detecting ships, 3 km for detecting torpedoes.

Update 0.7.11:

Accuracy of the main battery was improved to be similar to that of Zao.

Update 0.8.8:

Fixed a bug due to which the accuracy of the Hull (C) guns was lower than the accuracy of the Hull (A) and (B) guns.

Update 0.10.0:

The firing range of the secondary battery was increased to 4.3 km.

Update 0.10.3:

Hulls (A) and (B) were removed, Hull (C) was renamed to (B). A new base hull was created on the basis of Hull (C) with a modified air defense composition.

Update 0.10.11:

Fixed model and textures of the ship.

Updated 0.11.8:

Fixed the display of the ship's silhouette in the battle interface.