Wakatake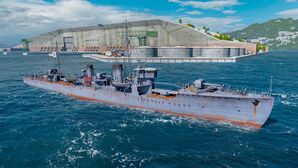 Tech Tree Position
120 mm/45 3rd Year Type on a Model G mount
3 х 1 

pcs.
Rate of Fire
5 

shots/min.
Reload Time
12 

sec.
Rotation Speed
6 

deg./sec.
180 Degree Turn Time
30 

sec.
Firing Range
9.41 

km.
Maximum Dispersion
85 

m.
HE Shell
120 mm HE Type1 
Maximum HE Shell Damage
1,700 
Chance of Fire on Target Caused by HE Shell
7 

%
Initial HE Shell Velocity
825 

m./s.
HE Shell Weight
20.3 

kg.
AP Shell
120 mm AP Type0 
Maximum AP Shell Damage
2,000 
Initial AP Shell Velocity
825 

m./s.
AP Shell Weight
20.3 

kg.
533 mm Twin
2 х 2 

pcs.
Rate of Fire
1.54 

shots/min.
Reload Time
39 

sec.
Rotation Speed
25 

deg./sec.
180 Degree Turn Time
7.2 

sec.
Torpedo
533 mm Type44 mod. 2 
Maximum Damage
9,067 
Torpedo Speed
57 

knot
Torpedo Range
6.99 

km.
6.5 mm/115 3rd Year Type on a single mount
2 х 1 

pcs.
. . . Average Damage per Second
2.4 
. . . Firing Range
0.99 

km.
Maximum Speed
35.5 

knot
Turning Circle Radius
470 

m.
Rudder Shift Time
4 

sec.
Surface Detectability Range
6.12 

km.
Air Detectability Range
2.04 

km.
Battle Levels
Wakatake — Japanese Tier III destroyer.
A small yet well-armed and very fast destroyer. Wakatake carries 533 mm torpedoes with better range than similar munitions used by potential rivals. An unconventional placement of torpedo launchers allows her to fire from the bow sectors.
Modules
Compatible Upgrades
Player Opinion
Performance
Wakatake is a fragile ship, so one would need to keep the concealment distance (6.1 KM) and torpedo range (7 KM) memorized and balance between them. With only 8,200 HP, there isn't much leeway for mistakes, so be sure to only go for a certain attack. Stay away from areas with many ships and attack stragglers. The artillery on the ship isn't the strongest, so the guns should be used on few occasions such as lighting a permanent fire, or when the enemy ship is low on HP and can be killed. It is a very bad idea, worse than usual, to shoot at an enemy if there are multiple enemy ships in the area, if you have not been spotted, or if there are ships that can cut you down at a range i.e. cruisers and battleships. Also, it is important to turn off your AA, as it is literally worthless. Your AA gives away your position to enemy aircraft very quickly at a greater range than aerial spotting range. Also, when using torpedoes, launch them when the enemy is showing their broadside. This will make turning to avoid the torpedoes much harder and will yield greater success.
Pros:
Very agile and maneuverable, can out-run and out-turn almost any ship.
Detection range allows for close range torpedo drops and easy flanking.
The Torpedoes on Wakatake are the strongest at Tier III. Wakatake has the ability to destroy any ship at tier with a perfect salvo.
High speed and good concealment make for a good ship to get these torpedoes on target.
Cons:
Turret rotation cannot keep up with maneuvers. Hard to get a shot off in twisting attacks.
Torpedo range similar to detection range, thus leaving you a small window of attack.
Vulnerable to rudder and engine damage.
Low HP compared to other ships.
Almost no AA.
Has very weak artillery.
Exchanges shorter torpedo range than her predecessor Umikaze for increased damage.
Has fewer hit points than Umikaze.
Research
Wakatake only has one upgrade to research: the hull, which must be researched to unlock Isokaze.
Optimal Configuration
Commander Skills
  Recommended Commander Skills  
Cost
(points)

Attack

Defense



1

 

 

 

 

 

★★



2

 

★★

★★

 

 

★★



3

 

★★

★★

 

 

 



4

 

★★

 

 

★★

 

Key: ★★★ - Extremely Useful      ★★ - Frequently Useful      ★ - Occasionally Useful     No stars - Not Useful
Consumables
Wakatake equips the following consumables:
Camouflage
Type 1, 2, or 5 camouflage can be equipped for credits; Types 1 or 5 are recommended at a minimum to reduce detectability range.
Wakatake also has a permanent camouflage called "Blade", in which she appears as she did during the Halloween scenarios "Saving Translyvania" and "Sunray in the Darkness".
Signals
Recommended Signal Flags
Combat

 

 

★★

★★★

★★

 

 

★★

 

 

 

★

 

 

Economic

 

 

★★★

★

 

Special

 

 

★

 

 

 

 

 

Key: ★★★ - Extremely Useful       ★★ - Frequently Useful       ★ - Occasionally Useful      No stars - Not Useful
Note: Use of the Juliet Charlie signal makes detonation impossible.
Gallery
References

Cite error: <ref> tags exist, but no <references/> tag was found