Ise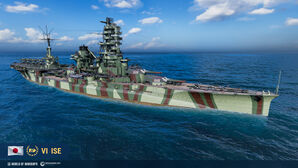 Tech Tree Position
356 mm/45 41st Year Type in a twin turret
4 х 2 

pcs.
Rate of Fire
2 

shots/min.
Reload Time
30 

sec.
Rotation Speed
4 

deg./sec.
180 Degree Turn Time
45 

sec.
Firing Range
21.4 

km.
Maximum Dispersion
238 

m.
HE Shell
356 mm HE Type0 
Maximum HE Shell Damage
5,700 
Chance of Fire on Target Caused by HE Shell
25 

%
Initial HE Shell Velocity
805 

m./s.
HE Shell Weight
625 

kg.
AP Shell
356 mm AP Type91 
Maximum AP Shell Damage
10,200 
Initial AP Shell Velocity
775 

m./s.
AP Shell Weight
673.5 

kg.
127 mm/40 Type 89 on a Model A1 mount
8 х 2 

pcs.
Firing Range
4.96 

km.
Rate of Fire
12 

shots/min.
Reload Time
5 

sec.
HE Shell
127 mm HE Type0 
Maximum HE Shell Damage
2,100 
Initial HE Shell Velocity
725 

m./s.
Chance of Fire on Target Caused by HE Shell
8 

%
127 mm/40 Type 89 on a Model A1 mount
8 х 2 

pcs.
. . . Average Damage per Second
80.8 
. . . Firing Range
5.01 

km.
25 mm/60 Type 96 on a triple mount
31 х 3 

pcs.
. . . Average Damage per Second
102.3 
. . . Firing Range
2.49 

km.
25 mm/60 Type 96 on a single mount
11 х 1 

pcs.
. . . Average Damage per Second
19.8 
. . . Firing Range
2.49 

km.
120 mm AA Rocket
6 х 30 

pcs.
. . . Average Damage per Second
49.2 
. . . Firing Range
4.8 

km.
Maximum Speed
24.5 

knot
Turning Circle Radius
750 

m.
Rudder Shift Time
14.8 

sec.
Surface Detectability Range
15.36 

km.
Air Detectability Range
9.84 

km.
Battle Levels
Ise — Japanese promo premium Tier VI battleship.
A unique hybrid ship that combines the features of a battleship and an aircraft carrier. Initially built as a version of the preceding Fusō class, Ise underwent extensive reconstruction in the 1940s. Some of the ship's main battery turrets were replaced by an aircraft hangar, surmounted by a flight deck.
Ise was released for sale on 4 June 2021.
Modules
Compatible Upgrades
 Slot 1 
 Slot 2 
 Slot 3 
 Slot 4 
Player Opinion
Performance
Ise is a unique hybrid battleship and aircraft carrier at tier VI. She carries torpedo bombers on her flight deck and features eight long-range 356mm main battery guns on her hull.
Armament:
Ise is armed with eight 356mm/45 41st Year Type guns housed in 4 twin turrets. These are the same guns found on battleships Fuso and Hyūga. The difference is the lower salvo weight of 8 total shells per salvo and worse reload at 30 seconds base. While she fires the same shells, her theoretical AP/HE damage output is low. The mediocre dispersion of Fuso and Hyūga's shells are present on Ise, except she does not get the salvo weight that usually makes up for the poor dispersion. Due to her massive flight deck, her guns have horrible firing angles that expose her side as well as the weak flight deck. She has a high base firing range of 21km but does not gain access to a spotter plane.
Ise is a hybrid battleship that gains access to aircraft, specifically Aichi M6A2 Seiran torpedo bombers. There are 4 planes per squadron that drop 2 torpedoes per plane, for 8 torpedoes in total. These planes have 1820 hp per plane and have a top speed of 140kts. These torpedoes deal minimal damage, with an alpha strike of 2767 damage and a 17% chance of flooding. For maximum damage efficiency, these torpedo bombers should be used on broadside targets to hit as many torpedoes as possible.
These planes are not only useful for dealing damage to distracted targets, but for spotting enemy ships. While the planes have minimal health, they can be used to spot capital ships from long distances and smaller targets for the limited period the planes are alive.
When using these torpedo bombers, players cannot manually control the hull of Ise and cannot use consumables during the squadron's flight period. The torpedo bombers have a 120s restoration time. This cooldown timer begins as soon as the planes are launched.
Hull:
Ise's armor scheme is comparable to that of Hyūga's, just weaker in certain places. Ise's hull features a 26mm bow and stern, as well as 35mm deck armor. While her overall armor is good for her tier, there are many parts of her armor that function as shell traps that can suffer full penetrations. Her stern has been converted into a flight deck, which is entirely 26mm and features many flat areas without angles that allow full penetrations from AP shells.
While her armor prevents 356mm AP shells from overmatching (which protects her from most tier 6 battleships), higher caliber guns will overmatch her armor. Her large bow and flight deck allow high penetrating HE shells to damage her. Her citadel is below the waterline, however, it is not recommended to show large amounts of broadside. Her hull has decent maximum concealment of 13.8km which allows her to play a bit closer to the enemy. While her armor is not particularly amazing, she has a good health pool of 58,700.
Maneuverability:
Ise is a slow battleship with a base top speed of 24.5kts. Her rudder shift time and turning radius are decent, at 14.76s and 750m respectively. Positioning is important on Ise due to the poor top speed not allowing for fast relocation. However, thanks to her long range and access to torpedo bombers, her slow repositioning speed is not as much of a downside as it is to other battleships.
Anti-Aircraft:
Ise's AA DPS is good for tier VI battleship AA. However, it is not enough to stop entire strikes from tier VI and VIII aircraft carriers. As with many ships, players must group up and overlap AA battery auras in order to discourage and stop repeated carrier strikes.
Battle Performance:
While Ise is a different type of battleship armed with aircraft and main armaments, she still plays like a traditional Japanese battleship. She provides medium to long-range fire support with the addition of torpedo bombers every 2 minutes. While the torpedoes do not deal much damage, they provide spotting to allied teammates as well as the potential for setting crossfires against distracted targets. The potential chance to flood targets will yield extra damage or put targets damage control on cooldown. Due to her mediocre armor scheme, no control of her hull during squadron flight time, and horrible firing angles, she is limited to medium and long-range fire support.
Ise
is a battleship with lower damage output from her main battery guns but greater battle impact with potential spotting and crossfire ability with her torpedo bombers.
Pros:
High HP pool
Largest guns in the game with high penetration, alpha damage, and overmatch
Fast reload
Decent AA DPS
Research
As a premium ship, Ise has no upgrades to research.
Optimal Configuration
Upgrades
Recommended upgrades for Ise:
In Slot 3 take Aiming Systems Mod only if the commander has the Grease the Gears skill. Otherwise take Main Battery Modification 2
. Mounting MBM2 together with the skill is also reasonable.
In Slot 4 Steering Gears Modification 1
might help turning to allow the main battery to respond to a surprise in the aft quadrants.
Commander Skills
The recommended skills are the same as those for Fuso — maximum survivability — since no carrier skill applies to Ise.
  Recommended Commander Skills  
Cost
(points)

Attack

Defense



1

★★

 

★

★★

 

★



2

★★★

 

★

★★

★★

 



3

 

 

★★★

★★★

 

 



4

 

 

 

★★★

★★★

★★★

Key: ★★★ - Extremely Useful      ★★ - Frequently Useful      ★ - Occasionally Useful     No stars - Not Useful
Consumables
Ise equips the following consumables:
Ise's aircraft squadrons have no squadron Consumables, such as Patrol Fighters.
Camouflage
As a premium ship, Ise comes with Default permanent camouflage and a set of permanent combat bonuses.
Signals
Note: Use of the Juliet Charlie signal makes detonation impossible.
Gallery
References
See here for links to Update notes.

Available for testing by supertesters in the game starting from Update 0.9.10.
First appeared on sale in Update 0.10.4.
Update 0.10.5:

Fixed a bug due to which torpedo bombers twitched during takeoff.

Update 0.10.10:

Minor fixes to geometry and textures of the ship.

Update 0.11.1:

Incorrect aiming angles of the third turret were fixed.

Update 0.11.8

Minor fixes to geometry and textures of the ship.