Ranger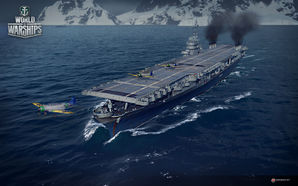 Tech Tree Position
127 mm/25 Mk19 mod. 6
8 х 1 

pcs.
Firing Range
4.5 

km.
Rate of Fire
13.33 

shots/min.
Reload Time
4.5 

sec.
HE Shell
127 mm HE/HC Mk36 
Maximum HE Shell Damage
1,800 
Initial HE Shell Velocity
657 

m./s.
Chance of Fire on Target Caused by HE Shel
9 

%
12.7 mm Browning M2 mod. 2
24 х 1 

pcs.
. . . Average Damage per Second
91.2 
. . . Firing Range
1.2 

km.
28 mm/75 Mk2 mod. 2
6 х 4 

pcs.
. . . Average Damage per Second
13.8 
. . . Firing Range
2.4 

km.
127 mm/25 Mk19 mod. 6
8 х 1 

pcs.
. . . Average Damage per Second
58.4 
. . . Firing Range
4.2 

km.
Maximum Speed
29.5 

knot
Turning Circle Radius
1 010 

m.
Rudder Shift Time
15.9 

sec.
Surface Detectability Range
14.22 

km.
Air Detectability Range
10.66 

km.
Battle Levels
Ranger — American Tier VI aircraft сarrier.
The first U.S. aircraft carrier of special construction. The ship carried a large air group. The carrier's speed was quite high for her type. Her drawbacks included a lack of torpedo protection and impractical arrangement of aircraft elevators, which slowed down the handling of air groups.


Modules
Compatible Upgrades
 Slot 1 
 Slot 2 
 Slot 3 
 Slot 4 
Player Opinion
Performance
Ranger is the first taste of high-tier carrier play in the American carrier line. She is much faster than the Langley making positioning of the ship much easier. Also, it is the first time where players have access to the Fighter consumable that can provide anti-air support and limited spotting for the team.

HE bombs are highly effective against destroyers and light cruisers of this tier. Players should start practicing HE drops on destroyers as it becomes the cornerstone for success in high tier games. Torpedo bombers drop two torps per attack, allowing the player to enjoy a higher damage output than before. Since battleships of this tier are slow, players can easily practice their drops against these targets. Fighters are also effective against destroyers, but yet lack to do much damage against battleships. Players are advised to use HE bombs and torpedoes against battleships.
Pros:
Good plane health pool
Good HE bombs, effective against all ship types
Better maneuverability of the carrier itself, allowing for easier positioning
Good AA suite.
Cons:
Detected very easily.
Practically no armor — only 25mm at the thickest point — allowing for easy citadel hits and breaking of modules.
Extremely clumsy to maneuver, with a 15.9 second rudder turn time.
Slow torpedoes with short range.
Slow planes compared to its counterpart Ryujo
Research
Upgrade to SB2U Vindicator (Dive Bombers)
Upgrade to F4F Wildcat (Rocket Attack Aircraft)
Upgrade to TBD Devastator (Torpedo Bombers)
Upgrade to Hull(B) for better AA and hitpoints of the CV itself
Proceed to the Lexington
Optimal Configuration
Upgrades
The recommended upgrades for Ranger are as follows:
Commander Skills
As the planes are slow, players would want to invest in increasing engine boost time and aircraft speed. Torpedo acceleration would help but would need players to drop at point blank range, which can be challenging even for experienced players.
Recommended Commander Skills
Cost
(points)

Endurance

Attack

Support

Versatility



1

★

Χ

Χ

★★★

 

★★★

Χ

★★★



2

★

 

Χ

★★

Χ

★★★

 

Χ



3

 

★★★

Χ

★★★

★

 

 

Χ



4

Χ

 

Χ

★★★

 

Χ

Χ

★★

Key: ★★★ - Extremely Useful      ★★ - Frequently Useful      ★ - Occasionally Useful     No stars - Meh     

Χ

- Not recommended
Consumables
The consumables available for the ship and each plane type for Ranger is as follows:
Ship
Attack Aircraft
Torpedo Bombers
Dive Bombers
Camouflage
Type 1, 2, or 5 camouflage can be equipped for credits; Types 1 or 5 are recommended at a minimum to reduce detectibility range.
Players who wish to spend doubloons can equip Ranger with Type 17 camouflage that lowers her detection radius, reduces the accuracy of incoming shells, reduces her repair costs, and increases the amount of experience she earns.
Signals
In the past, all carriers could only mount at most four signals at a time. This is not longer the case, Ranger can mount 8 total Signals.
As a carrier, Ranger has no risk of detonating. As such, the signal (

) should be disregarded for this ship.
Players should mount Equal Speed Charlie London (

) for 50% XP gain, Zulu Hotel (

) for 50% Commander XP gain, November Echo Setteseven (

) increased AA damage, Mike Yankee Soxisix (

) secondary battery range & firing buff, Juliet Whiskey Unaone (

) flooding chance increase (Very useful), India-X-Ray (

) fire chance increase, Victor Lima (

) large fire & flooding chance increase, and India Yankee (

) for faster fire dissipation.
These signals are to buff the ship performance while gaining a fair bonus of XP.
Players can also choose to equip the Dragon Signal (

) instead of Zulu Hotel (

) signal the for faster commander (re)training.
Having a high leveled Captain while playing Carrier can give you an edge over other Captains.
Gallery
References