Shiratsuyu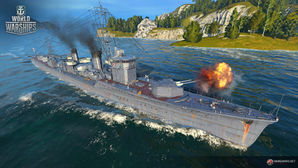 Tech Tree Position
127 mm/50 3rd Year Type mod. C
2 х 2 / 1 х 1 

pcs.
Rate of Fire
8 

shots/min.
Reload Time
7.5 

sec.
Rotation Speed
6 

deg./sec.
180 Degree Turn Time
30 

sec.
Firing Range
10 

km.
Maximum Dispersion
97 

m.
HE Shell
127 mm HE Type1 
Maximum HE Shell Damage
2,150 
Chance of Fire on Target Caused by HE Shell
9 

%
Initial HE Shell Velocity
915 

m./s.
HE Shell Weight
23 

kg.
AP Shell
127 mm AP Type0 
Maximum AP Shell Damage
2,200 
Initial AP Shell Velocity
915 

m./s.
AP Shell Weight
23 

kg.
610 mm Quad
2 х 4 

pcs.
Rate of Fire
0.64 

shots/min.
Reload Time
94 

sec.
Rotation Speed
25 

deg./sec.
180 Degree Turn Time
7.2 

sec.
Torpedo
Type8 mod. 2 
Maximum Damage
16,267 
Torpedo Speed
59 

knot
Torpedo Range
9.99 

km.
25 mm/60 Type96 mod. 1
4 х 1 

pcs.
. . . Average Damage per Second
7.2 
. . . Firing Range
2.49 

km.
Maximum Speed
34 

knot
Turning Circle Radius
590 

m.
Rudder Shift Time
4.4 

sec.
Surface Detectability Range
6.66 

km.
Air Detectability Range
2.78 

km.
Battle Levels
Shiratsuyu — Japanese Tier VII destroyer.
Developed from the Hatsuharu-class destroyers and equipped with more powerful torpedo armament; however, the ship was slightly slower than her predecessors. She was the first of the Japanese fleet destroyers to be equipped with quadruple torpedo tubes.


Modules
Compatible Upgrades
 Slot 1 
 Slot 2 
 Slot 3 
 Slot 4 
Player Opinion
Performance
Tier VII's Shiratsuyu is an improvement upon Hatsuharu in a few small but notable ways.
The first is Shiratsuyu's main battery guns. She has one more barrel than her immediate predecessor, carrying 5 guns with a longer range. Due to the stealth fire changes of patch 0.6.3, she can no longer fire from stealth. However, she still can and will pose a significant threat to other destroyers, should her captain decide to use her guns. They boast high alpha strike potential that can take rather large chunks out of enemy destroyers, though the rather long reload time prevents her from winning prolonged gun fights against gunboat destroyers. The high fire chance also equals that of Vauquelin's. Combined with above average damage per shell and excellent concealment, Shiratsuyu is more than capable of finding and ambushing crippled destroyers, finishing them off with her main battery. Otherwise, her guns should really only be used when in smoke, when you are able to break line of sight quickly by ducking behind an island, or when in situations where you are able to receive adequate support from your team without the threat of significant return fire.
Her improved torpedo armament is also of note. Shiratsuyu moves from the two triple-tube launchers found on Hatsuharu to a pair of quadruple-tube launchers. She can also upgrade to the Type 90 torpedo if desired, increasing the punch and speed of her fish. Shiratsuyu also gains access to an improved version of the Torpedo Reload Booster consumable, that forces her tubes to reload in only 5 seconds, and has a cooldown 240 seconds when compared to the 360 seconds of other ships with this consumable. In addition, the consumable reloads in a blistering 160 seconds, the fastest of any other version of the consumable. Unfortunately, she must give up her Smoke Generator to equip the Torpedo Reload Booster. Using the consumable allows Shiratsuyu to put up to 16 torpedoes into the water in a very short amount of time.
While she retains Hatsuharu's low detection radius, her anti-aircraft suite actually gets worse. Shiratsuyu's speed and rudder shift performance are also a downgrade; while the latter is not really noticeable, the former definitely is. She is highly vulnerable to enemy aircraft and gunboat destroyers that are faster than she is (such as Sims, Kiev, or Leningrad).
Nonetheless,
Shiratsuyu
is a well-rounded Tier VII destroyer with excellent torpedoes and guns that are more than capable of contributing to her damage output when used judiciously in the right situations.
Pros:
Much improved main battery guns over Hatsuharu: more barrels and longer range. HE shells can hit rather hard against enemy DDs with a rather decent fire starting chance for a destroyer.
Larger torpedo armament than Hatsuharu, as well: two quadruple-tube launchers (compared to two triple-tubes).
Can equip much better torpedoes than her predecessors. Shiratsuyu's fish travel faster and hit harder.
First destroyer in the alternative destroyer line with access to a version of the Torpedo Reload Booster consumable with a 160 second cooldown, the shortest of any version of the consumable.
Second best detection radius at her tier (6.7 km), beaten only by Haida (6.5 km).
Cons:
Weak anti-aircraft suite is even worse than Hatsuharu; Shiratsuyu's main battery guns are not dual-purpose and add nothing to her AA defense.
Excruciatingly long torpedo reload time.
Smallest health pool of all Tier VII destroyers.
Slowest top speed of any Tier VII destroyer and slower rudder shift than Hatsuharu. Can make evading gunboat destroyers, dodging incoming fire, or pursuing targets quite difficult.
Main battery traverse time still painfully slow with equally slow reload time, as is typical of Japanese destroyer guns. Extended close range gunfights against near-full hp gunboats will usually end in disaster.
Research
The additional health from researching Hull (B) may not be much, but every little bit helps. Spend early experience gains there. Pick up the Fire Control System buff to her gun range next, then decide whether or not to spend experience on the Torpedo module or not. That experience may be better spent unlocking
Akizuki
; it's up to individual captains to decide for themselves.
Optimal Configuration
Upgrades
Most of the upgrades Shiratsuyu captains will equip are pretty self-explanatory; there isn't a lot of variety available to significantly improve her performance. Upgrade Slot 1 is best filled with Main Armaments Modification 1. Propulsion Modification 1 is the number one pick for Upgrade Slot 2 in order to protect Shiratsuyu's mobility. Most captains will opt for Aiming Systems Modification 1 in Upgrade Slot 3, but Main Battery Modification 2 is also a decent choice. When combined with Tier 1 commander skill Basic Firing Training, the impact to Shiratsuyu's reload time is negligible while the improvement to her turret rotation is notable. Propulsion Modification 2 is recommended in Upgrade Slot 4 for the same reason as Slot 2.
Commander Skills
Commander skill points are best spent on the level 2 Last Stand skill, which allows the engine and the rudder to function with a penalty when the would usually be incapacitated. This skill is highly advised for all destroyers. Mastering the level 4 skill Concealment Expert, lowers detection range, is also strongly encouraged.
While Shiratsuyu is very much a torpedo oriented destroyer, the subsequent destroyers Akizuki at tier VIII; Kitakaze at tier IX; and Harugumo at tier X are also very much gunboat destroyers. As such, it is advisable to consider resetting captain skills to suit a gunboat destroyer after grinding through Shiratsuyu, or pick up such skills towards the end of the grind, depending on resources available to you.
Recommended Commander Skills
Cost
(points)

Endurance

Attack

Support

Versatility



1

★

★★★

 

Χ

Χ

Χ

 

Χ



2

 

★★

★★

★

★

Χ

★★

★★★



3

 

★

★★

Χ

★★★

★★★

 

 



4

 

 

★★

Χ

★★

 

★★

★★★

Key: ★★★ - Extremely Useful      ★★ - Frequently Useful      ★ - Occasionally Useful     No stars - Meh     

Χ

- Not recommended
Consumables
Shiratsuyu can equip the following consumables:
Shiratsuyu's improved Torpedo Reload Booster is an appealing choice for veteran captains, who are able to forego her Smoke Generator.
Camouflage
Type 1, 2, or 5 camouflage can be equipped for credits; Types 1 or 5 are recommended at a minimum to reduce detectability range.
Players who wish to spend doubloons can equip Shiratsuyu with Type 17 camouflage that lowers her detection radius, reduces the accuracy of incoming shells, reduces her repair costs, and increases the amount of experience she earns.
Signals
Sierra Mike is probably the single most important
signal flag
that
Shiratsuyu
captains can equip. Other recommended flags would be Juliet Whiskey Unaone, Juliet Charlie, and — given how important some of her consumables are — November Foxtrot.
Gallery
Shiratsuyu uses every available weapon against an enemy Colorado class battleship.
References