Isokaze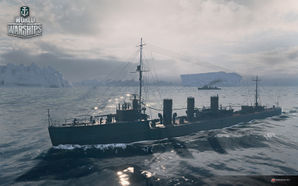 Tech Tree Position
120 mm/40 41st Year Type on a single mount
3 х 1 

pcs.
Rate of Fire
5 

shots/min.
Reload Time
12 

sec.
Rotation Speed
8 

deg./sec.
180 Degree Turn Time
22.5 

sec.
Firing Range
9.73 

km.
Maximum Dispersion
95 

m.
HE Shell
120 mm HE Mk3 
Maximum HE Shell Damage
1,700 
Chance of Fire on Target Caused by HE Shell
7 

%
Initial HE Shell Velocity
660 

m./s.
HE Shell Weight
20.3 

kg.
AP Shell
120 mm APC 
Maximum AP Shell Damage
1,800 
Initial AP Shell Velocity
660 

m./s.
AP Shell Weight
20.3 

kg.
533 mm Twin
3 х 2 

pcs.
Rate of Fire
1.54 

shots/min.
Reload Time
39 

sec.
Rotation Speed
25 

deg./sec.
180 Degree Turn Time
7.2 

sec.
Torpedo
533 mm Type44 mod. 2 
Maximum Damage
9,067 
Torpedo Speed
57 

knot
Torpedo Range
6.99 

km.
12.7 mm Vickers on a single mount
2 х 1 

pcs.
. . . Average Damage per Second
2 
. . . Firing Range
1.2 

km.
Maximum Speed
34 

knot
Turning Circle Radius
530 

m.
Rudder Shift Time
4 

sec.
Surface Detectability Range
5.94 

km.
Air Detectability Range
2.3 

km.
Battle Levels
Isokaze — Japanese Tier IV destroyer.
Developed from the Umikaze class. Unlike her predecessor, Isokaze had increased displacement and enhanced torpedo armament. The ship's artillery, though sufficiently powerful, had a low rate of fire which was typical of all Japanese destroyers.
Modules
Compatible Upgrades
Player Opinion
Performance
"Shore Wind" is a solid Tier 4 Destroyer that serves as a balance point, leading to both the gunboat line & the torpedo line. She can launch powerful torpedoes at outside of detection range, but one should keep a close eye on the thin margin of error between detection & torpedo range. Isokaze is no slouch in a gunfight either, with HE shells can easily rip apart other destroyers, while AP shells can citadel tier 5 cruisers. Beware of the slow turret traverse. When fighting against carriers, Isokaze's upgraded AA suite can be specialized in. Using the correct flags, skills, and high maneuverability, Isokaze can be a serious pain for carriers to fight.
Pros:
Better turret rotation than Wakatake but still not great
Powerful and fast upgraded torpedoes
High maneuverability
Coupled with maneuverability, upgraded AA can present a problem to attacking planes
Hard-hitting HE shells
Cons:
Low rate of fire with its main guns
Vulnerable steering and engine
Loses much speed during any type of turn
Very low HP pool: one torpedo is enough to sink it
Research
Isokaze is the base of three IJN tech tree branches:
Research Hull B first to improve the ship and to unlock the "torpedo" DD branch. This also greatly upgrades AA defense.
Research Type4 Mod. 2 GFCS not so much for the greater range, which the guns can barely use, but for access to the IJN CV branch.
Research Type 6 torpedoes next to ironically unlock the "gunboat" DD branch. While this improves torpedo speed and damage, it is a downgrade to torpedo reload. Whether this is an upgrade is up to the player.
Optimal Configuration
Upgrades
The recommended upgrades for Isokaze are as follows:
Commander Skills
  Recommended Commander Skills  
Cost
(points)

Attack

Defense



1

 

 

 

 

 

★★★



2

 

★★

★★

 

 

★★★



3

 

★★

★★

 

 

 



4

 

★★

★

 

★★

 

Key: ★★★ - Extremely Useful      ★★ - Frequently Useful      ★ - Occasionally Useful     No stars - Not Useful
Consumables
Isokaze equips the following consumables:
Signals
Recommended Signal Flags
Combat

★★

★★

★★

 

★★★

★★

★★★

 

★★★

 

★★

 

★

 
Note: Use of the Juliet Charlie signal makes detonation impossible.
Gallery
References
See here for links to Update notes.

Added to the game in Update 0.2.1 (alpha version).
Update 0.2.2.5:

The traverse angles of the main battery were slightly increased.

Update 0.5.0:

The credit and experience earnings were reduced by a value between 5 and 10%.

Update 0.5.1:

The detectability from aircraft was increased from 2.8 km to 2.9 km (more precisely, by 80 meters).

Update 0.5.2:

Experience earnings reduced by 8%.

Update 0.5.7:

The armor model of the hull was refined.

Update 0.6.2:

The national flag was moved from the stern to the mast.

Update 0.6.3:

Base firing range increased from 8,309 to 9,730 m.

Update 0.6.7:

Credit earnings increased by 5%.

Update 0.6.12:

Detectability when firing main guns in smoke changed to 2.19 km.
Improved appearance of the ship thanks to special technology for improved rendering of subtle elements (mainly rigging). This will not affect the performance of the game in any way.

Update 0.6.13:

Fire extinguishing time now 30 s instead of 60 s.
Hull B: durability of steering gears increased by 400 HP. The change does not affect the ship's HP in any way.

Update 0.7.6:

Improved display of thin elements on the hull.

Update 0.7.12:

Increased protection from high-explosive damage to the steering gears.

Update 0.8.5:

Credit earnings increased by 5%.
Experience earnings increased by 5%.

Update 0.11.11:

Minor updates to geometry and textures.