HSF Harekaze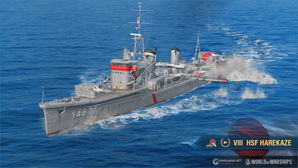 Tech Tree Position
127 mm/50 3rd Year Type on a Type C mount
3 х 2 

pcs.
Rate of Fire
8.51 

shots/min.
Reload Time
7.05 

sec.
Rotation Speed
6.9 

deg./sec.
180 Degree Turn Time
26.09 

sec.
Firing Range
9.41 

km.
Maximum Dispersion
85 

m.
HE Shell
127 mm HE Type1 
Maximum HE Shell Damage
2,150 
Chance of Fire on Target Caused by HE Shell
9 

%
Initial HE Shell Velocity
915 

m./s.
HE Shell Weight
23 

kg.
AP Shell
127 mm AP Type0 
Maximum AP Shell Damage
2,200 
Initial AP Shell Velocity
915 

m./s.
AP Shell Weight
23 

kg.
610 mm Quad
2 х 4 

pcs.
Rate of Fire
0.59 

shots/min.
Reload Time
101 

sec.
Rotation Speed
25 

deg./sec.
180 Degree Turn Time
7.2 

sec.
Torpedo
Type90 mod. 1 
Maximum Damage
17,233 
Torpedo Speed
62 

knot
Torpedo Range
9.99 

km.
IDS_PJGM538_5IN54_MK16
3 х 1 

pcs.
. . . Average Damage per Second
33.3 
. . . Firing Range
5.19 

km.
25 mm/60 Type 96 on a single mount
4 х 1 

pcs.
. . . Average Damage per Second
7.2 
. . . Firing Range
2.49 

km.
100 mm/65 Type 98 on a Model A mount
3 х 2 

pcs.
. . . Average Damage per Second
62.4 
. . . Firing Range
5.01 

km.
Maximum Speed
35.5 

knot
Turning Circle Radius
640 

m.
Rudder Shift Time
4 

sec.
Surface Detectability Range
6.63 

km.
Air Detectability Range
3.07 

km.
Battle Levels
HSF Harekaze — Japanese promo premium Tier VIII destroyer.
Kagero-class training ship of the Yokosuka Girls Maritime High School. She is operated by the main character Akeno Misaki. The ship mounts experimental modules that allow her to travel at higher speeds than her sister ships at the cost of stability. In the series, reduced personnel by automation allows for a single class of 30 students to operate the ship.

From the series "High School Fleet". HSF Harekaze was released on 10 July 2017. For a long period after that, she was unavailable. With the new HSF collaboration in April 2021, she returned to the premium shop.
Modules
Compatible Upgrades
 Slot 1 
 Slot 2 
 Slot 3 
 Slot 4 
 Slot 5 
Player Opinion
Performance
Warning. The data presented in the AA Defense sidebar section may be incorrect.
For a graphic summary of ships Tiers VIII thru XI see LittleWhiteMouse's "Actual AA DPS".

HSF Harekaze is a fictitious Kagero-class destroyer crossover from the High School Fleet (Haifuri) anime series. In-game, HSF Harekaze features three different hulls, each mounting different main battery guns.
The base hull mounts the standard Japanese twin 127mm turret found on normal Kagero-class destroyers; with this hull equipped, Harekaze plays identically to Kagero.
The second hull mounts three of the twin 100mm dual-purpose turrets found as main battery weapons on the Akizuki-class destroyers. Those who enjoy Akizuki's guns will find Harekaze comfortable to play in this configuration; though she mounts one less gun turret than Akizuki, Harekaze makes up for it by bringing another torpedo launcher to the battle, as well as packing a higher top speed and better handling characteristics. The dual-purpose guns also make her a respectable anti-aircraft platform if points are invested in the right commander skills and certain modules are equipped. Thanks to the special HE penetration attributes of the 100mm/65 Type98 gun,[1] use of Inertia Fuse for HE Shells is not required, but captains who do so gain the ability to penetrate 37mm of armor.
The third hull mounts three US Navy 5-inch/54 caliber guns in single turrets. Harekaze is the only destroyer in the game capable of mounting these guns, which are only found elsewhere in World of Warships as secondary batteries on Tier X's Midway-class carrier. This final hull option is probably the most interesting of the three, as it converts Harekaze into a hybrid destroyer that combines Japanese torpedoes and stealth with the quick-firing guns of the American destroyer line. Unlike the standard US 5-inch/38 caliber gun found on most high-tier American destroyers, these rifles are the long-barreled 54 caliber version; they have faster traveling shells with lower arcs, as well as a fast reload. With only three guns, however, this configuration has lower alpha strike than the other options, meaning HSF Harekaze will continue to play more like a Japanese destroyer than an American one. Courting a gun battle still isn't recommended, but Harekaze is more than capable of finishing off wounded enemy destroyers should the need arise.
Torpedo-wise, all hulls of HSF Harekaze feature the Type 90 mod. 1 torpedo, fired from two quadruple launchers. This torpedo is Kagero's stock torpedo, traveling 10km at 62 knots for a rated damage of 17,233. While not the Type 93, these torpedoes still do significant damage to anything they hit.
Overall, HSF
Harekaze
features the some of the most diverse playstyle options of any destroyer in the game thanks to her unique gun configurations, making her a fun and interesting ship to play.
Pros:
Has many of Kagero's upsides.
Very versatile armaments configurations; can equip fast-firing guns in addition to the standard IJN destroyer main batteries.
Alternate main batteries much faster rotation times than the standard 127mm battery.
Cons:
Has many of the downsides that Kagero has, although the gunnery associated downsides are somewhat solved if the player mounts Akizuki's 100mm guns, making it capable of matching gunnery-focused destroyers of other nations.
Uses Kagero's stock torpedoes.
More sluggish rudder shift time than Kagero.



Research
As a premium ship, HSF Harekaze doesn't have any upgrades to research; the hull modules are freely interchangeable.
Optimal Configuration
Upgrades
The recommended upgrades for HSF Harekaze are as follows:
Upgrade Slot 3 provides options for specialization in certain roles, benefiting each of the separate hull options.
For the Hull (A) option with 127 mm/50 3rd year type main guns, Main Battery Modification 2
is a possible upgrade to improve the sluggish turret traverse. Aiming Systems Modification 1 is a good option for players who are more experienced with IJN DD hit and run tactics and value improved dispersion and torpedo tubes traverse speed. However, while it isn't the best option for the other hulls, Torpedo Tubes Modification 1
may be the better option for this hull.
For the Hull (B) option the 100 mm/65 Type98 main guns work as dual-purpose AA guns, adding a long range AA aura that deals reasonable continuous DPS and 4 flak clouds, both up to a range of 5.8km. This makes AA Guns Modification 1
a possible upgrade for this slot, adding 2 further flak clouds. This upgrade is considerably less valuable in games without CVs and while Harekaze lacks Defensive AA Fire 

it may not feel worth investing further into her AA suite, making Aiming Systems Modification 1 a generally more viable choice.
For the Hull (C) option the 127 mm/54 Mk39 main guns are also dual-purpose guns though they add a weaker long range AA aura than Hull (B)'s with less continuous DPS and 2 flak clouds, but with a slightly longer range of 6km. While this makes it possible to mount AA Guns Modification 1
and gain the additional 2 flak clouds, Aiming Systems Modification 1 is the recommended upgrade to improve Harekaze's surface performance.
Commander Skills
The HSF Harekaze has a choice of three guns, one of which is the 10cm guns found on the Akizuki class destroyers. IFHE is only recommended when using those guns, on any other configuration IFHE is not recommended.
For Hull (A), with the standard 127mm main battery.
  Recommended Commander Skills  
Cost
(points)

Attack

Defense



1

★

★

 

 

★

★★



2

 

★★

★★

 

 

★★★



3

 

★★

★★

 

 

★



4

 

★★

★

 

★★★

 

Key: ★★★ - Extremely Useful      ★★ - Frequently Useful      ★ - Occasionally Useful     No stars - Not Useful

For Hull (B) with the high-DpM 100mm/65 Type98 rifles.
  Recommended Commander Skills  
Cost
(points)

Attack

Defense



1

 

 

 

 

 

★★



2

★★

 

 

 

 

★★★



3

★★

 

★★

★★

 

★★



4

 

 

★

 

★★★

 

Key: ★★★ - Extremely Useful      ★★ - Frequently Useful      ★ - Occasionally Useful     No stars - Not Useful

For Hull (C), with the USN 5"/54 main battery.
  Recommended Commander Skills  
Cost
(points)

Attack

Defense



1

 

 

 

 

 

★★



2

★★

★★

 

 

 

★★★



3

 

 

★★

 

 

★★



4

 

 

★

 

★★★

★★

Key: ★★★ - Extremely Useful      ★★ - Frequently Useful      ★ - Occasionally Useful     No stars - Not Useful
Consumables
HSF Harekaze can equip the following consumables:

As Harekaze has sufficient firepower in terms of both torpedoes and main batteries, depending on the player's play style of preference, Smoke Generator is more suited for aggressive players looking to fight other enemy destroyers, while Torpedo Reload Booster is more suitable for destroyers looking to stealthily deal damage to unaware and/or unobservant enemy ships. Players that play a mix of using all possible main armaments are left to their discretion of choosing between having more torpedoes readily available or safely firing from smoke.
Camouflage
As a premium ship, HSF Harekaze comes with Default permanent camouflage and a set of permanent combat bonuses.
Signals
HSF Harekaze benefits significantly from the increased HE fire chance that both India X-Ray and Victor Lima flags provide. Juliet Charlie flags can be mounted to mitigate the increased detonation chance gained when mounting India X-ray flags. Sierra Mike flags are highly recommended to help make up for the ship's slower top speed. November foxtrot flags are also recommended to reduce the cooldown timers for the ship's consumables.
Note: Use of the Juliet Charlie signal makes detonation impossible.
Gallery
References
See here for links to Update notes.

Available for testing by supertesters in the game starting from Update 0.6.6.
First appeared on sale in August 2017.
Update 0.6.11:

The version of the ship displayed with the HSF content turned off now uses the flag of Japan.

Update 0.6.12:

Detectability when firing main guns in smoke changed to 2.55 km.
The durability of the 127 mm / 54 artillery was increased from 1000 to 4000. This change does not affect the ship's HP in any way.

Update 0.6.13:

Fire extinguishing time now 30 s instead of 60 s.

Update 0.6.14:

Reload speed of Type 90 mod.1 torpedoes reduced from 112 to 101 s.

Update 0.6.15:

For permanent camouflages "Type 10", Y467, the discount on ship maintenance was increased from 5 to 10%.

Update 0.7.2:

Players who have collected the "Uniform Elements" sub-collection of the "Yamomoto Isoroku" collection can use an alternate permanent camouflage color.
Main battery turret rotation speed on Harekaze 1-4 Hull was increased from 6 to 6.9 deg / s.

Update 0.7.6:

Improved display of thin elements on the hull.

Update 0.7.7:

Armor penetration of 100-mm high-explosive shells increased from 17 to 25 mm.

Update 0.7.11:

127-mm HE shell damage increased from 1,800 to 2,150, fire change increased from 7 to 9%.

Update 0.9.1:
Update 0.9.2:

Updated model and textures.
Armor penetration of 100-mm high-explosive shells increased from 24 to 30 mm.

Update 0.10.0:

Minor fixes to the geometry and textures of the ship.