Mutsuki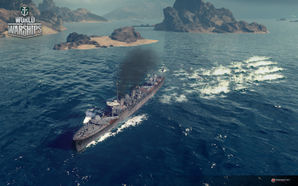 Tech Tree Position
120 mm/45 3rd Year Type on a Model G mount
2 х 1 

pcs.
Rate of Fire
5 

shots/min.
Reload Time
12 

sec.
Rotation Speed
7 

deg./sec.
180 Degree Turn Time
25.71 

sec.
Firing Range
8.11 

km.
Maximum Dispersion
81 

m.
HE Shell
120 mm HE Type1 
Maximum HE Shell Damage
1,700 
Chance of Fire on Target Caused by HE Shell
7 

%
Initial HE Shell Velocity
825 

m./s.
HE Shell Weight
20.3 

kg.
AP Shell
120 mm AP Type0 
Maximum AP Shell Damage
2,000 
Initial AP Shell Velocity
825 

m./s.
AP Shell Weight
20.3 

kg.
610 mm Triple
2 х 3 

pcs.
Rate of Fire
0.82 

shots/min.
Reload Time
73 

sec.
Rotation Speed
25 

deg./sec.
180 Degree Turn Time
7.2 

sec.
Torpedo
Type8 mod. 3 
Maximum Damage
14,600 
Torpedo Speed
63 

knot
Torpedo Range
8.01 

km.
120 mm/45 10th Year Type in a Model B turret
2 х 1 

pcs.
. . . Average Damage per Second
6 
. . . Firing Range
5.01 

km.
25 mm/60 Type 96 on a twin mount
6 х 2 

pcs.
. . . Average Damage per Second
16.2 
. . . Firing Range
2.49 

km.
Maximum Speed
37.5 

knot
Turning Circle Radius
550 

m.
Rudder Shift Time
3.2 

sec.
Surface Detectability Range
6.2 

km.
Air Detectability Range
2.5 

km.
Battle Levels
Mutsuki — Japanese Tier V destroyer.
Developed from the Minekaze class, equipped with a reinforced torpedo armament. This class inherited high speed and sufficiently powerful artillery from its predecessors. Greater dimensions made it possible to equip these destroyers with 610 mm torpedoes.
Modules
Compatible Upgrades
Player Opinion
Performance
In her previous incarnation at Tier VI, players sometimes referred to Mutsuki as "Mutsucky", because when it came to every category critical to the strengths of mid-tier Japanese destroyers — torpedo reload time, maximum speed, detection range, torpedo launcher layout, etc. — sh was basically a downgrade from Minekaze. With Update 0.5.15, Mutsuki drops a tier and is now considered a contemporary of Minekaze, a spot that is not only more befitting from a a historical perspective, but also from the perspective of her in-game capabilities and armament.
Much like Minekaze, Mutsuki is heavily reliant on her torpedoes to perform well. However, she does suffer from quite a long reload time (well over a minute), which Minekaze does not. Mutsuki features two triple-tube torpedo mounts; with a surface detection range of 6.2 km (without camouflage) and a torpedo range of 8km, she can remain undetected whilst unleashing torpedo hell on the enemy. This is the recommended way to play her, as her poor armor coupled with mediocre gun performance means she will not last long in a gun duel with anything besides another Japanese destroyer. Stay away from enemy ships — at least 7 km — and only fire her guns in self-defense if she's already detected.
While slower than Minekaze, Mutsuki still features the fantastic detection and torpedo ranges that make the mid-tier Japanese destroyers so devastating, though she will have a hard time running away if she's spotted. Mutsuki's anti-aircraft armament looks so-so on paper, but isn't really a threat to enemy planes; luckily, her air detection range goes down to 3.1 km.
Mutsuki
is a different kind of challenge than
Minekaze
, but both ships require patience, good positioning, and excellent map awareness. Learning those skills now in the middle tiers will benefit Japanese destroyer captains the rest of the way.
Pros:
Low detection ranges (both air and sea).
8.0 km torpedo range.
Decent speed.
Torps' speed makes them easy enough to land hits.
Arguably a more dangerous DD at Tier V than Minekaze.
Usable torpedoes which can compete in Tier VII matches.
Decent AA for a destroyer on par with Nicholas and will oddly shoot down a decent number of planes.
Cons:
Reload time of stock guns is abysmal, but this can be improved with the gun module upgrade.
Terrible gun traverse speed, even after the upgrade.
Short gun range, equal to Minekaze.
Armor is nonexistent, something to unique to this DD.
Low health pool.
Research
First pick up Hull (B), then the upgraded guns, followed by the upgraded range for those guns (optional). Then move on to
Fubuki
.
Optimal Configuration
Upgrades
With only three upgrade slots, there aren't too many good options to improve Mutsuki through upgrades. Captains are encouraged to install Main Armaments Modification 1 (

) in Slot 1, Engine Room Protection (

) in Slot 2, and Torpedo Tubes Modification 1 (

) in Slot 3. Aiming Systems Modification 1 (

) is also an option.
Commander Skills
  Recommended Commander Skills  
Cost
(points)

Attack

Defense



1

 

 

 

 

 

★★



2

 

★★

★★

 

 

★★★



3

 

★★

★★

 

 

 



4

 

★★

★

 

★★★

 

Key: ★★★ - Extremely Useful      ★★ - Frequently Useful      ★ - Occasionally Useful     No stars - Not Useful
Consumables
Mutsuki equips the following consumables:
Camouflage
Type 1, 2, or 5 camouflage can be equipped for credits; Types 1 or 5 are recommended at a minimum to reduce the detection range.
Signals
Mutsuki
has fairly decent speed for her tier and vs her peers, so Sierra Mike is not really necessary. Additionally, because she is an Japanese destroyer with only two sets of torpedo launchers and only two guns, Victor Lima, India X-Ray, and Juliet Whiskey Unaone are not worthwhile investments. However, if captains wish to speed through their XP grind on
Mutsuki
, they can equip Equal Speed Charlie London and Zulu Hotel (for commander experience).
Gallery
Mutsuki seeks its' next victim after sinking an enemy Langley.

Mutsuki stalks its prey, a Hosho class aircraft carrier.
References