Langley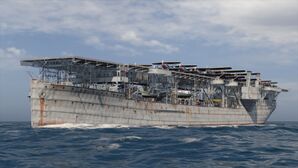 Tech Tree Position
127 mm/51 Mk.7 on a Mk.13 mount
4 х 1 

pcs.
Firing Range
3.5 

km.
Rate of Fire
8.57 

shots/min.
Reload Time
7 

sec.
HE Shell
127 mm HE/HC Mk39 
Maximum HE Shell Damage
1,800 
Initial HE Shell Velocity
960 

m./s.
Chance of Fire on Target Caused by HE Shell
6 

%
Maximum Speed
15 

knot
Turning Circle Radius
730 

m.
Rudder Shift Time
12.9 

sec.
Surface Detectability Range
10.08 

km.
Air Detectability Range
5.93 

km.
Battle Levels
Langley — American Tier IV aircraft сarrier.
The first U.S. Navy aircraft carrier, Langley was converted from a collier. She had low speed and was used as an experimental ship for testing various technical innovations as well as for training navy pilots. The carrier was equipped with secondary armament to repel attacks from enemy destroyers.
Modules
Compatible Upgrades
Player Opinion
Performance
Langley has the unfortunate distinction of being the slowest aircraft carrier in the game. If discovered, it can't get away from anything - not even battleships. Keep an eye on your map and start moving long before enemies get near detection range. The carrier itself starts with no AA armament whatsoever. It does have four 127 mm cannons which will sink a heavily damaged destroyer on occasion, but their range is pitiful. It is highly recommended to stay back and hide, or try and stay with the team. Her Aviation consists of the standard Rocket, Bomber and Torpedo Bomber complement.
Due to the extremely poor accuracy of the bombers, Rocket attack planes should be used as long as you have any left, as they are significantly better at actually hitting their target and deal quite decent damage. To use torpedo bombers perfectly, You must get the torpedo planes to within 4 seconds from the Targrt to ensure the hit
Pros:
Has aircraft in large squadrons where most ships of that tier have little or no anti-aircraft capabilities.
Not easily detected, around 10km detection from the surface if exposed.
Weird hitbox of the ship may confuse attackers and make them miss their shells through the large gap between the hanger and the flight deck.
Once upgraded, it gains some AA that can fend for itself against equivalent tier planes.
The rocket planes are quite powerful
Bombs have enough penetration to hit citadels
Cons:
Incredibly slow, top speed being around 15 knots ,and, slow turning; requiring more space to turn than most battleships and carriers.
Like all low-tier carriers, it's hopeless once found.
Nearly no armor, getting citadeled by most HE shells easily.
The Bombers have extremely poor accuracy.
The Torpedo Bombers' torpedos are very slow at a speed of 35 knots
All planes, with the exception of the rocket planes, maneuver slowly, often making it hard to land well-positioned hits.
Even when upgraded to Hull B, The anti aircraft does not consist of any long-range guns, therefore making it unable to produce AA shell explosions
Research
Research the B hull.
Proceed to the Ranger.
Optimal Configuration
Upgrades
The recommended upgrades for Langley are as follows:
Commander Skills
  Recommended Commander Skills  
Cost
(points)

Attack

Defense

Support



1

 

★★

 

★★★

 

 



2

 

 

★★★

 

 

 



3

 

 

★★

★★★

★★★

 



4

★★

 

 

★★★

 

 

Key: ★★★ - Extremely Useful      ★★ - Frequently Useful      ★ - Occasionally Useful     No stars - Not Useful
Consumables
Langley can equip the following consumables:
CV consumables are automatically activated when needed The consumables available for each plane type for Langley is as follows:
Attack Aircraft
Torpedo Bombers
Dive Bombers
Camouflage
Type 1, 2, or 5 camouflage can be equipped for credits; Types 1 or 5 are recommended at a minimum to reduce the chance of being detected.
Signals
In the past, all carriers could only mount at most four signals at a time. This is not longer the case, Langley can mount 8 total Signals.
As a carrier, Langley has no risk of detonating. As such, the signal (

) should be disregarded for this ship.
Players should mount Equal Speed Charlie London (

) for 50% XP gain, Zulu Hotel (

) for 50% Commander XP gain, November Echo Setteseven (

) increased AA damage, Mike Yankee Soxisix (

) secondary battery range & firing buff, Juliet Whiskey Unaone (

) flooding chance increase (Very useful), India-X-Ray (

) fire chance increase, Victor Lima (

) large fire & flooding chance increase, and India Yankee (

) for faster fire dissipation.
These signals are to buff the ship performance while gaining a fair bonus of XP.
Players can also choose to equip the Dragon Signal (

) instead of Zulu Hotel (

) signal the for faster commander (re)training.
Having a high leveled Captain while playing Carrier can give you an edge over other Captains.
Gallery
References