Hayate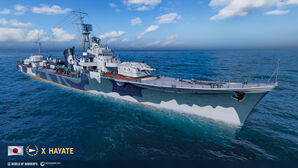 Tech Tree Position
127 mm/50 Type 5 on a twin mount
3 х 2 

pcs.
Rate of Fire
15 

shots/min.
Reload Time
4 

sec.
Rotation Speed
18 

deg./sec.
180 Degree Turn Time
10 

sec.
Firing Range
11.62 

km.
Maximum Dispersion
102 

m.
HE Shell
127 mm HE Type1 
Maximum HE Shell Damage
2,150 
Chance of Fire on Target Caused by HE Shell
9 

%
Initial HE Shell Velocity
915 

m./s.
HE Shell Weight
23 

kg.
AP Shell
127 mm AP Type0 
Maximum AP Shell Damage
2,200 
Initial AP Shell Velocity
915 

m./s.
AP Shell Weight
23 

kg.
610 mm Quintuple
2 х 5 

pcs.
Rate of Fire
0.39 

shots/min.
Reload Time
153 

sec.
Rotation Speed
25 

deg./sec.
180 Degree Turn Time
7.2 

sec.
Torpedo
Type93 mod. 3 
Maximum Damage
23,767 
Torpedo Speed
67 

knot
Torpedo Range
12 

km.
127 mm/50 Type 5 on a twin mount
3 х 2 

pcs.
. . . Average Damage per Second
43.5 
. . . Firing Range
5.01 

km.
40 mm/60 Type 5 on a twin mount
5 х 2 

pcs.
. . . Average Damage per Second
55 
. . . Firing Range
3.51 

km.
25 mm/60 Type 96 on a single mount
8 х 1 

pcs.
. . . Average Damage per Second
14.4 
. . . Firing Range
2.49 

km.
Maximum Speed
37 

knot
Turning Circle Radius
750 

m.
Rudder Shift Time
4.6 

sec.
Surface Detectability Range
7.74 

km.
Air Detectability Range
3.78 

km.
Battle Levels
Hayate — Japanese Tier X destroyer.
A destroyer design that was equipped with dual-purpose 127 mm Type 1/5 guns designed for the needs of the Japanese Navy during World War II.

Hayate was first made available for 2,000,000 Free Experience

with Update 0.9.3.1 on 28 April 2020.
Modules
Compatible Upgrades
 Slot 1 
 Slot 2 
 Slot 3 
 Slot 4 
 Slot 5 
 Slot 6 
Player Opinion
Performance
Hayate is a Tier X Japanese destroyer that sits as a Special Ship in her tree.
In appearance Hayate looks similar to her same tier counterpart Shimakaze. This is only partially true as she departs from her distant cousin in several ways. The first notable change is that Hayate has different main guns that fire the same shells but with a faster reload and better gun handling. The combination of its reload time, HE Alpha, and ability to both track and hit targets even at closer range give Hayate a potent tool against destroyers, who will most likely not be able to match her damage output.
In terms of torpedo armament Hayate also differs. While she uses the same torpedoes and fires from quintuple launchers as well, she sacrificed one of the launchers, giving her only ten torpedoes per salvo. Hayate is also limited in the choice of torpedoes, having access only to the Type 93 Mod 3 torpedoes, the 12km option. These torpedoes still hit very hard and have good speed with usable range, but the long reload of two and a half minutes stock, as well as the relatively high torpedo detection, can be troublesome. Another difference from Shimakaze is that Hayate has access to Torpedo Reload Booster 

which shares the same slot as her Smoke Generator 

, so if a player chooses to sacrifice the benefits of a Smoke Generator a quick follow up torpedo salvo can be executed. The consumable cuts the torpedo reload to eight seconds.
Hayate's surface detection is good if not outstanding for a Tier X destroyer. When fully spec'ed for concealment she sits at 6.1km, worse than for example Grozovoi or Shimakaze, but not by much. Still, this makes destroyer hunting a dangerous job as Hayate can be out-spotted, giving her prey time to react. The maneuverability is also average, with a rather slow speed, rudder shift, and turning circle.
Against aircraft, Hayate is better suited than Shimakaze with more effective dual-purpose main guns and 5x dual 40mm AA mounts. However, against the high hit point pools of Tier X planes, the AA defense can not be relied upon.
In terms of play style,
Hayate
is a jack of all trades. She can be built for torpedoes, or for guns. As for positioning, she should be played close to the objective, battling other destroyers and capturing objectives.
Pros:
Best rate of fire among 127mm-armed Japanese destroyers (which is not saying much).
Good main battery traverse speed, with firing angles ideal for kiting.
High HE damage and fire chance.
Powerful torpedo armament - high damage and flood chance, and good speed and range.
Access to the Torpedo Reload Booster  consumable.
Large health pool.
Cons:
Base main battery firing range is rather low.
Very long torpedo reload time.
Must give up Smoke Generator  to equip Torpedo Reload Booster 
Weak AA suite, vulnerable to plane attacks.
Large turn radius and sluggish rudder shift.
Subpar concealment.
Research
As a special ship, Hayate doesn't have any upgrades to research.
Optimal Configuration
Hayate can support either a Gun or a Torpedo build, or a hybrid of the two. Given the long torpedo reload time, a Gun build is generally preferable.
Upgrades
The recommended upgrades for Hayate are as follows:
Upgrade Slot 3 provides players with two viable choices. Aiming Systems Modification 1

is recommended for a gunboat focused build; however, for a torpedo-centric configuration, players should take Torpedo Tubes Modification 1

.
Upgrade Slot 6 again provides a choice between strengthening gun power or torpedo reload. Those that prefer the former should mount Main Battery Modification 3

, while those wishing to strike from the shadows will want Torpedo Tubes Modification 2

.
Commander Skills
  Recommended Commander Skills  
Cost
(points)

Attack

Defense



1

 

 

★

 

 

★★



2

 

★★

 

 

★

★★★



3

 

★★

★★

 

 

★★★



4

★★

★

★

★★

★★★

 

Key: ★★★ - Extremely Useful      ★★ - Frequently Useful      ★ - Occasionally Useful     No stars - Not Useful
Consumables
Hayate can equip the following consumables:
Camouflage
As a special ship, Hayate comes with Type 20 camouflage that lowers her detection radius, reduces the accuracy of incoming shells, reduces her repair costs, and increases the amount of experience she earns.
Signals
Recommended Signal Flags
Combat

★★

 

★★★

★★★

★★★

 

★★★

★★★

 

 

★

★

 

 

Economic

★★★

★★★

★★

★★

★★

Special

★★

★★

★★

★★

★★

★★

★★

★★

Key: ★★★ - Extremely Useful       ★★ - Frequently Useful       ★ - Occasionally Useful      No stars - Not Useful
Note: Use of the Juliet Charlie signal makes detonation impossible.
Gallery
References
See here for links to Update notes.

Available for testing by supertesters in the game starting from Update 0.8.3.
Update 0.9.3.1:

Added to the tech tree for 2,000,000 Free Experience.

Update 0.9.4:

Minor fixes to textures and ship model.

Update 0.9.5:

Small changes to geometry and textures.

Update 0.10.10:

Fixed an issue that caused one of the turrets to have different shell ballistics compared with the ship's other turrets.