Hashidate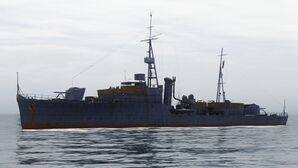 Tech Tree Position
120 mm/45 10th Year Type on a twin mount
2 х 2 

pcs.
Rate of Fire
12.5 

shots/min.
Reload Time
4.8 

sec.
Rotation Speed
10 

deg./sec.
180 Degree Turn Time
18 

sec.
Firing Range
9.08 

km.
Maximum Dispersion
83 

m.
HE Shell
120 mm HE Type1T 
Maximum HE Shell Damage
900 
Chance of Fire on Target Caused by HE Shell
9 

%
Initial HE Shell Velocity
825 

m./s.
HE Shell Weight
20.3 

kg.
120 mm/45 10th Year Type on a twin mount
2 х 2 

pcs.
. . . Average Damage per Second
1.44 
. . . Firing Range
4.5 

km.
25 mm/60 Type 96 on a twin mount
2 х 2 

pcs.
. . . Average Damage per Second
1 
. . . Firing Range
0.75 

km.
7.7 mm/80 Type 92 on a single mount
3 х 1 

pcs.
. . . Average Damage per Second
0.48 
. . . Firing Range
0.3 

km.
Maximum Speed
19.5 

knot
Turning Circle Radius
270 

m.
Rudder Shift Time
3 

sec.
Surface Detectability Range
7.51 

km.
Air Detectability Range
5.78 

km.
Battle Levels
Hashidate — Japanese Tier I cruiser.
A light patrol gunboat designed for coastal operations. This gunboat was well-armed for her dimensions, including AA artillery. She was not armored and had low speed.


Modules
Compatible Upgrades
Player Opinion
Performance
Most of the ship's parameters are quite average.
Pros:
Very accurate guns.
Holds speed well during turns.
Small turning circle radius.
Decent AA ability.
Cons:
Low firing range.
Burns under HE fire often.
Armour is not very strong.
AA is not useful until tier IV, where the ship will be hopelessly outclassed.
Research
Availability of researchable upgrades for Hashidate is as follows:
Gun Fire Control System: Upgrade to Type 1 Mod. 2 for an extra 10% range on the main battery.
Captains can research the upgraded Gun Fire Control System for extra range, or skip this altogether and research the tier II cruiser,
Chikuma
.
Optimal Configuration
Upgrades
The recommended upgrades for Hashidate are as follows:
Commander Skills
  Recommended Commander Skills  
Cost
(points)

Attack

Defense



1

★

 

 

★

★

★★



2

★★

★

 

 

★★

 



3

 

★

★★★

 

 

★★



4

★

 

★

 

★★★

 

Key: ★★★ - Extremely Useful      ★★ - Frequently Useful      ★ - Occasionally Useful     No stars - Not Useful
Consumables
Hashidate can equip the following consumables:
Signals
Hashidate captains should mount the standard flags to improve the ship's performance in battle. India X-Ray (

) and Victor Lima (

) flags are recommended to improve the main battery's fire chance. To improve the ship's survivability, captains should mount November Foxtrot (

) and India Yankee (

) flags. Sierra Mike (

) flags are recommended to increase the ship's top speed.
Note: Use of the Juliet Charlie signal makes detonation impossible.
Gallery
References
See here for links to Update notes.

Added to the game in Update 0.4.0 as the starting Japanese ship.
Update 0.4.1:

The HP of the stock (from 10,700 to 8800) and upgraded hull configurations (from 12,400 to 10,300) was reduced.
The credit and experience earnings were reduced by a value between 5 and 10%.

Update 0.5.0.1:

The intermediate hull upgrade was removed.

Update 0.5.2:

The maximum damage of a high-explosive projectile was reduced from 2100 to 1800.
Experience earnings increased by +9%.
Credits earnings increased by +12%.

Update 0.5.8:

The armored model of the hull was refined.
The #1 main battery turret now rotates 360 degrees.

Update 0.5.10:

Removed armor-piercing shells.
Upgradeable gun module replaced with a fire control module.
Hitpoints reduced from 10,300 to 5,150.
HE shell damage reduced from 1800 to 900.

Update 0.5.11:

Corrected the detectability from aircraft for correct progression of characteristics between tiers.

Update 0.5.12:

The physical game model of the funnel was improved.

Update 0.6.2:

The national flag was moved from the stern to the mast.

Update 0.6.3:

Experience earnings increased by +5%.

Update 0.6.7:

Experience earnings decreased by -5%.

Update 0.6.9:

Improved appearance with the use of a special technology for improved rendering of thin elements (rigging).

Update 0.6.12:

Detectability when firing main guns in smoke changed to 2.78 km.

Update 0.6.13:

Fire extinguishing time now 30 s instead of 60 s.

Update 0.7.6:

Improved display of thin elements on the hull.

Update 0.8.2:

Researchable modules were removed, and their bonuses were included in the stock ship parameters. For each researched module, 600 ship xp was added; for each purchased module, players were compensated 6,000 credits.

Update 0.8.4:

The citadel was removed and replaced with a vital part of the ship, like a destroyer.

Update 0.8.5:

Credit earnings decreased by -10%.
Experience earnings reduced by -10%.

Update 0.9.6:

The value of the in-game turning circle radius was changed to 270 m to correct prior discrepancy.

Update 0.11.1:

Acceleration slightly increased while engine is damaged.

Update 0.11.3:

Minor fixes to geometry and textures of the ship.