Tachibana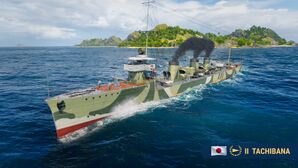 Tech Tree Position
76 mm/40 41st Year Type on a single mount
5 х 1 

pcs.
Rate of Fire
12 

shots/min.
Reload Time
5 

sec.
Rotation Speed
11 

deg./sec.
180 Degree Turn Time
16.36 

sec.
Firing Range
8.03 

km.
Maximum Dispersion
75 

m.
HE Shell
76 mm HE Mk2 
Maximum HE Shell Damage
1,300 
Chance of Fire on Target Caused by HE Shell
6 

%
Initial HE Shell Velocity
680 

m./s.
HE Shell Weight
5.67 

kg.
AP Shell
76 mm AP Type0 
Maximum AP Shell Damage
1,000 
Initial AP Shell Velocity
690 

m./s.
AP Shell Weight
6.5 

kg.
457 mm Twin
2 х 2 

pcs.
Rate of Fire
2.73 

shots/min.
Reload Time
22 

sec.
Rotation Speed
25 

deg./sec.
180 Degree Turn Time
7.2 

sec.
Torpedo
Type42 mod. 1 
Maximum Damage
6,133 
Torpedo Speed
44 

knot
Torpedo Range
5.01 

km.
Maximum Speed
30 

knot
Turning Circle Radius
450 

m.
Rudder Shift Time
1.9 

sec.
Surface Detectability Range
5.24 

km.
Air Detectability Range
1.87 

km.
Battle Levels
Tachibana — Japanese special premium Tier II destroyer.
A small and relatively fast destroyer. For her size, Tachibana boasted a sufficiently powerful torpedo armament. The ship's artillery comprised several rapid-fire small caliber guns.

Tachibana was first released for sale worldwide on 25 May 2016 after having been available for free via a series of in-game missions in February 2016.


Modules
Compatible Upgrades
Player Opinion
Performance
Warning. The data presented in the AA Defense sidebar section may be incorrect.
For a graphic summary of ships Tiers VIII thru XI see LittleWhiteMouse's "Actual AA DPS".
Tachibana
is pretty fun and introduces the flavor of higher-tier IJN torpedo destroyers.
Pros:
Fast torpedo reload at her tier.
Fast rudder shift.
Good concealment.
AP shells will never ricochet.
Research
As a Premium ship, Tachibana doesn't have any upgrades to research.
Optimal Configuration
Upgrades
The recommended upgrades for Tachibana are as follows:
Magazine Modification 1
is available for players who strongly dislike detonations, but a Juliet Charlie signal is more effective.
Commander Skills
The following information is provided for players who wish to create a permanent captain for the ship. Those players who are retraining captains or using the ship to gain extra experience for a captain should consult the page relevant to the ship to which the captain will be assigned.
  Recommended Commander Skills  
Cost
(points)

Attack

Defense



1

 

 

 

 

 

★★



2

 

★★

★★

 

 

★★



3

 

★★

★★

 

 

 



4

 

★★

 

 

★★

 

Key: ★★★ - Extremely Useful      ★★ - Frequently Useful      ★ - Occasionally Useful     No stars - Not Useful
Consumables
Tachibana equips the following consumables:
Camouflage
As a premium ship, Tachibana comes with Default permanent camouflage and a set of permanent combat bonuses.
Signals
Players who dislike detonations may wish to equip Juliet Charlie (

). Sierra Mike (

) can be used, in conjunction with the Engine Boost 

consumable, to attain a maximum speed of 33 knots. Victor Lima (

) and India X-Ray (

) can, when used together, increase the fire chance of HE shells by 1%, or 3% total if the captain has Demolition Expert as a chosen skill. Juliet Whiskey Unaone (

) will increase the chance of flooding and thus the efficiency of Tachibana's torpedoes.
Note: Use of the Juliet Charlie signal makes detonation impossible.
Gallery
References
See here for links to Update notes.

Added to the game in Update 0.1.6 as a researchable Tier II destroyer.
Removed from the game in Update 0.3.0.
Added to the game in Update 0.4.0.3 as a premium ship for testing by supertesters.
Update 0.5.0:

The range of the Type 42 mod 1 torpedoes was increased from 4.5 to 5 km.

Update 0.5.2.3:

Credit earnings increased by 21%.

Update 0.5.3.2:

The Type 5 camouflage was renamed Type 9.

Update 0.5.6:

The selling price in credits was adjusted from 375,000 to 712,500 credits.
Went on sale for doubloons directly in the game client (before it was only available in the premium store).

Update 0.5.7:

The armor model of the hull was refined.

Update 0.5.8:

The sector of rotation of turrets No. 1, No. 4 and No. 5 is now 360 °.

Update 0.6.2:

The national flag was moved from the stern to the mast.

Update 0.6.3:

Base firing range increased from 6,720 to 8,030 m.
Improved appearance with the use of special technology for improved rendering of thin elements (rigging, etc.).
Fixed visual armor.

Update 0.6.4:

Fixed a bug where in some cases it was possible to observe a black area on the screen when playing in binoculars mode.

Update 0.6.12:

Detectability when firing main guns in smoke changed to 1.96 km.

Update 0.6.13:

Fire extinguishing time now 30 s instead of 60 s.
The durability of the bow compartment was reduced by 200 HP. The change does not affect the ship's HP in any way.
The survivability of air defense weapons was checked and brought to a single standard. The change affects 76 mm guns.

Update 0.6.15:

A bonus was added to the "Type 9" permanent camouflage: a 10% discount to the cost of post-battle service.

Update 0.7.2:

Players who have collected the "Uniforms" sub-collection of the "Yamomoto Isoroku" collection can use an alternate permanent camouflage color.

Update 0.7.6:

Improved display of thin elements on the hull.

Update 0.7.12:

Propulsion protection from damage caused by HE shells was increased.
Steering gears protection from damage caused by HE shells was increased.

Update 0.8.3:

The value of the ship's detectability in smoke after firing was rounded up to 2 km.