Yoshino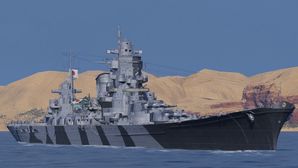 Tech Tree Position
310 mm/50 Type 0 in a triple turret
3 х 3 

pcs.
Rate of Fire
3.24 

shots/min.
Reload Time
18.5 

sec.
Rotation Speed
5 

deg./sec.
180 Degree Turn Time
36 

sec.
Firing Range
21.29 

km.
Maximum Dispersion
217 

m.
HE Shell
310 mm HE Type92 
Maximum HE Shell Damage
5,100 
Chance of Fire on Target Caused by HE Shell
27 

%
Initial HE Shell Velocity
836 

m./s.
HE Shell Weight
448.8 

kg.
AP Shell
310 mm AP Type92 
Maximum AP Shell Damage
8,650 
Initial AP Shell Velocity
836 

m./s.
AP Shell Weight
448.8 

kg.
100 mm/65 Type 98 on a Model A mount
8 х 2 

pcs.
Firing Range
7.3 

km.
Rate of Fire
20 

shots/min.
Reload Time
3 

sec.
HE Shell
100 mm HE Type98 
Maximum HE Shell Damage
1,700 
Initial HE Shell Velocity
1000 

m./s.
Chance of Fire on Target Caused by HE Shell
6 

%
610 mm Quad
4 х 4 

pcs.
Rate of Fire
0.35 

shots/min.
Reload Time
171 

sec.
Rotation Speed
25 

deg./sec.
180 Degree Turn Time
7.2 

sec.
Torpedo
Type93 mod. 3 
Maximum Damage
23,767 
Torpedo Speed
67 

knot
Torpedo Range
12 

km.
100 mm/65 Type 98 on a Model A mount
8 х 2 

pcs.
. . . Average Damage per Second
166.4 
. . . Firing Range
5.01 

km.
25 mm/60 Type 96 on a triple mount
14 х 3 

pcs.
. . . Average Damage per Second
46.2 
. . . Firing Range
2.49 

km.
25 mm/60 Type 96 on a single mount
24 х 1 

pcs.
. . . Average Damage per Second
43.2 
. . . Firing Range
2.49 

km.
40 mm/60 Type 5 on a twin mount
12 х 2 

pcs.
. . . Average Damage per Second
132 
. . . Firing Range
3.51 

km.
25 mm/60 Type 96 on a triple mount
6 х 3 

pcs.
. . . Average Damage per Second
19.8 
. . . Firing Range
2.49 

km.
Maximum Speed
34 

knot
Turning Circle Radius
920 

m.
Rudder Shift Time
13.9 

sec.
Surface Detectability Range
14.67 

km.
Air Detectability Range
10.73 

km.
Battle Levels
Yoshino — Japanese promo premium Tier X cruiser.
A fast-moving ship armed with 310 mm artillery for her main battery, intended to counter enemy heavy cruisers (Project B-65). This version of the design also featured torpedo armament.
Yoshino first became available for 248,000 Coal

in the Armory on 27 June 2019.
Modules
Compatible Upgrades
 Slot 1 
 Slot 2 
 Slot 3 
 Slot 4 
 Slot 5 
 Slot 6 
Player Opinion
Performance
Warning. The data presented in the AA Defense sidebar section may be incorrect.
For a graphic summary of ships Tiers VIII thru XI see LittleWhiteMouse's "Actual AA DPS".

Yoshino is a Japanese supercruiser at Tier X. Armed with 9x 310mm main guns and 16x 610mm long lance torpedoes, she is well-armed for a cruiser of her size. For her size, she is relatively quick and agile, and her main battery packs a punch. Further comprising her arsenal are long-range torpedoes and an effective anti-aircraft suite.
Yoshino can best be described as a sort of "hybrid" between the Tier X Japanese battleship Yamato and cruiser Zao. Her 9x 310mm guns are both powerful and more accurate than most supercruisers. Her HE sports high penetration, allowing her to punch through 50mm of armor found on heavily armored cruisers and battleships such as Petropavlovsk. Her AP also has very good penetration and will frequently land citadel strikes on broadside cruisers. This is somewhat offset by her slower reload, though it is faster than other supercruisers. If her guns weren't scary enough, Yoshino also carries 20km torpedoes that can deal crippling damage to anything they hit. That being said, the torpedoes have a high detection range and thus are easy to dodge. Still, the threat of damage will force enemies to react, which can set up opportunities for Yoshino or her teammates.
However, Yoshino is surprisingly fragile for a ship her size. Her extremely vulnerable citadel means that an ill-timed maneuver can quickly send her back to port. Like other Japanese cruisers, Yoshino also has issues with taking citadel hits through her poorly protected stern. However when properly angled, Yoshino will have no trouble bouncing the majority of enemy AP shots that come her way. Though she has to be wary of BBs with larger than 430mm guns as their AP will overmatch Yoshino's 30mm armor and severely damage her.
Similar to her smaller cousin Zao, Yoshino's play style favors mid to long range combat, whittling opponents down in preparation for a decisive counter-attack. Compared to other kiting cruisers, Yoshino is unique in that she can use both her guns and torpedoes to stall or even defeat major pushes. Careless opponents may see their entire push obliterated by a wall of torpedoes. Even heavily armored ships may rethink their attack for fear of her HE shells ignoring their armor advantage. Yoshino can also pose a threat at very close range due to her large HP pool and formidable torpedo armament, though she has to be extremely careful of her angling due to her extremely vulnerable citadel. However, Yoshino is relatively weak at close to mid-range as higher firepower cruisers can overwhelm her defenses and battleships have no trouble hitting her vulnerable sections of armor. Thus Yoshino players should focus on mid to long range combat, prioritizing out trading the enemy ships until they are weak enough to fall in one decisive push.
Overall,
Yoshino
is a reliable mid- to long-range kiting cruiser, and will be a worthy purchase for Japanese cruiser fans or those looking for a solid high tier kiting supercruiser.
Pros:
30mm armored midsection will bounce any AP up to a caliber of 429mm
Relatively small superstructure, making it hard for destroyers to deal with Yoshino with their guns.
High HE penetration value allows her to efficiently damage more heavily armored ships
AP has high penetration, superior to most heavy cruisers
Long main battery range that can be enhanced even farther with her Spotting Aircraft .
Access to Shimakaze's 20km hard-hitting torpedoes, with 2 launchers of 4 torpedoes on each side
Relatively fast with a base top speed of 34.0kts
Starts with 1 extra Repair Party  charge
Cons:
Fires burn for 60 seconds, similar to battleships and other Supercruisers
Low HP pool compared to other supercruisers, though still larger than standard cruisers
Does not have access to battleship survivability captain skills
Large exposed bow/stern sections that will frequently take full penetration damage
Sluggish turret traverse
Large and vulnerable citadel, frequently takes citadel hits through the stern
Very poor handling, further exacerbating her vulnerable citadel
Research
Despite being a premium ship, Yoshino does have one upgrade choice:
Torpedoes:
Yoshino
is equipped with the 12km Type93 mod. 3 torpedoes by default. It is recommended to equip the longer 20km Type93 torpedoes instead to complement
Yoshino's
long-range play style.
Optimal Configuration
Upgrades
The recommended upgrades for Yoshino are as follows:
This is the general recommended build to give Yoshino the most versatility in her play style. Players who want to use Yoshino as a dedicated long-range damage farming cruiser can take Steering Gears Modification 2

in slot 5 to enhance her dodging capabilities.
Commander Skills
First 10 points:
Grease the Gears
Priority Target
Adrenaline Rush
Concealment Expert (or Top Grade gunner for a pure damage farm build)
Yoshino should always invest her first 10 points into these skills. Grease the Gears makes her sluggish turrets rotate faster, Priority Target helps players be aware of potential enemy attacks, Adrenaline Rush provides extra firepower, and Concealment Expert helps with positioning. Though Top Grade Gunner is taken if the player intends to go for full damage farm from the start.
After taking these core skills, players should decide if they want to pursue a balanced traditional build or go the full damage farm build. The traditional build maximizes concealment while moderately buffing her firepower. It is the recommended build for most players:
Top Grade Gunner
Survivability Expert
Fill the Tubes
Gun Feeder
Swift Fish
For players wanting to maximize their damage output, the following build eschews concealment for maximum firepower. Players can expect more high damage games, though they should be careful when maneuvering as they often will be turning in full view of the enemy.
(Top Grade Gunner is taken in lieu of Concealment Expert)
Heavy HE and SAP shells
Superintendent
Enhanced Torpedo Explosive Charge
Gun Feeder
Fill the Tubes
  Recommended Commander Skills  
Cost
(points)

Attack

Defense



1

★★

★

 

★★

★

 



2

 

★

 

★

★★

 



3

★★

★

★★★

★

★★★

 



4

★★★

 

 

 

★★★

 

Key: ★★★ - Extremely Useful      ★★ - Frequently Useful      ★ - Occasionally Useful     No stars - Not Useful
Consumables
Yoshino can equip the following consumables:
The choice between Defensive AA Fire 

or Hydroacoustic Search 

is player preference. Yoshino appreciates the extra anti-air defense provided by Defensive AA Fire 

while Hydroacoustic Search 

will compensate for her poor maneuverability when dodging torpedoes.
Note: Yoshino starts with one extra Repair Party 

charge compared to other cruisers.
Camouflage
As a premium ship, Yoshino comes with Default permanent camouflage and a set of permanent combat bonuses.
Signals
Recommended Signal Flags
Combat

★★

★★

★★

★

 

 

 

★★

★★★

★★

★★★

★★★

 

 



Note: Use of the Juliet Charlie signal makes detonation impossible.
Gallery
References
See here for links to Update notes.

Available for testing by supertesters in the game starting from Update 0.8.3.
Update 0.8.5 :

Available for purchase in the Armory for 248,000 Coal.

Update 0.8.7:

Bug with shell caliber fixed - now 310mm (was 305mm). Due to this correction the armor penetration and arming threshold of these shells increased.

Update 0.8.8:

Fixed a bug due to which the view range could be less than the firing range.

Update 0.9.3:

Fixed a bug due to which the detectability was calculated incorrectly when firing the main battery guns.

Update 0.10.0:

The firing range of the secondary battery was increased to 7.3 km.

Update 0.11.1:

Minor corrections to geometry and textures of the ship.