Hatsuharu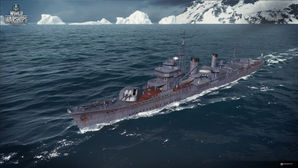 Tech Tree Position
127 mm/50 3rd Year Type mod. B
2 х 2 

pcs.
Rate of Fire
8 

shots/min.
Reload Time
7.5 

sec.
Rotation Speed
7 

deg./sec.
180 Degree Turn Time
25.71 

sec.
Firing Range
9.85 

km.
Maximum Dispersion
88 

m.
HE Shell
127 mm HE Type1 
Maximum HE Shell Damage
2,150 
Chance of Fire on Target Caused by HE Shell
9 

%
Initial HE Shell Velocity
915 

m./s.
HE Shell Weight
23 

kg.
AP Shell
127 mm AP Type0 
Maximum AP Shell Damage
2,200 
Initial AP Shell Velocity
915 

m./s.
AP Shell Weight
23 

kg.
610 mm Triple
2 х 3 

pcs.
Rate of Fire
0.82 

shots/min.
Reload Time
73 

sec.
Rotation Speed
25 

deg./sec.
180 Degree Turn Time
7.2 

sec.
Torpedo
Type8 
Maximum Damage
14,600 
Torpedo Speed
63 

knot
Torpedo Range
6 

km.
127 mm/50 3rd Year Type mod. B
2 х 2 

pcs.
. . . Average Damage per Second
20.2 
. . . Firing Range
5.01 

km.
25 mm/60 Type96 Twin mod. 1
4 х 2 

pcs.
. . . Average Damage per Second
10.8 
. . . Firing Range
2.49 

km.
Maximum Speed
36.5 

knot
Turning Circle Radius
580 

m.
Rudder Shift Time
3.4 

sec.
Surface Detectability Range
6.66 

km.
Air Detectability Range
2.81 

km.
Battle Levels
Hatsuharu — Japanese Tier VI destroyer.
Hatsuharu was a high performance ship despite displacement limitations imposed by the London Naval Treaty of 1930. The ship boasted a comparatively good AA defense. The powerful main battery guns were placed in enclosed turret mounts and could deliver anti-aircraft fire.
Modules
Compatible Upgrades
 Slot 1 
 Slot 2 
 Slot 3 
 Slot 4 
Player Opinion
Performance
As a part of the Japanese destroyer line re-organization and expansion in Update 0.5.15, Hatsuharu falls one tier to her new home at Tier VI. There have been a few minor tweaks to Hatsuharu with the change, but she is largely the same. As before, upgrading to Hull (B) increases her health and anti-aircraft battery, but costs her one of her main battery guns. She retains the same twin triple-tube launchers she had previously. Her detection radius remains 6.7 km, while she loses minor amounts of speed and maneuverability from her previous incarnation. Captains who believed that Hatsuharu was under-gunned in her previous slot at Tier VII will likely be more comfortable with her armament one tier lower.
On the other hand, new Japanese destroyer captains who are moving up to Hatsuharu from Minekaze will find their new acquisition to be something a mixed bag: her guns are a significant upgrade from those of Minekaze, while it can be argued that her torpedo armament is a downgrade. Not only is she less flexible with only two torpedo launchers, the reload time is very nearly double that of Minekaze; in exchange, Hatsuharu's torpedoes can eventually be upgraded to longer-ranged with a bigger punch. Further complicating things is the fact that her torpedo upgrade is locked behind Hull (B), meaning captains must invest experience in the hull upgrade first before having the ability to upgrade her torpedoes.
Without her improved torpedoes, Hatsuharu is stuck with fish that have a paltry 6.0 km range. This forces Hatsuharu into more of a mid-tier American destroyer play style, requiring captains to utilize islands and smoke effectively to land successful torpedo strikes against enemy capital ships. Hatsuharu plays like a completely different ship once she has her upgraded torpedoes, however. The 10.0 km range of her Type 8 mod. 2 torpedoes is more than workable, and her guns can add notable contributions to her damage when used judiciously in the right situations.
Hatsuharu
comes off as the inferior destroyer when compared side-by-side with
Fubuki
, but things flip back the other way one tier up when the same comparison is made between the successors of both ships (
Akatsuki
and
Shiratsuyu
). Captains frustrated with
Hatsuharu
should remember that she is merely a stepping-stone to better things beyond.
Pros:
Improved guns gain significantly increased rate of fire, range, and shell arcs.
Lowest detection range of Tier VI destroyers.
Decent torpedo speed makes her torpedoes harder to dodge.
Generous torpedo launch arcs.
Research
Like the other Tier VI Japanese destroyer,
Fubuki
,
Hatsuharu
is painful to play until Hull (B) and the Torpedo upgrade module are unlocked and equipped. Those need to be top priority. Save the Fire Control System module for last, or skip it altogether and move on to
Shiratsuyu
.
Optimal Configuration
Upgrades
The recommended upgrades for Hatsuharu are as follows:
Mid-tier destroyers like Hatsuharu don't have many outstanding options for upgrades. Main Armaments Modification 1 is the best pick for Slot 1. Propulsion Modification 1 is the best pick of a sorry lot for Slot 4. Slot 3 offers either Aiming Systems Modification 1 or Main Battery Modification 2; either provides a minor boost to Hatsuharu's main battery.
Commander Skills
Recommended Commander Skills
Cost
(points)

Endurance

Attack

Support

Versatility



1

★

★★★

 

Χ

Χ

Χ

 

Χ



2

★

★★

★

★

★

Χ

★★

★★★



3

★★

★

★★

Χ

 

★★★

 

★



4

 

 

★

Χ

★★

 

★★

★★★

Key: ★★★ - Extremely Useful      ★★ - Frequently Useful      ★ - Occasionally Useful     No stars - Meh     

Χ

- Not recommended
Consumables
Hatsuharu equips the following consumables:
Camouflage
Type 1, 2, or 5 camouflage can be equipped for credits; Types 1 or 5 are recommended at a minimum to reduce detectability range.
Players who wish to spend doubloons can equip Hatsuharu with Type 16 camouflage that lowers her detection radius, reduces the accuracy of incoming shells, and increases the amount of experience she earns.
Signals
Recommended Signal Flags
Combat

 

 

 

 

 

 

 

 

 

 

 

 

 

 

Economic

 

 

 

 

 

Special

 

 

 

 

 

 

 

 

Key: ★★★ - Extremely Useful       ★★ - Frequently Useful       ★ - Occasionally Useful      No stars - Not Useful
Gallery
Hatsuharu prepares to attack an enemy Gneisenau.
References