Kuma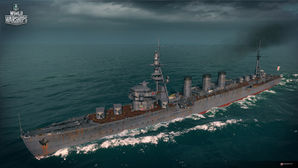 Tech Tree Position
140 mm/50 3rd Year Type
7 х 1 

pcs.
Rate of Fire
10 

shots/min.
Reload Time
6 

sec.
Rotation Speed
8.5 

deg./sec.
180 Degree Turn Time
21.18 

sec.
Firing Range
11.67 

km.
Maximum Dispersion
113 

m.
HE Shell
140 mm HE Type0 
Maximum HE Shell Damage
2,400 
Chance of Fire on Target Caused by HE Shell
10 

%
Initial HE Shell Velocity
850 

m./s.
HE Shell Weight
38 

kg.
AP Shell
140 mm Capped Common Shell 
Maximum AP Shell Damage
2,700 
Initial AP Shell Velocity
850 

m./s.
AP Shell Weight
38 

kg.
533 mm Twin
4 х 2 

pcs.
Rate of Fire
1.43 

shots/min.
Reload Time
42 

sec.
Rotation Speed
25 

deg./sec.
180 Degree Turn Time
7.2 

sec.
Torpedo
533 mm Type6 
Maximum Damage
10,833 
Torpedo Speed
57 

knot
Torpedo Range
6.99 

km.
80 mm/40 (3) 3rd Year Type
2 х 1 

pcs.
. . . Average Damage per Second
3.2 
. . . Firing Range
3 

km.
6.5 mm/115 3rd Year Type
2 х 1 

pcs.
. . . Average Damage per Second
2.4 
. . . Firing Range
0.99 

km.
Maximum Speed
34.5 

knot
Turning Circle Radius
640 

m.
Rudder Shift Time
6.9 

sec.
Surface Detectability Range
11.34 

km.
Air Detectability Range
5.23 

km.
Battle Levels
Kuma — Japanese Tier IV cruiser.
A multipurpose light cruiser that could serve as a scout and a destroyer leader. Compared with the preceding class, Kuma had a greater displacement, reinforced weaponry and increased speed. She retained a weak AA defense that was typical of earlier-period Japanese cruisers.
Modules
Compatible Upgrades
Player Opinion
Performance
Kuma is an improvement of the previous Tenryu. Kuma inherits the same rapid fire 140 mm guns of its predecessor in greater number. With more guns she is able to deliver a greater volume of fire making the ship better at surface combat. A pair of double torpedo launchers on each side allows Kuma to deliver 4 torpedoes per broadside. These torpedoes have an excellent range of 7 km and solid damage.
However, Kuma suffers from several weaknesses. First of all, the citadel of the ship sits high above the water line and is easily penetrated by the AP shells of most of her opponents. Moreover, the engine and steering modules are easy to disable. Finally, Kuma has extremely weak AA defense and will have trouble effectively shooting down planes. The addition of the catapult fighter with the B hull upgrade provides a minor improvement.
Kuma
is a fun ship to play. The high rate of fire and strong torpedo armament provides the player the tools to inflict substantial damage to ships of any type. Players should be wary about protecting the sides of the ship from enemy fire to avoid citadel penetrations. This is especially true when facing battleships as the AP rounds from any battleship that
Kuma
will face have a high probability of hitting the citadel, and although giving them a broadside may make them over-penetrate, doing that would expose the citadel to cruiser AP rounds. The torpedo tubes are also poorly protected and may be disabled by enemy fire.
Pros:
Great guns with a long range and fast reload.
Powerful torpedoes with 7 km range.
Maneuverable for her size.
Low slung profile makes her hard to hit.
She is equipped with a catapult fighter (B Hull).
Deadly to enemy destroyers.
Cons:
Loses torpedo firing systems easily.
Rudder is made of paper.
Armor that can absorb practically nothing.
Catches fire with ease and shares the large citadel of Tenryu.
AA is all bark and no bite.
No secondaries.
Has to show quite a lot of her broadside to get her rear guns into action.
Research
Availability of researchable upgrades for Kuma is as follows:
Hull: Upgrade to Hull (B) for an improved rudder shift time, additional hit points, additional anti-aircraft guns, and access to the Catapult Fighter () consumable. Research of this module unlocks progression to Furutaka.
Gun Fire Control System: Upgrade to Type 4 Mod. 2 for an extra 10% range on the main battery.
Captains should first research Hull (B) before researching the Gun Fire Control System.
Optimal Configuration
Upgrades
Commander Skills
Key skills for Kuma commanders include Last Stand at Level 2, Torpedo Armament Expertise at Level 3, and Concealment Expert at Level 4. Demolition Expert can be taken to increase the main battery's fire chance per shell. Basics of Survivability is also recommended to reduce the time needed to repair module damage and extinguish fires.
Recommended Commander Skills
Cost
(points)

Endurance

Attack

Support

Versatility



1

★★

★★

 

Χ

★

Χ

★

Χ



2

★

★★

★★

★

Χ

Χ

★★

★★★



3

★★

★

★★★

Χ

★

★★

★★★

★



4

 

 

 

Χ

★

 

★★

★★

Key: ★★★ - Extremely Useful      ★★ - Frequently Useful      ★ - Occasionally Useful     No stars - Meh     

Χ

- Not recommended
Consumables
Kuma can equip the following consumables:
Camouflage
Type 1, 2, or 5 camouflage can be equipped for credits; Types 1 or 5 are recommended at a minimum to reduce detectibility range.
Signals
Kuma captains should mount the standard flags to improve the ship's performance in battle. To improve upon the ship's armaments, India X-Ray (

), Victor Lima (

), and Juliet Whiskey Unaone (

) flags are recommended to increase the fire chance and flooding chances respectively. To improve the ship's survivability, captains should mount November Foxtrot (

) and India Yankee (

) flags. Sierra Mike (

) flags are recommended to increase the ship's already high top speed. Lastly, economic and special signal flags can be mounted to improve the ship's economic gains per battle.
Recommended Signal Flags
Combat

★★

 

★★

★

★★★

★

★★★

★★★

 

 

★★

★★

 

 

Economic

★

 

★★

★

 

Special

★

★★

★★

 

★

 

 

 

Key: ★★★ - Extremely Useful       ★★ - Frequently Useful       ★ - Occasionally Useful      No stars - Not Useful
Gallery
References