Hakuryu
Revision as of 05:23, 25 June 2018
Revision as of 05:29, 25 June 2018
Line 49:
Line 49:
 
'''Upgrade Slot 5''' offers players {{Concealment System Modification 1}}, which stacks with [[Ship:Commander#Concealment_Expert|Concealment Expert]] and camouflage to bring ''{{#var:ship_name}}'''s surface detection down to a small range of 11.5 km.
 
'''Upgrade Slot 5''' offers players {{Concealment System Modification 1}}, which stacks with [[Ship:Commander#Concealment_Expert|Concealment Expert]] and camouflage to bring ''{{#var:ship_name}}'''s surface detection down to a small range of 11.5 km.
 
 
?
'''Upgrade Slot 6''' is the 2nd main choice of upgrades with ''{{#var:ship_name}}''. Due to the common presence of multiple battleships and cruisers with very high AA power, {{Air Groups Modification 3}} is highly recommended to make sure ''{{#var:ship_name}}'''s planes will survive their trip to and from their target. If survivability isn't the player's foremost preference, {{Flight Control Modification 2}} is viable, increasing the speed gap between ''{{#var:ship_name}}'''s and ''[[Midway]]'''s planes, allowing the smaller Japanese squadrons to outrun their American counterparts.
+
'''Upgrade Slot 6''' is the 2nd main choice of upgrades with ''{{#var:ship_name}}''. Due to the common presence of multiple battleships and cruisers with very high AA power, {{Air Groups Modification 3}} is highly recommended to make sure ''{{#var:ship_name}}'''s planes will survive their trip to and from their target. If survivability isn't the player's foremost preference, {{Flight Control Modification 2}} is viable, increasing the speed gap between ''{{#var:ship_name}}'''s and ''[[Midway]]'''s planes, allowing the smaller Japanese squadrons to outrun their American counterparts.
 
 
 
|CommanderSkills=<!-- write text about best set of Commander Skills below -->
 
|CommanderSkills=<!-- write text about best set of Commander Skills below -->
Revision as of 05:29, 25 June 2018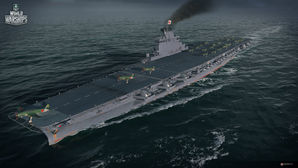 Tech Tree Position
100 mm/65 Type 98 on a Model A mount
12 х 2 

pcs.
Firing Range
5 

km.
Rate of Fire
20.98 

shots/min.
Reload Time
2.86 

sec.
HE Shell
100 mm HE Type98 
Maximum HE Shell Damage
1,700 
Initial HE Shell Velocity
1000 

m./s.
Chance of Fire on Target Caused by HE Shel
6 

%
100 mm/65 Type 98 on a Model A mount
12 х 2 

pcs.
. . . Average Damage per Second
249.6 
. . . Firing Range
5.01 

km.
40 mm/60 Type 5 on a twin mount
22 х 2 

pcs.
. . . Average Damage per Second
242 
. . . Firing Range
3.51 

km.
Maximum Speed
34.5 

knot
Turning Circle Radius
1 250 

m.
Rudder Shift Time
17.1 

sec.
Surface Detectability Range
15.66 

km.
Air Detectability Range
11.42 

km.
Battle Levels
Hakuryū — Japanese Tier X aircraft сarrier.
An aircraft carrier designed to be an enlarged and enhanced version of the Taiho class. Hakuryu was superior to her predecessor in size, armor and artillery power. Owing to an increased hangar, she could carry the largest air group among all Japanese aircraft carriers.


Modules
Compatible Upgrades
 Slot 1 
 Slot 2 
 Slot 3 
 Slot 4 
 Slot 5 
 Slot 6 
Player Opinion
Performance
Hakuryu
is a battleship's worst nightmare. She can field a large number of squadrons to destroy any ship in the water, with up to five strike squadrons at her disposal. However, there is a cost of having so many squadrons: each squadron has a smaller number of planes than their American counterparts which means they can be easily destroyed by a solid AA screen or by intercepting fighters. Despite being large as she is,
Hakuryu
has a rather reasonable concealment value and top speed, better than her American counterpart,
Midway.
Pros:
Can put several squadrons into the air at any given time, especially strike aircraft.
Excellent concealment.
Does not catch fire easily.
3-3-2 squadron configuration is superior to Midway's 2-2-2 config.
4-2-2 squadron layout is easy to gain air control against an enemy Midway due to a larger number of fighters, a higher tier and the fact that while Hakuryu can switch to a fighter build, Midway can't.
All planes are Tier X (unlike Midway, which has Tier VIII torpedo bombers and Tier IX fighters).
Flight control module 2 puts more fighters in the air than Midway (max of 15 with the Air Superiority commander skill).
Shorter reload time on squadrons helps Hakuryu have a larger impact in the battle more quickly.
Tier X dive bombers are great scouts and are fast enough that enemy fighters will have trouble catching them.
Good alpha damage with strike aircraft.
Faster than Midway
Cons:
Small squadron size which makes it a bit easy to have fighters intercept them.
Slighty worse AA than Midway, but still plenty to fend off enemy air strikes.
Lower hangar capacity than Midway, but still difficult to run out of squadrons.
Research
This is a suggested research path:
Mitsubishi A8M fighters
Nakajima C6N1-B torpedo bombers
Wakusei dive bombers
Type 10 mod. 2 or mod. 3 Flight Control
Researching the flight control mods is listed last due to the fact that the anti-air at this tier is so powerful and managing multiple squads is the most difficult at this tier. Additionally, the mod. 2 Flight Control only adds one extra dive bomber squadron to the player's loadout, which may not be very helpful at all and will reduce the ratio of allocated torpedo bombers. Additionally, researching mod. 2 or mod. 3 Flight Control depends on the player's preference.
Optimal Configuration
Upgrades
Upgrade Slot 3 is the 1st main choice of upgrades with Hakuryū. For players looking to improve their fighter's capabilities, Air Groups Modification 2 (

) is highly recommended, especially when using the Type 10 mod. 3 flight control system. Otherwise, the Flight Control Modification 1 (

) helps players land and launch Hakuryū's multiple flight squadrons, as Hakuryū has a staggering eight separate plane squadrons to manage.
Upgrade Slot 5 offers players Concealment System Modification 1 (

), which stacks with Concealment Expert and camouflage to bring Hakuryū's surface detection down to a small range of 11.5 km.
Upgrade Slot 6 is the 2nd main choice of upgrades with Hakuryū. Due to the common presence of multiple battleships and cruisers with very high AA power, Template:Air Groups Modification 3 is highly recommended to make sure Hakuryū's planes will survive their trip to and from their target. If survivability isn't the player's foremost preference, Flight Control Modification 2 (

) is viable, increasing the speed gap between Hakuryū's and Midway's planes, allowing the smaller Japanese squadrons to outrun their American counterparts. However, the Legendary upgrade also increases the plane speed by the same amount and also increases fighter aircraft's HP, making a fighter build extremely powerful with it.
Commander Skills
Hakuryū uses the standard Japanese carrier captain skill setup. Emphasis should be on skills that boost fighter and bomber effectiveness and AA protection. Aircraft Servicing Expert, Torpedo Acceleration, Torpedo Armament Expertise, and Air Supremacy are "must have" skills. Dogfighting Expert is still useful despite Hakuryū's planes being top tier as the bonus to ammunition allows her fighters to remain airborne longer before returning to rearm.
For AA defense, Hakuryū has medium-caliber 100mm guns that benefit greatly from Manual Fire Control for AA Armament. Basic Firing Training is also a good choice to boost all AA guns' DPS by 20%. And as Hakuryū is a Tier IX carrier, the player has access to the special Japanese carrier version of Defensive AA Fire (

), which lasts for two minutes and increases the ship's AA DPS by a factor of 1.75. Coupled with Basic Firing Training and Manual Fire Control for AA Armament, the player can significantly increase the ship's AA DPS to shoot down enemy planes effectively and greatly reduce the damage taken from an enemy carrier's attack.
Evasive Maneuvers is recommended as it increases the bombers' survivability when returning to the carrier, and is especially useful when the enemy targets have activated Defensive AA Fire (

).
Any skills that are related to an enemy vessel firing on your carrier are not useful, as the cost-benefit of investing in survivability skills is not worth the minimal benefit they offer. Hakuryū is large and unarmored, and will not survive an attack by any ship larger than a destroyer. Hakuryū captains must position their ship near friendlies and far back from the enemy fleet. Concealment Expert may be taken to further reduce detection range if the captain so desires.
Recommended Commander Skills
Cost
(points)

Endurance

Attack

Support

Versatility



1

 

 

 

★★★

 

 

 

 



2

 

 

 

★★★

 

 

 

 



3

 

 

★★★

 

★

 

 

 



4

 

 

 

 

★

 

 

★★

Key: ★★★ - Extremely Useful       ★★ - Frequently Useful       ★ - Occasionally Useful      No stars - Meh    

Χ

- Not recommended
Consumables
Hakuryū can equip the following consumables:
Premium Defensive AA Fire II (

) is recommended to counter any enemy carrier's attempts to "snipe" the player (that is, by having all bombers bypass allied ships undetected and attempting to sink the player in one hit). Premium Damage Control Party II (

) is not recommended as it is only needed in dire moments, or when the player is the last one alive.
Camouflage
Type 1, 2, or 5 camouflage can be equipped for credits; Types 1 or 5 are recommended at a minimum to reduce detectability range.
Players who wish to spend doubloons can equip Hakuryū with Type 20 camouflage that lowers her detection radius, reduces the accuracy of incoming shells, reduces cost of post-battle service, and increases the amount of experience she earns.
Signals
As a carrier, Hakuryū can only mount at most four signals at a time and has no risk of detonating. Players should mount Equal Speed Charlie London (

), Zulu Hotel (

), and, for the last two: November Echo Setteseven (

) and Juliet Whiskey Unaone (

).
Recommended Signal Flags
Combat

★★★

 

 

★★★

 

 

 

★

 

 

 

 

 

 

Economic

★

 

★★★

★★★

 

Special

★

★

★

 

★

 

 

 

Key: ★★★ - Extremely Useful       ★★ - Frequently Useful       ★ - Occasionally Useful      No stars - Not Useful
Note: Use of the Juliet Charlie signal makes detonation impossible.
Gallery

Cite error: <ref> tags exist, but no <references/> tag was found