Omaha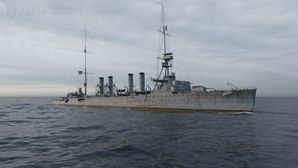 Tech Tree Position
152 mm/53 Mk16
2 х 2 / 8 х 1 

pcs.
Rate of Fire
7.5 

shots/min.
Reload Time
8 

sec.
Rotation Speed
8 

deg./sec.
180 Degree Turn Time
22.5 

sec.
Firing Range
13.83 

km.
Maximum Dispersion
137 

m.
HE Shell
152 mm HE/HC Mk34 mod. 1 
Maximum HE Shell Damage
2,200 
Chance of Fire on Target Caused by HE Shell
12 

%
Initial HE Shell Velocity
914 

m./s.
HE Shell Weight
47.7 

kg.
AP Shell
152 mm AP/SC Mk27 mod. 5 
Maximum AP Shell Damage
3,100 
Initial AP Shell Velocity
914 

m./s.
AP Shell Weight
47.6 

kg.
533 mm Twin
4 х 2 

pcs.
Rate of Fire
1.36 

shots/min.
Reload Time
44 

sec.
Rotation Speed
25 

deg./sec.
180 Degree Turn Time
7.2 

sec.
Torpedo
Mk11 
Maximum Damage
11,733 
Torpedo Speed
56 

knot
Torpedo Range
5.49 

km.
76.2 mm/50 Mk22 mod. 2
4 х 1 

pcs.
. . . Average Damage per Second
11.2 
. . . Firing Range
3.51 

km.
Maximum Speed
34 

knot
Turning Circle Radius
600 

m.
Rudder Shift Time
7.5 

sec.
Surface Detectability Range
13.5 

km.
Air Detectability Range
5.35 

km.
Battle Levels
Omaha — American Tier V cruiser.
A high-speed scout cruiser carrying torpedo armament and relatively powerful artillery, with part of the guns placed in turrets. She was the first cruiser in the U.S. Navy to receive aircraft handling equipment.
Modules
Compatible Upgrades
Player Opinion
Performance
Tier V Omaha represents an incremental improvement over her predecessor, Phoenix. She inherits Phoenix's unusual mixture of casemate and turret-mounted main armament, allowing a broadside of eight 6-inch (152 mm) guns or six guns fore and aft. The casemate guns have very good angles of fire and at least six guns can be brought to bear in any direction. This is useful when pursuing a target or retreating, allowing Omaha to maintain most of her firepower without giving a broadside.
Omaha is also the last torpedo-armed cruiser in the American line. While there are two launchers on each side that start off as twin-tubes, they become triple-tubes with Hull (B), and one launcher on each side is lost with Hull (C). Unfortunately, the torpedoes on all hulls have a paltry 5.5 km range (unlike her Soviet Lend-Lease counterpart, Murmansk, which has 8 km torpedoes), and should be used only when the guns cannot do enough damage (from either damage saturation for HE or insufficient penetration for AP) or Omaha finds herself very close to another ship. The good news is that if a torpedo salvo hits, it will do massive amounts of damage. They become very useful when ambushing in close quarters.
Befitting her status as a light cruiser, the armor fitted on Omaha is fairly weak. She relies mainly on speed to avoid damage from other ships, and dodging shells and torpedoes is key to surviving. Her quick rudder shift provides her captain the ability to make her a difficult target to hit, and he must maximize use of her rudder to avoid being blown away by enemy battleships. Omaha also has a rather large and vulnerable citadel; giving a broadside to battleships, cruisers, or even destroyers will result in the ship taking massive amounts of damage, if not being destroyed in a single salvo.
As a teammate,
Omaha
is the perfect escort for battleships. She provides decent AA cover, extra firepower, and
Hydroacoustic Search
(

) to see where torpedoes are coming from far in advance.
Omaha
also excels at chasing down and killing destroyers thanks to her high speed and unusual armament layout. Her added firepower can be a useful supplement in supporting allied destroyers.
Pros:
High damage per minute, even without firing a broadside.
Speed that matches destroyers of that tier and above.
Good AA for its tier.
Excellent support ship for battleships.
Can aim six guns forward; very good when pursuing enemy targets.
Can also aim six guns to the rear (A + B Hull); very good when kiting away from enemies.
Cons:
As a light cruiser, she has only slightly more armor than a destroyer and can sustain citadel hits even from American and Russian destroyer armor-piercing shells.
Torpedoes are rather slow at 56 knots, having a range of only 5.5 km, and half of the torpedo tubes are lost with the (C) hull.
Inferior to sister-ship Murmansk in almost every respect.
Research
Early experience gains are best invested in Hull (B) — providing significant upgrade to
Omaha
's firepower — followed quickly by the improved 152mm guns. Boost her firing range next by picking up the Fire Control System upgrade, then unlock Hull (C). Investing the credits to equip Hull (C) is the captain's choice: it sacrifices two of her torpedo launchers for additional anti-aircraft defenses and is a downgrade to her overall firepower. For the purposes of unlocking
Dallas
, sticking with Hull (B) is probably best.
Optimal Configuration
Upgrades
Commander Skills
Recommended Commander Skills
Cost
(points)

Endurance

Attack

Support

Versatility



1

★★★

★★★

★

Χ

★★

Χ

★★

Χ



2

★★

★★

★★

 

Χ

Χ

★★

★★



3

★

 

★★

Χ

★★

★★

★★★

★★



4

 

★

★★★

Χ

★★

 

★

★★★

Key: ★★★ - Extremely Useful      ★★ - Frequently Useful      ★ - Occasionally Useful     No stars - Meh     

Χ

- Not recommended
Consumables
Omaha equips the following
Camouflage
Type 1, 2, or 5 camouflage can be equipped for credits; Types 2 or 5 are recommended at a minimum to reduce the accuracy of incoming shells.
Signals
Recommended Signal Flags
Combat

★

 

★★★

 

★★★

 

★

★

 

 

 

★★

 

 

Economic

 

 

★★★

★★

 

Special

 

★★

 

 

★★

 

 

 

Key: ★★★ - Extremely Useful       ★★ - Frequently Useful       ★ - Occasionally Useful      No stars - Not Useful
Gallery
References