Seattle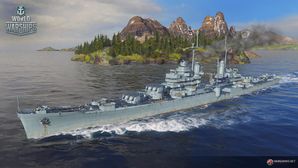 Tech Tree Position
152 mm/47 DP Mk.17 in a turret
4 х 3 

pcs.
Rate of Fire
9.23 

shots/min.
Reload Time
6.5 

sec.
Rotation Speed
8 

deg./sec.
180 Degree Turn Time
22.5 

sec.
Firing Range
14.28 

km.
Maximum Dispersion
141 

m.
HE Shell
152 mm HE Mk39 
Maximum HE Shell Damage
2,200 
Chance of Fire on Target Caused by HE Shell
12 

%
Initial HE Shell Velocity
812 

m./s.
HE Shell Weight
47.6 

kg.
AP Shell
152 mm AP Mk35 
Maximum AP Shell Damage
3,200 
Initial AP Shell Velocity
762 

m./s.
AP Shell Weight
59 

kg.
152 mm/47 DP Mk.17 in a turret
4 х 3 

pcs.
. . . Average Damage per Second
90 
. . . Firing Range
6 

km.
152 mm/47 DP Mk.17 in a turret
4 х 3 

pcs.
. . . Average Damage per Second
90 
. . . Firing Range
6 

km.
20 mm Oerlikon on a Mk.4 mount
18 х 1 

pcs.
. . . Average Damage per Second
64.8 
. . . Firing Range
2.01 

km.
40 mm/56 Bofors on a Mk.1 mount
12 х 2 

pcs.
. . . Average Damage per Second
135.6 
. . . Firing Range
3.51 

km.
Maximum Speed
33 

knot
Turning Circle Radius
750 

m.
Rudder Shift Time
12.1 

sec.
Surface Detectability Range
12.24 

km.
Air Detectability Range
8.52 

km.
Battle Levels
Seattle — American Tier IX cruiser.
One of the first versions of a U.S. Navy light cruiser with a dual-purpose 152 mm artillery as the main battery. Further development of the project led to the creation of Worcester-class cruisers.
Modules
Compatible Upgrades
 Slot 1 
 Slot 2 
 Slot 3 
 Slot 4 
 Slot 5 
 Slot 6 
Player Opinion
Performance
Some aspects of Tier IX's Seattle will feel like a downgrade for players who took the time to play through Cleveland at Tier VIII. Seattle is notably longer and bulkier, trading Cleveland's compact hull and svelte handling for a hull form and layout that has much more in common with her heavy cruiser counterpart Buffalo. Indeed, if placed side-by-side with Buffalo, captains will notice many similarities (such as her amidships aircraft catapults) and a couple of glaring changes.
One of the most notable differences between Cleveland and Seattle is the loss of the former's 5"/38 dual-purpose secondary turrets. These venerable guns — found in a myriad of places across American ships of all classes — that comprised the long-range anti-aircraft battery at Tier VIII have been replaced by Seattle's 152mm/47 Mark 17 dual-purpose main battery at Tier IX. It's an awkward trade, but it ends up working out slightly in Seattle's favor, as her outer AA bubble picks up an extra kilometer of range while the DPS is basically a wash. Seattle's mid-range AA bubble is notably more powerful, though, as she packs a dozen quad 40mm Bofors mounts; her AA DPS at mid-range is 50% higher than that of Cleveland.
Seattle's main battery guns themselves are also something of a mixed bag. The ship can equip Main Battery Modification 3

and lower her reload time to 5.7 seconds, but the traverse speed of her turrets is already slower than that of Cleveland and the aforementioned upgrade makes it even worse. Captains who invest in the Expert Marksman skill can recoup most of this lost traverse speed, but will still find themselves frustrated with how slow her turrets move for a light cruiser. The shell performance of Seattle's guns remains identical to the American light cruisers before and after her, and she retains the lightly armored citadel of her light cruiser brethren. Seattle's armor belt — such as it is — is longer than that of Cleveland and extends across more of her waterline, but tops out at 102mm (25mm thinner than that of her predecessor). She is decidedly less well-protected.
From a handling perspective, Seattle both an improvement and a downgrade from Cleveland. She's faster by about a half-knot, but responds to her rudder slower and has a notably larger turning circle. Captains who have grown accustomed to navigating the tight confines of certain maps with Cleveland are advised to spend some time learning how Seattle handles prior to attempting the same kinds of maneuvers. Like all other Tier IX cruisers, she gains access to the Repair Party 

consumable, which greatly increases her longevity in the hands of a heads-up captain.
Appraised of all these nuanced differences, captains are advised to treat
Seattle
as a slightly larger, slower handling, and harder-to-conceal
Cleveland
. Most of the tactics and strategy used to work through
Cleveland
will still apply to
Seattle
; maximize use of them and move on towards
Worcester
.
Pros:
Unlike Cleveland, Seattle can improve its rate of fire or range via upgrades
Decent HE penetration and good fire chance for 152mm guns
High shell arcs, useful to lob shells over island cover
Reasonably good hitpoint pool for a light cruiser
Thick deck armor protects the rear half of the ship
Good ship speed at 33 knots unmodified
Excellent concealment with all the relevant upgrades
Strong AA suite, aided by Defensive AA Fire 
Seven different consumables, including Surveillance Radar 
Cons:
Extremely poor main battery firing angles
Short main battery range
Main battery rate of fire, fire chance, penetration and shell speed are the same as Cleveland
Rear deck armor aside, Seattle is even less armored than Cleveland
Poor ship acceleration and deceleration
Poor shell velocity and high arcs make long range gunnery difficult
Requires IFHE to deal direct HE damage to Tier 8+ battleship plating
Completely lacks secondary armaments and torpedoes
The Surveillance Radar  has a range of only 9km
Research
Availability of researchable upgrades for Seattle are as follows:
Hull: Upgrade to Hull (B) for more health, better anti-air, and faster rudder shift. Research of this module unlocks progression to Worcester.
Gun Fire Control System: Upgrade to Mk9 mod. 2 for an extra 10% range on the main battery.
Optimal Configuration
Upgrades
The recommended upgrades for Seattle are as follows:
Commander Skills
  Recommended Commander Skills  
Cost
(points)

Attack

Defense



1

★

 

 

 

★★

 



2

★★

 

★★

 

★★★

★★



3

 

 

★★★

 

★★★

★★



4

 

 

 

★★

★★★

 

Key: ★★★ - Extremely Useful      ★★ - Frequently Useful      ★ - Occasionally Useful     No stars - Not Useful
Consumables
Seattle equips the following consumables:
Camouflage
Type 1, 2, or 5 camouflage can be equipped for credits; Types 1 or 5 are recommended at a minimum to reduce detectability range.
Players who wish to spend doubloons can equip Seattle with Type 19 camouflage that lowers her detection radius, reduces the accuracy of incoming shells, reduces her repair costs, and increases the amount of experience she earns.
Signals
Recommended Signal Flags
Combat

★★★

 

★★

 

★★

★

★★★

★★

★★★

 

 

★★★

 

 

Economic

★★

★★

★★

★★★

 

Special

★

★★★

★★★

 

★

 

 

 

Key: ★★★ - Extremely Useful       ★★ - Frequently Useful       ★ - Occasionally Useful      No stars - Not Useful
Note: Use of the Juliet Charlie signal makes detonation impossible.
Gallery
References