Marblehead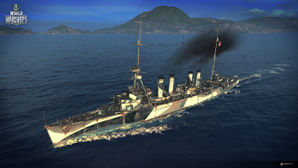 Tech Tree Position
152 mm/53 Mk.12 on a Mk.13 casemate mount
8 х 1 / 2 х 2 

pcs.
Rate of Fire
9 

shots/min.
Reload Time
6.67 

sec.
Rotation Speed
7.5 

deg./sec.
180 Degree Turn Time
24 

sec.
Firing Range
13.88 

km.
Maximum Dispersion
128 

m.
HE Shell
152 mm HE/HC Mk34 mod. 1 
Maximum HE Shell Damage
2,200 
Chance of Fire on Target Caused by HE Shell
12 

%
Initial HE Shell Velocity
914 

m./s.
HE Shell Weight
47.7 

kg.
AP Shell
152 mm AP/SC Mk27 mod. 5 
Maximum AP Shell Damage
3,100 
Initial AP Shell Velocity
914 

m./s.
AP Shell Weight
47.6 

kg.
533 mm Triple
2 х 3 

pcs.
Rate of Fire
1.58 

shots/min.
Reload Time
38 

sec.
Rotation Speed
25 

deg./sec.
180 Degree Turn Time
7.2 

sec.
Torpedo
Bliss Leavitt Mk9 mod. 1 
Maximum Damage
6,233 
Torpedo Speed
49 

knot
Torpedo Range
8.22 

km.
76 mm/50 Mk.22 on a single mount
4 х 1 

pcs.
. . . Average Damage per Second
11.2 
. . . Firing Range
3.51 

km.
Maximum Speed
34 

knot
Turning Circle Radius
600 

m.
Rudder Shift Time
5.7 

sec.
Surface Detectability Range
13.09 

km.
Air Detectability Range
5.36 

km.
Battle Levels
Marblehead — American special premium Tier V cruiser.
USS Marblehead, an Omaha-class cruiser, met the start of World War II as part of the Asiatic Fleet. In the Battle of Makassar Strait, Marblehead's rudders took damage and became jammed. Steering by working the engines at varying speeds only, the cruiser managed to escape. She made her way to South Africa and then embarked on a journey to Brooklyn. From 1942 to 1944, the ship served in the South Atlantic, and during the summer of 1944, she escorted convoys. Later, she moved to Europe, where she took part in the landings in southern France.
Marblehead was originally released as a gift ship with decorative camouflage. It was given away in August 2015 at the PAX 2015 convention, and as a reward for a contest on the NA forums.
Modules
Compatible Upgrades
Player Opinion
Performance
Warning. The data presented in the AA Defense sidebar section may be incorrect.
For a graphic summary of ships Tiers VIII thru XI see LittleWhiteMouse's "Actual AA DPS".
Marblehead is a variant of the American Tier V cruiser Omaha. When the two ships are put side-by-side, Marblehead has the most in common with Omaha's Hull (B), with the gun and firing control upgrades. As such, it has eight guns. In addition, the AA remains the same as on Omaha's Hull (A), which means it's all but non-existent. However, it does come with a catapult fighter, which can be launched to intercept incoming bombers and can make up for the small amount of AA if used wisely.
Unfortunately, it does not have the lower torpedo launchers of
Omaha
, and
Marblehead
's launchers use different torpedoes with completely different statistics. As a result, the play style when using torpedoes is quite different. To begin with, the salvo has fewer torpedoes as the hull is left with two triple-tube launchers instead of four. While they have an impressive range of 8.2 km, making them more useful for flooding or weakening BBs, they cannot be relied upon to sink an enemy at range due to poor speed of only 49 knots, making each salvo easier to evade. Furthermore, the low damage is painful if attempting to kill a single target, as each inflicts only 6233 damage max. However, at close range or against multiple targets, the torpedoes do have a fast reload time of 38 seconds compared to
Murmansk
's 69 seconds and
Omaha
's 44.
Pros:
Very rapid firing weapons, and lots of them, with faster rate of fire than Omaha's.
Torpedoes have longer range than Omaha's.
Carries a catapult fighter to supplement AA defenses.
Good maneuverability.
Adequate main battery firing range.
Can be very effective at setting fire to enemy ships.
Can train six guns forward or aft when facing the enemy bow on or kiting away.
Cons:
Weak armor makes it susceptible to citadel penetrations from the enemy.
Large detection range.
Torpedoes have low damage, have low speed and are easy to avoid (especially at long range).
Worst AA defense of all tier 5 cruisers.
No secondaries.



Research
As a premium ship, Marblehead has no module upgrades to research.
Optimal Configuration
Upgrades
Commander Skills
  Recommended Commander Skills  
Cost
(points)

Attack

Defense



1

 

 

 

 

★★

★★



2

 

 

★★

 

 

 



3

★★

 

★★

 

★★

 



4

 

 

 

★★

 

★★

Key: ★★★ - Extremely Useful      ★★ - Frequently Useful      ★ - Occasionally Useful     No stars - Not Useful
Consumables
Marblehead equips the following consumables:
Camouflage
As a premium ship, Marblehead comes with Default permanent camouflage and a set of permanent combat bonuses.
Signals
Note: Use of the Juliet Charlie signal makes detonation impossible.
Gallery
References
See here for links to Update notes.

Available for testing by supertesters in the game starting from Update 0.4.0.3.
Update 0.4.0.4:

The Hydroacoustic Search consumable was added.

Update 0.5.3.2:

Type 6 camouflage renamed Type 9.

First appeared on sale in March 2016.
Update 0.5.6:

Went on sale for doubloons in the game client (before that was only available in the Premium store).

Update 0.5.8:

The armor model of the hull was refined.

Update 0.5.9:

The thickness of the casemate closest to the bow was increased from 6 to 10 mm.

Update 0.5.10:

Fixed display of some decorative objects and rigging.

Update 0.6.0:

Updated the guns on the ship:
Main battery reload time decreased to 6.67 s, the torpedo tube firing sector was increased by 7 degrees towards the stern.

Update 0.6.1:

Improved appearance with the use of special technology for improved rendering of thin elements (mainly rigging).

Update 0.6.3:

Base firing range increased from 12,650 to 13,880 m.

Update 0.6.12:

Detectability when firing main guns in smoke changed to 6.87 km.

Update 0.6.13:

Fire extinguishing time now 30 s instead of 60 s.
Improved display of thin elements.
The survivability of air defense weapons was tested and brought to a single standard. The change affects the 76.2 mm gun.

Update 0.6.15:

A bonus was added to the "Type 9" permanent camouflage: a 10% discount to the cost of post-battle service.

Update 0.7.7:

Minor fixes to geometry and textures on the ship and camouflage.

Update 0.7.10:

The range of the Hydroacoustic Search consumable was unified: 4 km for detecting ships, 3 km for detecting torpedoes.

Update 0.8.8:

Updated silhouette of the ship.

Update 0.9.2:

HE shell penetration increased from 24 to 25 mm.
Central armor reinforced from 13 to 16 mm.

Update 0.9.3:

Available for purchase in the Armory for 34,000 Coal.

Update 0.11.9:

Minor fixes to geometry and textures of the ship.