Vermont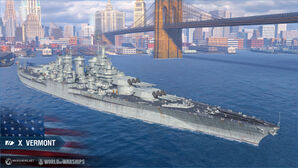 Tech Tree Position
457 mm/45 Mk.A in a turret
4 х 3 

pcs.
Rate of Fire
1.5 

shots/min.
Reload Time
40 

sec.
Rotation Speed
4 

deg./sec.
180 Degree Turn Time
45 

sec.
Firing Range
24.5 

km.
Maximum Dispersion
305 

m.
HE Shell
457 mm HE Type B 
Maximum HE Shell Damage
6,450 
Chance of Fire on Target Caused by HE Shell
43 

%
Initial HE Shell Velocity
800 

m./s.
HE Shell Weight
1230 

kg.
AP Shell
457 mm AP Type B 
Maximum AP Shell Damage
15,750 
Initial AP Shell Velocity
732 

m./s.
AP Shell Weight
1746 

kg.
127 mm/38 Mk.12 on a Mk.32 mount
8 х 2 

pcs.
Firing Range
7.3 

km.
Rate of Fire
10 

shots/min.
Reload Time
6 

sec.
HE Shell
127 mm HE Mk32 
Maximum HE Shell Damage
1,800 
Initial HE Shell Velocity
792 

m./s.
Chance of Fire on Target Caused by HE Shell
5 

%
127 mm/38 Mk.12 on a Mk.32 mount
8 х 2 

pcs.
. . . Average Damage per Second
120.8 
. . . Firing Range
5.01 

km.
40 mm/56 Bofors on a Mk.2 mount
21 х 4 

pcs.
. . . Average Damage per Second
333.9 
. . . Firing Range
3.51 

km.
20 mm Oerlikon on a Mk.24 mount
36 х 2 

pcs.
. . . Average Damage per Second
219.6 
. . . Firing Range
2.01 

km.
Maximum Speed
23 

knot
Turning Circle Radius
850 

m.
Rudder Shift Time
19.1 

sec.
Surface Detectability Range
15.54 

km.
Air Detectability Range
13.59 

km.
Battle Levels
Vermont — American Tier X battleship.
A design of a powerful 70,000-ton battleship with modest speed that was armed with 457 mm main battery guns.
Modules
Compatible Upgrades
 Slot 1 
 Slot 2 
 Slot 3 
 Slot 4 
 Slot 5 
 Slot 6 
Player Opinion
Performance
As the capstone of the American standard battleship line, Tier X Vermont exemplifies many traits from its predecessor Minnesota. Captains familiar with the Minnesota will recognize Vermont's slow speed, long shell reload, and large salvo weight. However, much like the upgrade from Kansas to Minnesota, Vermont is a considerable upgrade upon her predecessor in the area of both main battery firepower and armor.
Attributes
While Vermont has the standard 32mm bow and stern plating and the 38mm midsection plating commonly found on high tier Standard battleships, her deck armor has been upgraded to 51mm. However, unlike the underwater citadel of her predecessors, her citadel protrudes above the water. Thus, captains will observe that as compared to Minnesota, Vermont is more resilient towards H.E shells but more vulnerable to large caliber A.P shells. To protect her from incoming torpedos, Vermont has a great torpedo belt, capable of reducing damage from torpedoes by 40%.
Vermont possesses 12 guns in four triple turrets. These guns have a caliber of 457mm, allowing them to overmatch 30mm of armor plating commonly found on Tier X cruisers. As such, these guns are particularly deadly against cruisers as they have the potential to severely cripple them if aimed correctly. In addition, her A.P shells have excellent penetration, being able to citadel enemy battleships even at long range.
While Vermont possesses the second highest broadside alpha strike potential, she has the longest reload out of all Tier X battleships at 40 seconds. Patience and target selection are the key to success with Vermont; It is often beneficial for captains to hold their fire for more appealing targets rather than always firing off reload. One other common strategy is to shoot 2 guns every 20 seconds rather than 4 every 40 seconds in order to make it more difficult for enemy ships to dodge her fire.
Vermont's secondary battery consists of 8 dual 127mm cannons which reload in 6 seconds. Their accuracy is average for a Tier X battleship, but the H.E penetration and firing range are both poor. For this reason, a secondary build is not advisable.
Vermont's surface detectability range is average for a Tier X battleship. However, she is by far the slowest battleship at her tier, with a maximum speed of 23 knots. This makes it difficult for her to disengage from unfavorable engagements. Conversely, it gives the captain time to assess the situation before becoming committed. Captains can use this time to be extra careful and plan their route in advance so as not to be caught in bad positions during the course of the battle.
The anti-aircraft suite of Vermont can be characterized as mediocre in all respects, having a range of 5.8km, 6 flak, and a mid range dps of 534. However, she gets access to Defensive AA fire, which will give enemy carriers second thoughts about striking her. With a rudder shift of 19.1 seconds and a turning circle of 850 meters, Vermont is one of the most maneuverable Tier X battleships. She can use this maneuverability to make up for her exposed citadel by dodging incoming battleship salvos.
Game Play
Vermont can be best described as a ship of extremes. On one hand, she has arguably the most lethal main battery guns at Tier X. On the other hand, she is the slowest tier X battleship by a large margin. Therefore, she favors a central battleship playstyle. This position gives her the ability to create crossfires with friendly battleships on the flanks. While other battleships may be able to rotate from their initial flank to the other during the mid game, Vermont is not fast enough to do so; positioning centrally gives her a head start to move to whichever flank she will have more impact in during the late game.
Vermont is a challenging battleship to play, and inexperienced battleship captains will have difficulties with her due to the fact that positioning mistakes are punished particularly hard. Once caught in a bad position, it is difficult to disengage and will often result in death. She really shines in the hands of an experienced captain who is able to draw out the full potential from her strengths while compensating for her weaknesses.
Pros:
Twelve 18 inch guns (457mm), the second heaviest broadside in the game (barely edged out by Cristoforo Colombo).
Great main battery dispersion, which can be improved further with Artillery Plotting Room Modification 2
Above average A.P penetration, on par with Tier X Yamato
51mm central deck armor, enough to shatter low caliber H.E shells
38mm covers the midsection of the hull allowing her to bounce AP shells when angled
Large HP pool
Above average torpedo protection
Tight turning circle
Access to Defensive AA Fire
Cons:
Slow shell velocity
Prone to taking large chunks of damage even when angled due to large freeboard
Glacial main battery reload time of 40 seconds.
Slowest tier 10 battleship in the game, with a base speed of 23 knots
Raised citadel, vulnerable while broadside
Optimal Configuration
Upgrades
The recommended upgrades for Vermont are as follows:

Slot 6 Gives players two different options. The recommended option is Artillery Plotting Room Modification 2
to have more accurate main battery guns. However, for captains that would rather have a quicker reload (to compensate for the 40 seconds base reload), they should use Main Battery Modification 3
.
Commander Skills
  Recommended Commander Skills  
Cost
(points)

Attack

Defense



1

★★

 

★★

★★

 

★★



2

★★★

 

 

★

★★

★★



3

 

 

★★★

★★

★★

★★



4

★

 

 

★★★

★★★

★★★

Key: ★★★ - Extremely Useful      ★★ - Frequently Useful      ★ - Occasionally Useful     No stars - Not Useful
Consumables
Signals
Recommended Signal Flags
Combat

★★

★★

★★★

★

★

★

★★

 

★

★★

★★

★★★

 

 



Note: Use of the Juliet Charlie signal makes detonation impossible.
Gallery
References
See here for links to Update notes.

Available for testing by supertesters in the game starting from Update 0.9.7.
Introduced into the game as a researchable ship in Update 0.9.11.
Update 0.10.0:

Fixed an error that caused the anti-torpedo bulges to not go over her ends.
The firing range of the secondary battery was increased to 7.3 km.

Update 0.11.5:

Repair Party consumable reload time reduced from 80 to 40 s.

The amount of HP recovered by the consumable after receiving damage to the citadel, including from torpedoes hitting the citadel area, increased from 10 to 50%.

Changed the engine parameters: the acceleration time for forward and reverse movement was significantly reduced.
Thickness of side armor plating (auxiliary room armor) increased from 38 to 51 mm.
Detectability range by sea reduced from 18.02 to 16.02 km. Other detectability values were reduced accordingly.
The parameters of the main battery shells were changed to match the updated concept of the branch:

Increased the flight time of shells over long distances.
Increased close-range armor penetration capabilities.
Reduced long-range armor penetration capabilities.

Update 0.11.7:

Minor fixes to the model and textures of the ship.