Sims B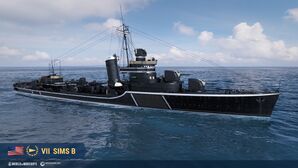 Tech Tree Position
127 mm/38 Mk.12 on a Mk.30 mod.0 mount
4 х 1 

pcs.
Rate of Fire
17.96 

shots/min.
Reload Time
3.34 

sec.
Rotation Speed
34 

deg./sec.
180 Degree Turn Time
5.29 

sec.
Firing Range
12.88 

km.
Maximum Dispersion
111 

m.
HE Shell
127 mm HE Mk32 
Maximum HE Shell Damage
1,800 
Chance of Fire on Target Caused by HE Shell
5 

%
Initial HE Shell Velocity
792 

m./s.
HE Shell Weight
24.5 

kg.
AP Shell
127 mm AP/SC Mk38 
Maximum AP Shell Damage
2,100 
Initial AP Shell Velocity
792 

m./s.
AP Shell Weight
25 

kg.
533 mm Quad
2 х 4 

pcs.
Rate of Fire
0.69 

shots/min.
Reload Time
87 

sec.
Rotation Speed
25 

deg./sec.
180 Degree Turn Time
7.2 

sec.
Torpedo
Mk15 mod. 0 
Maximum Damage
11,600 
Torpedo Speed
65 

knot
Torpedo Range
6.99 

km.
127 mm/38 Mk.12 on a Mk.30 mod.0 mount
3 х 1 

pcs.
. . . Average Damage per Second
32.1 
. . . Firing Range
5.01 

km.
IDS_PAGM137_5IN38_MK30_MOD1
1 х 1 

pcs.
. . . Average Damage per Second
10.7 
. . . Firing Range
5.01 

km.
12.7 mm Browning on a single mount
4 х 1 

pcs.
. . . Average Damage per Second
15.2 
. . . Firing Range
1.2 

km.
20 mm Oerlikon on a Mk.4 mount
2 х 1 

pcs.
. . . Average Damage per Second
7.2 
. . . Firing Range
2.01 

km.
Maximum Speed
38.5 

knot
Turning Circle Radius
500 

m.
Rudder Shift Time
2.7 

sec.
Surface Detectability Range
7.56 

km.
Air Detectability Range
2.93 

km.
Battle Levels
Sims B — American promo premium Tier VII destroyer.
A well-armed high-speed destroyer with excellent maneuverability. High rate of fire and excellent aiming speeds for her dual-purpose artillery mounts ensured good firepower and efficient AA defenses for her time.

Sims B first went on sale on 29 November 2019.
Modules
Compatible Upgrades
 Slot 1 
 Slot 2 
 Slot 3 
 Slot 4 
Player Opinion
Performance
Fans of the American destroyer line will be very comfortable in Tier VII premium Sims B. She's fast, highly maneuverable, her guns spit out shells at a amazing 18 rounds per minute, and they turn fast... very fast. Her surface detectability is somewhat high as is typical of mid-tier American destroyers, but is lower than that of her tech tree cousin Mahan at just 7.3 km. Her turning radius is a mere 500 meters, allowing her to quickly and decisively dodge incoming shells and torpedoes.
Sims B captains have a choice of torpedo modules, one that will portend how they intend to play her. Aggressive captains can equip the Mk15 mod. 0 torpedoes and fight in close quarters and around islands. She inherits this style of play from her predecessors like Nicholas and Farragut. Conversely, cagier captains can equip the Bliss Leavitt Mk7 mod. 2B torpedoes and fire them from stealth; however, the longer-legged torpedoes only do a little more than 8,000 damage a pop and travel at a snail-like 49 knots. While the ability to fire torpedoes from beyond her detection range is good practice for Benson and later American destroyers - and a capability that her lower-tier cousins do not have - in this configuration, Sims B' torpedo armament is best described as "anemic".
While her guns have low chance per shell of setting ships on fire, they put out so many shells that a target being focused will probably catch fire eventually. A reasonable marksman can — with some practice — hit sluggish capital ships like battleships and carriers over and over and over at medium range. She's also very capable of engaging other destroyers at ranges under 7.0 km and quickly dispatching them with her high rate of fire.
Pros:
Two centerline-mounted quadruple torpedo launchers, each one able to fire to both sides.
Guns have very fast turret traverse; they are always on target.
High rate of fire from her main battery.
Good acceleration and agility.
Fastest American destroyer in the game with a top speed of 38.5 knots.
Can mount the Defensive AA Fire  consumable; Sims B' AA can be made fairly respectable with the right mix of commander skills, upgrades, and signal flags.
Can fire up to a range of 15.5km with a captain with Advanced Firing Training.
Outstanding turning circle radius of only 500m.
Cons:
Very fragile armor and modules.
The Bliss-Leavitt torpedoes are very slow at 49 knots and only deal 8,500 maximum damage.
The Mk 15 mod. 0 torpedoes are fast and deal decent damage, but have a fairly short range.
Like all American destroyers equipped with 127mm guns, she suffers from the notorious 'rainbow' shell arc; it's hard to hit ships at long range.
Stock (unbuffed) AA is weak.
Has one less main battery gun than Mahan.
Above-average detectability for a Tier VII destroyer.



Research
As a premium ship, Sims B doesn't have any upgrades to research.
Optimal Configuration
Upgrades
The recommended upgrades for Sims B are as follows:
Commander Skills
The following information is provided for players who wish to create a permanent captain for the ship. Those players who are retraining captains or using the ship to gain extra experience for a captain should consult the page relevant to the ship to which the captain will be assigned.
  Recommended Commander Skills  
Cost
(points)

Attack

Defense



1

 

★★

★

 

★

★★★



2

★

★

 

 

★★

★★★



3

★★

★★

★★★

 

 

★★★



4

★

★★

★★

 

★★★

★★

Key: ★★★ - Extremely Useful      ★★ - Frequently Useful      ★ - Occasionally Useful     No stars - Not Useful
Consumables
Sims B can equip the following consumables:
Camouflage
As a premium ship, Sims B comes included with Type 10 camouflage that lowers her detection radius, reduces the accuracy of incoming shells, reduces her repair costs, and increases the amount of experience she earns.
Signals
Recommended Signal Flags
Combat

★

 

★★★

★★

★★★

 

★

★★★

 

 

 

★

 

 

Economic

★★

 

 

★★

★

Special

 

 

★★

 

 

 

 

 

Key: ★★★ - Extremely Useful       ★★ - Frequently Useful       ★ - Occasionally Useful      No stars - Not Useful
Note: Use of the Juliet Charlie signal makes detonation impossible.
Gallery
References
See here for links to Update notes.

Available for testing by supertesters in the game starting from Update 0.8.10.
Available for purchase in the Premium Store during the Black Friday promotion from November 29 to December 6, 2019. Could also drop from Black Friday containers.
Update 0.9.0:

Fixed a bug due to which the gun shields were not displayed.

Update 0.10.7.2:

Anti-submarine armament added.