Tulsa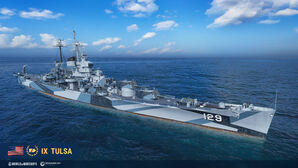 Tech Tree Position
203 mm/55 RF Mk.16 in a turret
3 х 2 

pcs.
Rate of Fire
10.34 

shots/min.
Reload Time
5.8 

sec.
Rotation Speed
6 

deg./sec.
180 Degree Turn Time
30 

sec.
Firing Range
14.86 

km.
Maximum Dispersion
135 

m.
HE Shell
203 mm HE/HC Mk25 
Maximum HE Shell Damage
2,800 
Chance of Fire on Target Caused by HE Shell
14 

%
Initial HE Shell Velocity
823 

m./s.
HE Shell Weight
118 

kg.
AP Shell
203 mm AP Mk21 
Maximum AP Shell Damage
5,000 
Initial AP Shell Velocity
762 

m./s.
AP Shell Weight
152 

kg.
127 mm/38 Mk.12 on a Mk.32 mount
6 х 2 

pcs.
Firing Range
6.95 

km.
Rate of Fire
10 

shots/min.
Reload Time
6 

sec.
HE Shell
127 mm HE Mk32 
Maximum HE Shell Damage
1,800 
Initial HE Shell Velocity
792 

m./s.
Chance of Fire on Target Caused by HE Shell
5 

%
127 mm/38 Mk.12 on a Mk.32 mount
6 х 2 

pcs.
. . . Average Damage per Second
90.6 
. . . Firing Range
5.01 

km.
20 mm Oerlikon on a Mk.10 mount
23 х 1 

pcs.
. . . Average Damage per Second
98.9 
. . . Firing Range
2.01 

km.
40 mm/56 Bofors on a Mk.2 mount
12 х 4 

pcs.
. . . Average Damage per Second
190.8 
. . . Firing Range
3.51 

km.
Maximum Speed
33 

knot
Turning Circle Radius
750 

m.
Rudder Shift Time
10.5 

sec.
Surface Detectability Range
11.7 

km.
Air Detectability Range
7.25 

km.
Battle Levels
Tulsa — American promo premium Tier IX cruiser.
A heavy cruiser similar to the Oregon City-class but armed with six 203 mm automatic main battery guns.
Tulsa was first released for sale on 12 Nov 2021, during Update 0.10.10.
Modules
Compatible Upgrades
 Slot 1 
 Slot 2 
 Slot 3 
 Slot 4 
 Slot 5 
 Slot 6 
Player Opinion
Performance
Warning. The data presented in the AA Defense sidebar section may be incorrect.
For a graphic summary of ships Tiers VIII thru XI see LittleWhiteMouse's "Actual AA DPS".

Premium Tier IX American heavy cruiser Tulsa shares many common traits with her extended cousin X Des Moines, as well as other high tier American heavy cruisers. Representing a real-life proposal to refit existing cruisers with the auto-loading guns developed for Des Moines, Tulsa brings the fast-firing guns of her successor to a platform reminiscent of VIII Baltimore.
Armament
Tulsa mounts six (6) 203mm guns in three (3) twin turrets, with similar characteristics to those found on Des Moines. She uses the same HE and AP shells as found on her tech tree cousins, with improved penetration angles on her AP shells. Although she's tied for the lowest barrel count of all Tier IX cruisers, her reload is among the best. As a result, her damage potential is higher than almost any other cruiser at her tier. As with Des Moines, proper shell selection is critical to getting the most out of her guns. Her HE damage and fire chance are low for Tier IX, but her fast reload means she can still cripple a destroyer caught in the open and reliably set fires on angled targets. And her AP is extremely potent against any target that turns broadside to her, capable of citadeling most cruisers and inflicting high damage against battleship superstructure and upper belts.
However, while her reload and damage potential are among the best in tier, Tulsa's range is by far the shortest. It may not be an issue when supporting a cap if she can find an island close enough to use as cover. But she can quickly find herself without any targets in range if she needs to position further from the cap or the enemy starts retreating. This forces players to make a tough choice when selecting upgrades — faster reload to deal damage as quickly as possible, or longer range for more flexibility in island and target selection.
Tulsa also features slightly improved rear firing angles compared to Baltimore and Des Moines. If she has to kite away from the enemy, this allows her to present a much smaller target for them to shoot at. Like her tech tree cousins, Tulsa is capable of bringing all three turrets to bear while still keeping her belt angled enough to bounce most non-overmatching AP shells.
Consumables
Tulsa's consumable suite is standard for a high tier American heavy cruiser. As a Tier IX ship, she has access to the normal cruiser Repair Party 

and Damage Control Party 

consumables, and mounts the Surveillance Radar 

consumable and a choice between Hydroacoustic Search 

and Defensive AA Fire 

.
Unlike the tech tree heavy cruisers, Tulsa's radar range is only 9km, the same as found on light cruiser IX Seattle. While its range is shorter than most other heavy cruisers, Tulsa's excellent concealment allows her to get closer to a cap before using it. Like other American radars, Tulsa's has an extended duration that can be boosted further with the radar duration upgrade or skill.
Maneuverability
Tulsa's handling should be familiar enough for players used to her tech tree cousins. Her top speed is decidedly average for Tier IX, but her turning circle and rudder shift are both above average. Her turning circle is especially good, identical to IX Seattle and only slightly worse than Baltimore.
While her agility could make an open water play style appealing, Tulsa lacks both the range and speed to be viable. And her ballistics and stealth are more suited for playing around island cover.
Survivability
As an American heavy cruiser, Tulsa's armor mostly consists of 27mm plating. Although capable of bouncing the 381mm AP that some high tier battleships still carry, it provides no protection against the 406mm+ AP of most high tier battleships and all but the smallest cruiser caliber HE. She also has one of the smallest health pools of any Tier IX cruiser, further increasing the need to use hard cover for protection and her excellent agility to dodge.
Tulsa makes up for her low health with her best in tier concealment, even rivaling some of the stealthiest Tier VIII cruisers. When fully built for concealment, Tulsa's detection can reach an impressive 9.5km, allowing her to get much closer to a cap or switch islands without getting spotted by the enemy.
Anti-aircraft
Like most American cruisers, Tulsa has strong mid and close range defenses but slightly weaker long range. While not as strong as IX Alaska or IX Buffalo, it's still more than sufficient to protect herself and nearby allies. Her mid and long range defenses are identical to those found on Baltimore, while her flak and short range defenses deal more damage. She is a less attractive target for lower tier carriers at the start of a battle, but can't deter strikes from higher tier carriers herself. Those strikes may be costly for the carrier, but at least one or two will still get through.
Tulsa has the option to swap her Hydroacoustic Search 

for the Defensive AA Fire 

consumable to provide additional protection against aircraft.
Battle performance
Like almost all other American cruisers,
Tulsa
is most comfortable providing radar and fire support for her team from behind her trusty island armor. She
can
be a bit more aggressive once the enemy team thins out, but she lacks the armor or health to survive in the open for long.
Pros:
Fast main battery reload
Her AP shells have improved penetration angles
Good firing angles
Fast rudder shift and smaller turning circle
Excellent concealment for a cruiser — 9.5km when fully upgraded
Has access to the Surveillance Radar  consumable with extended duration
Cons:
Low health pool for a Tier IX cruiser
Only six (6) guns
Short main battery firing range
27mm plating is still vulnerable to most battleships in her matchmaking range
Below average top speed
Shorter Surveillance Radar  range than most other heavy cruisers
Research
As a premium ship, Tulsa has no module upgrades to research.
Optimal Configuration
Upgrades
The recommended upgrades for Tulsa are as follows:

In Slot 2, it's captain's choice. All five options are reasonable. If you mount a Special Upgrade, be sure to also mount the corresponding consumable.
Slots 4 and 6 provide some choices for players. Those who wish to play Tulsa in open water ship may prefer to use Steering Gears Modification 1
, but her short gun range makes that play style risky. In Slot 6, the extra range gives her more flexibility in island and target selection, but her floaty shells can make hitting targets at range difficult. Fortunately, there are a lot of them.
Commander Skills
  Recommended Commander Skills  
Cost
(points)

Attack

Defense



1

★★★

 

 

★★

 

 



2

★★

 

★★

 

★★★

★★



3

 

 

★★★

★★

★★★

★★



4

★★

 

★

 

★★★

★

Key: ★★★ - Extremely Useful      ★★ - Frequently Useful      ★ - Occasionally Useful     No stars - Not Useful
Consumables
Tulsa can equip the following consumables:

Note that Tulsa's Surveillance Radar range is 9km, rather than the 10km range of Des Moines and Buffalo.
Camouflage
As a premium ship, Tulsa comes with Default permanent camouflage and a set of permanent combat bonuses.
Signals
Recommended Signal Flags
Combat

★★★

 

★

★

★★

★★

 

 

★

★★

★★

★★★

 

★★



Note: Use of the Juliet Charlie signal makes detonation impossible.
Gallery
References
See here for links to Update notes.

Available for testing by supertesters in the game starting from Update 0.10.8.
DevBlog 191:

Preliminary characteristics.

DevBlog 194:

Changed the Repair party consumable:

Restoration of hit points after receiving damage to the citadel increased from 10% to 33%.

DevBlog 239:

Main Battery Reload Time increased from 5.5 to 5.8 s.
First appeared on sale in November, 2021, during Update 0.10.10.

Available for purchase in the Armory for 19,300 doubloons, 228,000 Coal, and in the Premium store.
ru:Ship:Tulsa