Kansas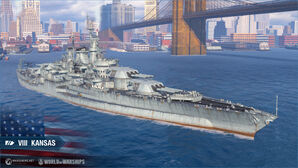 Tech Tree Position
406 mm/45 Mk.7 in a turret
4 х 3 

pcs.
Rate of Fire
1.5 

shots/min.
Reload Time
40 

sec.
Rotation Speed
4 

deg./sec.
180 Degree Turn Time
45 

sec.
Firing Range
20.6 

km.
Maximum Dispersion
266 

m.
HE Shell
406 mm HE/HC Mk13 
Maximum HE Shell Damage
5,700 
Chance of Fire on Target Caused by HE Shell
36 

%
Initial HE Shell Velocity
803 

m./s.
HE Shell Weight
861.8 

kg.
AP Shell
406 mm AP Mk5 mod. 1 
Maximum AP Shell Damage
11,800 
Initial AP Shell Velocity
768 

m./s.
AP Shell Weight
920 

kg.
127 mm/38 Mk.12 on a Mk.32 mount
8 х 2 

pcs.
Firing Range
6.6 

km.
Rate of Fire
10 

shots/min.
Reload Time
6 

sec.
HE Shell
127 mm HE Mk32 
Maximum HE Shell Damage
1,800 
Initial HE Shell Velocity
792 

m./s.
Chance of Fire on Target Caused by HE Shell
5 

%
127 mm/38 Mk.12 on a Mk.32 mount
8 х 2 

pcs.
. . . Average Damage per Second
120.8 
. . . Firing Range
5.01 

km.
20 mm Oerlikon on a Mk.4 mount
23 х 1 

pcs.
. . . Average Damage per Second
82.8 
. . . Firing Range
2.01 

km.
40 mm/56 Bofors on a Mk.1 mount
12 х 2 

pcs.
. . . Average Damage per Second
135.6 
. . . Firing Range
3.51 

km.
Maximum Speed
23 

knot
Turning Circle Radius
700 

m.
Rudder Shift Time
22 

sec.
Surface Detectability Range
16.56 

km.
Air Detectability Range
13.46 

km.
Battle Levels
Kansas — American Tier VIII battleship.
This battleship design was used as the basis for constructing of a number of warships after World War I. She was similar to the Colorado class in many aspects, being, in fact, an enhanced version of her with more powerful armament. This warship was the crown of the developmental process of "standard" battleships in the U.S. Navy.

Kansas was first made available in Early Access with Update 0.9.9. With Update 0.9.11 on 2 December 2020, she and her successors became permanent tech tree ships.
Modules
Compatible Upgrades
 Slot 1 
 Slot 2 
 Slot 3 
 Slot 4 
 Slot 5 
Player Opinion
Performance
After Tier VII Colorado, the USN battleship tree splits into a "fast" branch and a "slow" branch. Kansas is the Tier VIII ship in the slow branch.
Prior to the rise of aircraft carriers in the mid-1930's, the US Navy accepted the trade-off of speed for cruising range, inter-operability, firepower,and, to a lesser extent, protection in a common set of requirements for battleship design. These were the USN "Standards", represented in-game up through Colorado. The fast battleship branch — North Carolina, South Dakota, Iowa, and Montana-classes — models the change in these requirements so that battleships could operate in fleet with speedy carriers. (These designs were made possible by improved propulsion system efficiency and by de-prioritizing armor protection.) The slow battleship branch models how USN battleship designs might have progressed without the requirement to operate in fleet with carriers. They are the un-built USN Standards.
Kansas inherits her (slow) speed and good citadel protection from her Standard predecessors while adding major improvements in firepower and torpedo protection. She mounts in four triple turrets twelve (16") 406mm/45 Mark 7 rifles with a 40 second (!) base reload time. She does not carry SHS AP but throws a lighter 920kg AP shell, allowing a higher muzzle velocity with more comfortable aiming and good short- and mid-range penetration at the cost of maximum range and long-range penetration. She has slightly better maximum dispersion, but lower sigma, meaning her salvos will scatter a bit more within the smaller area.
Despite her tremendous alpha strike, Kansas is not a brawler. She mounts the standard dual (5") 127mm/38 Mark 32 secondary turrets with 5km range, just two fewer of them. A secondary build is not advisable.
In their stock hulls, Kansas boasts considerably more health points (HP) than the faster North Carolina: 61,200 vs. 53,700. That gap almost closes in the top hulls. The whole fast battleship branch sports 0.66%/second repair party performance; Kansas` repair parties heal at 0.5%/sec like most other battleships. Kansas has much better torpedo protection at 40% vs 19% with a bulge that extends well fore and aft. She will need it.
Kansas appears to have superior armor protection against large caliber guns with a thicker main belt system and heavy side belts that extend forward and aft to protect her transverse bulkheads when angled, along with a thicker transverse bulkhead and three armor decks above her citadel. Her turret front plates are a massive 457mm thick, but all other parts of her turret armor are thinner than N.Carolina. (Interestingly, an armored conning tower does not appear in her Armor Layout display.) How well her main armor system actually works, however, will depend on the situation. Like many of her peers, she is susceptible to concentrated light to medium caliber fire.
She carries fewer AA mounts, making her AA defense about 10% weaker than N.Carolina. She does launch one more catapult fighter.
Her maneuverability is worse then her counterpart, with a tighter turning radius but slower rudder shift. Where she really loses out is in the amount of speed retained in a turn: turning slows her way down. She's already slow — maneuvering makes her slower. Consider the Torpedo Lookout System
upgrade and the Vigilance skill, or just resolve to eat torpedoes, particularly the low-damage aerial variety.
Kansas is a large ship, with a base detectability range of 16.6km — nearly a full kilometer farther than N.Carolina, though better than the behemoths at higher tiers.
Initially controversial, the long 40 second reload time is reported to be less noticeable in actual use. The elephant in the room is whether
Kansas`
extra firepower offsets her slow speed, made even more obvious by the fast ships and large maps that she will face at Tier VIII and above. Those who dislike the USN Standards for the play style demanded by their lack of speed will not be dissuaded by
Kansas
. Those who are accustomed to the Standards will find her quite powerful, and an interesting contrast to her 'fast' counterpart.
Pros:
Heavy broadside of twelve (12) 406mm main guns
Excellent main battery range
Tight turn radius for a battleship
The citadel is located below the waterline, and is hard to hit
Good torpedo damage reduction, torpedo bulges cover most of the ship's sides
Good AA suite, bolstered by the Defensive AA Fire  consumable
Cons:
The slowest Tier 8 battleship, with a base speed of 23 knots
Worst main battery reload speed in its tier and class, a whopping 40 seconds
Extensively covered in 32mm plating, vulnerable to HE spam and large caliber AP overmatch, making her rather squishy.
Lacks the improved Repair Party  found on other techtree American battleships
Most of Kansas` AA defenses are open mounts, and can be easily destroyed with HE
Due to the shape of the superstructure, Kansas can take large amounts of damage even when properly angled
Research
Availability of researchable upgrades for Kansas is as follows:
Upgrade to Hull (B) for 5700 more HP, more AA mounts, and a faster rudder shift. Research of this module unlocks progression to Minnesota.
Upgrade to the Mk.8 mod 2 Gun Fire Control System for an extra 10% range on her already-good main battery range.
Optimal Configuration
Nothing can be done to improve Kansas` basic characteristics. She is slow, has a slow reload, and weak secondaries. Her build should bolster her protection and augment her strengths.
Upgrades
The recommended upgrades for Kansas are as follows:
In Slot 3, Artillery Plotting Room Modification 1 is usually the choice, but with her low sigma, faster turret traverse is preferred to make her more effective against targets of opportunity.
Depending on the captain's command style, Slot 4 is pretty much captain's choice.
In Slot 5, Concealment is a wise choice, but slow as she is, better use may be made of increased torpedo detection range.
Commander Skills
  Recommended Commander Skills  
Cost
(points)

Attack

Defense



1

★★

 

★★

★★

 

★★



2

★★★

 

 

★

★★

★★



3

 

 

★★★

★★

★★

★★



4

★

 

 

★★★

★★★

★★★

Key: ★★★ - Extremely Useful      ★★ - Frequently Useful      ★ - Occasionally Useful     No stars - Not Useful
Consumables
Kansas can equip the following consumables:
Again, building to extend maximum range is questionable given Kansas` dispersion. Better to bolster her AA.
Signals
Recommended Signal Flags
Combat

★

 

★

★★

★

★

★★

★★

★★★

★★

★★★

★★

 

 

Economic

★

★

★

★

★

Special

★

★

★

★

★

★

★

★

Key: ★★★ - Extremely Useful       ★★ - Frequently Useful       ★ - Occasionally Useful      No stars - Not Useful
Note: Use of the Juliet Charlie signal makes detonation impossible.
Gallery
References
See here for links to Update notes.

Available for testing by supertesters in the game starting from Update 0.9.7.
Update 0.9.9:

Available for completing all directives of Part 1 of the American Battleships event.

Introduced into the game as a researchable ship in Update 0.9.11.

Sigma parameter increased from 1.5 to 1.6.

Update 0.9.12:

Sigma parameter increased from 1.6 to 1.7.
Armor penetration of shells increased by approximately 3.5%.

Update 0.10.0:

The firing range of the secondary battery was increased to 6.6 km.

Update 0.10.1:

Updated model of spotter aircraft.

Update 0.11.1:

Minor corrections to geometry and textures of the ship.

Update 0.11.5:

Repair Party consumable reload time reduced from 80 to 40 s.
Changed the engine parameters: the acceleration time for forward and reverse movement was significantly reduced.