California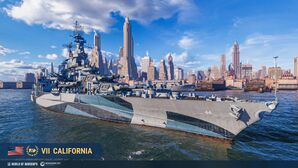 Tech Tree Position
356 mm/50 Mk.7 in a turret
4 х 3 

pcs.
Rate of Fire
1.75 

shots/min.
Reload Time
34.2 

sec.
Rotation Speed
3 

deg./sec.
180 Degree Turn Time
60 

sec.
Firing Range
19.9 

km.
Maximum Dispersion
259 

m.
HE Shell
356 mm HE/HC Mk22 
Maximum HE Shell Damage
5,000 
Chance of Fire on Target Caused by HE Shell
30 

%
Initial HE Shell Velocity
861 

m./s.
HE Shell Weight
578.34 

kg.
AP Shell
356 mm AP Mk16 
Maximum AP Shell Damage
10,500 
Initial AP Shell Velocity
823 

m./s.
AP Shell Weight
680.4 

kg.
127 mm/38 Mk.12 on a Mk.32 mount
8 х 2 

pcs.
Firing Range
5.6 

km.
Rate of Fire
10 

shots/min.
Reload Time
6 

sec.
HE Shell
127 mm HE Mk32 
Maximum HE Shell Damage
1,800 
Initial HE Shell Velocity
792 

m./s.
Chance of Fire on Target Caused by HE Shell
5 

%
127 mm/38 Mk.12 on a Mk.32 mount
8 х 2 

pcs.
. . . Average Damage per Second
120.8 
. . . Firing Range
5.01 

km.
20 mm Oerlikon on a single Mk.20 mount
41 х 2 

pcs.
. . . Average Damage per Second
250.1 
. . . Firing Range
2.01 

km.
40 mm/56 Bofors on a Mk.2 mount
14 х 4 

pcs.
. . . Average Damage per Second
222.6 
. . . Firing Range
3.51 

km.
Maximum Speed
20.5 

knot
Turning Circle Radius
640 

m.
Rudder Shift Time
14.7 

sec.
Surface Detectability Range
13.09 

km.
Air Detectability Range
9.69 

km.
Battle Levels
California — American special premium Tier VII battleship.
A Tennessee-class battleship armed with twelve 356 mm guns and possessing quite modest speed characteristics. After Pearl Harbor, she underwent thorough refurbishment, which significantly changed the ship's design and greatly enhanced her AA defenses.
California was sold for two weeks beginning 03 July 2020. She is currently available in the Premium Shop.
Modules
Compatible Upgrades
 Slot 1 
 Slot 2 
 Slot 3 
 Slot 4 
Player Opinion
Performance
Background
California was a Tennessee class battleship built essentially as an improved New Mexico class battleship. She was present at Pearl Harbor and slowly sank throughout the next 3 days. She was refloated and heavily modernized which included her hull being widened, replacement of her secondary battery, and a large addition of anti aircraft guns. California participated in numerous campaigns in the pacific including the Philippines campaign and the battle of Leyte Gulf.
Summary
California is essentially a New Mexico built for AA at tier VII. She is a slow ship, with a 20.5 knot speed, 14.7 second rudder shift, and 35 second reload. But her strengths are highlighted in her low 11.5km concealment, strong torpedo protection, impressive AA armament, heavy broadside, and long main battery range.
Armor
California, like most of her "standard" battleship relatives, features a 26mm bow, stern, and most of her deck. While at lower tiers this may be enough to deflect enemy fire, the normalization of the 406mm or higher guns at tier VIII and IX means that players will have to be careful in engagements against most higher tier battleships. California's side armor is primarily protected by her massive 35mm torpedo bulge, followed by 343mm plated casemate armor above the citadel. Citadelling California is near impossible, with the citadel being located completely underwater. Overall California is fairly armored, but will struggle to tank against higher tier battleships.
Armament
California retains the same main battery as New Mexico, mounting 12 356mm guns in a 4x3 turret layout. They are one of the slowest reloading guns at tier VII, with a 34.2 second reload, however the reload is offset by her accurate 1.9 sigma, high shell alpha of 10500 damage, and one of the best at tier broadsides of 126000 damage. California also features a 19.9km base range with her main battery, one of the best at Tier VII.
Anti-Aircraft
California represents her post pearl harbor refit and thus has an extremely powerful AA suite. While she doesn't have access to Defensive AA Fire 

like Florida her AA is arguably the best of the tier VII battleships. Her long range armament has an impressive 5.8km range and deals 144 hp of continuous damage. The mid range battery has a max range of 3.5km and deals a continuous damage of 382. The main bulk of California's AA battery comes in her short range armament, with a short 2km range, California pushes out 515hp of continuous damage. To further complement her AA, California has a 5 explosion flak salvo that deals 1470 hp of damage if it hits enemy aircraft. California can fend for herself when it comes to defending against enemy aircraft, and is a ship that enemy carriers should stay away from if they want to retain their squadrons.
Battle Performance
California is an artillery platform through and through. Due to her slow 20.5 knot speed, 14.7 second rudder shift, and 35 second reload, California needs to position carefully to be effective in battle. Her lack of overmatch against most higher tier targets means she should work with other battleships to set up crossfires. If there are multiple well armored targets bow in, HE may be the better ammo choice. California is fairly stealthy when it comes to the tier VII battleships, with an 11.5km detection with Concealment Expert which enables her to sneak in close to surprise enemy cruisers and battleships, or allows her to go dark to reposition if a flank is collapsing. In the event of a torpedo attack California's strong torpedo protection reduces the damage by 36%. If an enemy carrier is in the game, California will be able to fend for herself or support allied ships with her powerful AA compliment.
Warning. The data presented in the AA Defense sidebar section may be incorrect.
For a graphic summary of ships Tiers VIII thru XI see LittleWhiteMouse's "Actual AA DPS".
Pros:
Heavy broadside of twelve (12) 356mm main battery guns
Excellent main battery base range of 19.9km
Good dispersion and sigma, California can reliably land volleys at range
All-or-nothing armor scheme ensures great protection to the ship's midsection
The citadel block is completely submerged and very difficult to hit
Outstanding AA defenses
Excellent concealment with all relevant upgrades
Tight turn radius and fairly good rudder shift for a battleship
Cons:
Small gun caliber for a Tier 7 battleship
Very slow main battery reload speed and traverse speed
Extremely poor ship speed of only 20.5 knots
Extensively covered in 26mm plating, very vulnerable to HE spam and high caliber AP overmatch
Most of California's AA defenses are open mounts, and can be easily destroyed




Research
As a premium ship, California doesn't have any upgrades to research.
Optimal Configuration
Upgrades
The recommended upgrades for California are as follows:
Commander Skills
  Recommended Commander Skills  
Cost
(points)

Attack

Defense



1

★★★

 

★

★★

★★

★



2

★

 

★★

★

★★

★



3

★★

★

★★★

★★

★

★



4

★★

★

★

★★★

★★★

★★★

Key: ★★★ - Extremely Useful      ★★ - Frequently Useful      ★ - Occasionally Useful     No stars - Not Useful
Consumables
California can equip the following consumables:
Camouflage
As a premium ship, California comes with Default permanent camouflage and a set of permanent combat bonuses.
Signals
Recommended Signal Flags
Combat

★

★★★

★★★

★★

★

★

 

 

★★

★★

★★

★★★

 

 
Note: Use of the Juliet Charlie signal makes detonation impossible.
Gallery
References
Wargaming
Wikipedia
See here for links to Update notes.

Available for testing by supertesters in the game starting from Update 0.8.8.
First appeared on sale in July 2020.
Update 0.9.7:

Minor fixes to geometry and textures.

Update 0.9.8:

Minor fixes to textures and geometry of the ship.

Update 0.10.0:

The firing range of the secondary battery was increased to 5.6 km.