Erie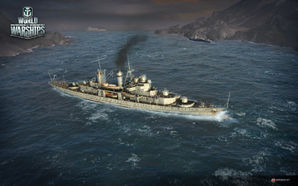 Tech Tree Position
152 mm/47 Mk.17 on a Mk.18 mount
4 х 1 

pcs.
Rate of Fire
10 

shots/min.
Reload Time
6 

sec.
Rotation Speed
9 

deg./sec.
180 Degree Turn Time
20 

sec.
Firing Range
9.59 

km.
Maximum Dispersion
86 

m.
HE Shell
152 mm HE/HC Mk34T 
Maximum HE Shell Damage
1,100 
Chance of Fire on Target Caused by HE Shell
12 

%
Initial HE Shell Velocity
853 

m./s.
HE Shell Weight
47.6 

kg.
28 mm Mk.1 on a Mk.2 mount
4 х 4 

pcs.
. . . Average Damage per Second
2.72 
. . . Firing Range
0.75 

km.
Maximum Speed
20 

knot
Turning Circle Radius
310 

m.
Rudder Shift Time
2.8 

sec.
Surface Detectability Range
8.28 

km.
Air Detectability Range
4.67 

km.
Battle Levels
Erie — American Tier I cruiser.
The Erie-class patrol gunboats were designed as small multipurpose ships capable of performing a wide range of tasks, from artillery support of landing operations to protection of convoys. The ships were well-armored and well-armed for their size. They were the first in the U.S. Navy to receive automatic AA guns.
Modules
Compatible Upgrades
Player Opinion
Performance
For a Tier I ship,
Erie
has the worst rate of fire, making her possibly the worst Tier I ship to play. Coupled with the slow turret traverse which cannot benefit from the +2.5deg/s due to the main battery caliber, it can make Erie somewhat frustrating to play. However, she is merely the start of the USN cruiser line and does not represent the performance of later tier cruisers, as players will quickly discover upon playing ships such as
Cleveland
.
Pros:
Brilliant armor (best of all Tier I ships).
Highest chance of causing a fire of all Tier I ships.
9.6km Gun range.
Guns are quite accurate with a small dispersion arc.
Largest caliber guns of all Tier I ships.
Cons:
Longest reload time of all Tier I ships (together with Black Swan).
Second-slowest turret rotation of all Tier I ships.
Lowest damage per minute of all Tier I ships.
Big and therefore easy to hit.
Seems to lose its forward gun often.
Can get ahead of its support ships and get caught alone.
The concealment is almost useless as she only has guns to rely on.




See also: Comparison of Tier I Cruisers.
Research
Like other Tier I ships, Erie only has the gun fire control systems module available to research. This module increases her range by 10%, bringing her firing range to 9.6km.
Optimal Configuration
Upgrades
Commander Skills
As it is unexpected that players will seriously consider playing Erie longer than necessary or that players will consider assigning a skilled captain to her, the following is primarily aimed at players new to the game and players just beginning the US cruiser line.
  Recommended Commander Skills  
Cost
(points)

Attack

Defense



1

★

 

 

 

 

★★



2

★★

 

 

 

 

 



3

★★

 

★★

 

 

 



4

★★

★★

 

 

★★

 

Key: ★★★ - Extremely Useful      ★★ - Frequently Useful      ★ - Occasionally Useful     No stars - Not Useful
Consumables
As a Tier I ship, Erie has access to only Damage Control Party (

).
Camouflage
Type 1, 2, or 5 camouflage can be equipped for credits; Types 1 or 5 are recommended at a minimum to reduce detectability range.
Signals
As a Tier I ship, it is highly recommended to save signals for use in the later tiers. But should the player have a surplus and enjoy playing this ship, they should utilize the following recommended signals.
Recommended Signal Flags
Combat

 

 

★★★

 

★★★

★★

★

★★

 

 

★★

★

 

 

Economic

 

 

★★

★★

 

Special

 

 

 

 

 

 

 

 

Key: ★★★ - Extremely Useful       ★★ - Frequently Useful       ★ - Occasionally Useful      No stars - Not Useful
Note: Use of the Juliet Charlie signal makes detonation impossible.
Gallery
References