South Carolina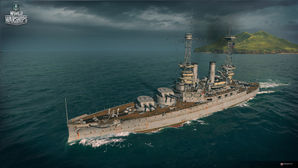 Tech Tree Position
305 mm/45 Mk.5 in a turret
4 х 2 

pcs.
Rate of Fire
2 

shots/min.
Reload Time
30 

sec.
Rotation Speed
4 

deg./sec.
180 Degree Turn Time
45 

sec.
Firing Range
14.24 

km.
Maximum Dispersion
202 

m.
HE Shell
305 mm HE 
Maximum HE Shell Damage
4,100 
Chance of Fire on Target Caused by HE Shell
20 

%
Initial HE Shell Velocity
823 

m./s.
HE Shell Weight
394.6 

kg.
AP Shell
305 mm AP 
Maximum AP Shell Damage
8,100 
Initial AP Shell Velocity
823 

m./s.
AP Shell Weight
394.6 

kg.
76.2 mm/50 Mk.5 on a single mount
22 х 1 

pcs.
Firing Range
3.2 

km.
Rate of Fire
10 

shots/min.
Reload Time
6 

sec.
HE Shell
76 mm HE 
Maximum HE Shell Damage
1,100 
Initial HE Shell Velocity
823 

m./s.
Chance of Fire on Target Caused by HE Shell
4 

%
Maximum Speed
15.84 

knot
Turning Circle Radius
480 

m.
Rudder Shift Time
13.1 

sec.
Surface Detectability Range
13.44 

km.
Air Detectability Range
6 

km.
Battle Levels
South Carolina — American Tier III battleship.
In the early 20th century, the United States reinforced its naval fleet by constructing several classes of battleships. American naval theorists, alongside their British counterparts, came up with the concept of a battleship armed solely with large-caliber guns. Upon her commissioning, USS South Carolina was assigned to the Atlantic Fleet. She played a role in safeguarding U.S. interests during the Mexican Revolution and participated in the occupation of Veracruz. During World War I, the battleship escorted troop convoys to France. After the war ended, she was involved in transporting troops back to America.
Modules
Compatible Upgrades
Player Opinion
Performance
The first battleship in the American tech tree, South Carolina is a fairly decent ship. For her tier, she has quite good armor and range, which prove to only be a problem when she faces higher tier ships. South Carolina is one of the first ships in the game to feature super-firing main turrets which allows for maximum firepower while not showing the full broadside of the ship. She does have severe limitations, however, when it comes to her top speed — a pattern that is repeated with the succeeding U.S. battleships until the Tier VIII North Carolina — and maintains a still painfully slow top speed of only 18 knots when fully upgraded.
Players who want to do well with her must utilize her strengths. She is not a long-range sniper; she is a brawler. Make sure that
South Carolina
is always headed towards the fight. Load AP shells and citadel cruisers and battleships at close range; turn away and kite once the enemy begins to give chase. Don't be afraid of destroyers; blast them with a broadside and turn away in anticipation of their torpedoes. Just like any other ship, it's generally best to remain with the fleet and always angle her armor from enemy battleships.
Pros:
Best main battery range of Tier 3 battleships
Decent turret traverse speed
Good accuracy of the main battery
The only Tier 3 battleship with super-firing turrets
Very tight turn radius and quick rudder shift
Cons:
Abysmal top speed of only 18 knots, even worse before upgrading the engine
Worst concealment in tier/class
Virtually useless AA defences, like most of the low tier battleships
Low health pool
Research
Captains should first and foremost research Propulsion Modification 2 to improve the abysmal top speed to something workable. Next captains should research Gun Fire Control System Mk3 Mod. 2 to improve the firing range. Finally, captains should research Hull B to obtain more hit points and some AA guns. Researching Hull B then allows captains to proceed to Wyoming.
The major hindrance to
South Carolina'
s combat potential is her speed - having a top speed of only 15.8kts (18kts when upgraded) means that most ships — including
St. Louis
— can easily escape her firing range. Thus, attempting to position this ship correctly can prove very difficult. As such, the propulsion module upgrade is probably the most important to unlock and mount early on to be able to perform better. Although due to the low-tier nature of this ship, it is likely that players will fully upgrade the ship in only a few battles with decent performance.
Optimal Configuration
Upgrades
The recommended upgrades for South Carolina are as follows:
Commander Skills
  Recommended Commander Skills  
Cost
(points)

Attack

Defense



1

 

 

 

★★

 

 



2

★★

 

 

★★

★★

 



3

 

 

★★

★★

 

 



4

 

 

 

★★

 

★★

Key: ★★★ - Extremely Useful      ★★ - Frequently Useful      ★ - Occasionally Useful     No stars - Not Useful
Consumables
South Carolina equips the following consumables:
Signals
Recommended Signal Flags
Combat

★

★★

★★★

★

★

★

★★

★

★

★★★

★★★

★★★

 

 
Note: Use of the Juliet Charlie signal makes detonation impossible.
Gallery
An enemy Clemson maneuvers to avoid South Carolina's salvo.
References
See here for links to Update notes.

Added to the game in Update 0.1.3 (alpha) as a Tier II Battleship named Michigan.
Update 0.1.6.4:
Update 0.5.0.1:

HP of Hull (B) increased from 29,000 to 31,700.

Update 0.5.2:

Credits and experience earnings ratios were changed:

Experience +6%.
Credits +9%.

Update 0.5.6:

Improved visual models of rangefinders on main battery turrets.

Update 0.5.9:

The armored model of the hull was refined.

Update 0.6.3:

Stock firing range increased from 10,218 to 14,240 m.

Update 0.6.7:

Credits earnings changed by –10%.

Update 0.6.11:

Improved appearance with the use of special technology for improved rendering of thin elements.

Update 0.6.12:

Detectability when firing main guns in smoke changed to 10.62 km.

Update 0.6.13:

The survivability of the secondary battery was tested and brought to a single standard. The change affects 76.2 mm guns.

Update 0.7.7:

Sigma value increased from 1.8 to 1.9.

Update 0.7.12:

The rudder shift time for Hull (A) was reduced from 14.9 to 13.1 s.
The rudder shift time for Hull (B) was reduced from 10.7 to 9.4 s.
HP recovery rate for the Repair Party consumable was increased from 0.5 to 0.66 % HP per second.

Update 0.10.0:

The firing range of the secondary battery was increased to 3.2 km.