Chester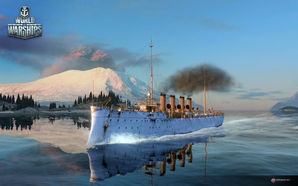 Tech Tree Position
127 mm/50 Mk.6 on a single mount
4 х 1 

pcs.
Rate of Fire
7.5 

shots/min.
Reload Time
8 

sec.
Rotation Speed
15 

deg./sec.
180 Degree Turn Time
12 

sec.
Firing Range
9.24 

km.
Maximum Dispersion
96 

m.
HE Shell
127 mm HE Mk15 
Maximum HE Shell Damage
1,800 
Chance of Fire on Target Caused by HE Shell
4 

%
Initial HE Shell Velocity
914 

m./s.
HE Shell Weight
22.7 

kg.
AP Shell
127 mm AP 
Maximum AP Shell Damage
2,100 
Initial AP Shell Velocity
914 

m./s.
AP Shell Weight
22.7 

kg.
76.2 mm/50 Mk.5 on a single mount
4 х 1 

pcs.
Firing Range
2.5 

km.
Rate of Fire
12 

shots/min.
Reload Time
5 

sec.
HE Shell
76 mm HE 
Maximum HE Shell Damage
1,100 
Initial HE Shell Velocity
823 

m./s.
Chance of Fire on Target Caused by HE Shel
4 

%
Maximum Speed
24 

knot
Turning Circle Radius
460 

m.
Rudder Shift Time
5.1 

sec.
Surface Detectability Range
8.46 

km.
Air Detectability Range
3.98 

km.
Battle Levels
Chester — American Tier II cruiser.
A light cruiser with reasonably good speeds for her time, but suffering from rather poor armament and armor. The ship could act as a scout and a destroyer flotilla leader. The cruisers of this class were the first ships in the U.S. Navy to feature turbine propulsion. They remained the only turbine cruisers in the U.S. Navy for a long time.
Modules
Compatible Upgrades
Player Opinion
Performance
At first, the Chester may seem like a downgrade from the Erie, as the gun range goes down by over a kilometer, the turning speed decreases, and the detection range goes up. This ship requires some getting used to. The first few battles sees a player getting used to the ship's speed and turning capabilities, and the ship's gun range (Which, as stock, is actually less than the detection range, meaning by the time Chester can engage an opponent, it's already been spotted).
The Chester actually has less cannons at hand than the Erie, since despite having 4 cannons, only 3 can be brought to bear upon an enemy at most. The upgraded fire control system is a welcome relief, bringing Chester's gun range to nearly a kilometer above her detection range, which can come in handy in engagements with slow, lumbering battleships, where she can use her better agility to escape before coming under serious fire. The Chester is surprisingly agile for her size. The hull upgrade will increase her firepower by more than 30%, as she gets an additional cannon on each side of the ship. The gun upgrade gives a wonderful boost to her damage output, as the HE shells do a potential 300 more damage per shell, while the AP shells soar a whopping 900 potential damage increase per shell(Remember, however, that AP can be harder to use, so players inexperienced with using the shell type may prefer to stick to HE.)
If the Chester top tier, she can afford to be more aggressive against smaller Tier I ships. However, Tier II and III ships can still heavily damage her. Players should always stay on alert for destroyers, who relish the thought of sending a sudden spread of torpedoes into her side. Players should constantly be on the look out for destroyers, and if one appears, should take evasive maneuvers.
If Chester is bottom tier, players should be much more cautious. Chester doesn't have the guns to punch a hole through anything but destroyer armor, and players should be vary of devastating battleship fire. Remember that she is a big target, and that she will fall if under concentrated fire. In these cases, never stop moving. Chester is faster than Tier III battleships and some other cruisers, and stands a good chance of outrunning them. Supporting the big capital ships is a viable strategy, as it will draw fire away from her, though make sure to not stray into the lines of fire of enemies (or allies).
As players make the jump to the next USN cruiser, the
St. Louis
, they should be prepared for more battleship-styled play, as the firepower of the
St. Louis
is vastly improved, but she is also very slow and not very maneuverable.
Pros:
When full upgraded the Chester has great firepower.
24.4 knots speed with a quick rudder shift makes the Chester maneuver fast for its size.
Works well in Division play.
Cons:
Large size makes the Chester susceptible to torpedo attacks.
Short gun range compared to the other Tier II cruisers.
Does not stand up well to battleships alone.
Weak armor despite its armored look.
Research
This is a suggested research path:
Mk2 FCS mod. 2
Chester (B) Hull
152 mm/50 Mk6 main batteries
Optimal Configuration
Upgrades
Commander Skills
Because Chester has the option of the improved 127mm main batteries, Grease the Gears will help offset the loss of turret rotation speed.
  Recommended Commander Skills  
Cost
(points)

Attack

Defense



1

★★

 

 

 

 

★★



2

★★

 

 

 

 

 



3

★★

 

★★

 

 

 



4

★★

★★

 

 

★★

 

Key: ★★★ - Extremely Useful      ★★ - Frequently Useful      ★ - Occasionally Useful     No stars - Not Useful
Consumables
As a Tier II cruiser, Chester has access to only Damage Control Party (

).
Camouflage
Type 1, 2, or 5 camouflage can be equipped for credits; Types 2 or 5 are recommended at a minimum to reduce the accuracy of incoming shells.
Signals
As a Tier II ship, it is highly recommended to save signals for use in the later tiers. But should the player have a surplus and enjoy playing this ship, they should utilize the following recommended signals.
Recommended Signal Flags
Combat

 

 

★★

 

★★

★

★

★★★

 

 

★★

★★

 

 

Economic

 

 

★

★

★

Special

 

 

 

 

 

 

 

 

Key: ★★★ - Extremely Useful       ★★ - Frequently Useful       ★ - Occasionally Useful      No stars - Not Useful
Note: Use of the Juliet Charlie signal makes detonation impossible.
Gallery
References

Cite error: <ref> tags exist, but no <references/> tag was found