Montana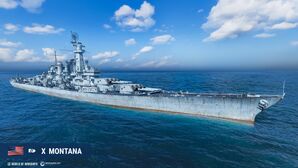 Tech Tree Position
406 mm/50 Mk.7 in a turret
4 х 3 

pcs.
Rate of Fire
2 

shots/min.
Reload Time
30 

sec.
Rotation Speed
4 

deg./sec.
180 Degree Turn Time
45 

sec.
Firing Range
23.65 

km.
Maximum Dispersion
296 

m.
HE Shell
406 mm HE/HC Mk13 
Maximum HE Shell Damage
5,700 
Chance of Fire on Target Caused by HE Shell
36 

%
Initial HE Shell Velocity
820 

m./s.
HE Shell Weight
862 

kg.
AP Shell
406 mm AP Mk8 
Maximum AP Shell Damage
13,500 
Initial AP Shell Velocity
762 

m./s.
AP Shell Weight
1225 

kg.
127 mm/54 Mk.16 on a Mk.41 mount
10 х 2 

pcs.
Firing Range
7.3 

km.
Rate of Fire
15 

shots/min.
Reload Time
4 

sec.
HE Shell
127 mm HE Mk41 
Maximum HE Shell Damage
1,800 
Initial HE Shell Velocity
808 

m./s.
Chance of Fire on Target Caused by HE Shel
9 

%
127 mm/54 Mk.16 on a Mk.41 mount
10 х 2 

pcs.
. . . Average Damage per Second
157 
. . . Firing Range
5.19 

km.
40 mm Bofors on a Mk.2 mount
20 х 4 

pcs.
. . . Average Damage per Second
318 
. . . Firing Range
3.51 

km.
20 mm Oerlikon on a Mk.24 mount
20 х 2 

pcs.
. . . Average Damage per Second
122 
. . . Firing Range
2.01 

km.
20 mm Oerlikon on a Mk.4 mount
20 х 1 

pcs.
. . . Average Damage per Second
72 
. . . Firing Range
2.01 

km.
Maximum Speed
30 

knot
Turning Circle Radius
950 

m.
Rudder Shift Time
22.2 

sec.
Surface Detectability Range
17.82 

km.
Air Detectability Range
12.91 

km.
Battle Levels
Montana — American Tier X battleship.
One of the largest battleships in the world. She is slightly inferior to Iowa-class ships in terms of speed but has more main guns and significantly stronger torpedo protection. Montana's armor is conventionally arranged and considerably reinforced.
Modules
Compatible Upgrades
 Slot 1 
 Slot 2 
 Slot 3 
 Slot 4 
 Slot 5 
 Slot 6 
Player Opinion
Performance
Tier X's Montana is, at first glance, basically a supersized Iowa with an additional triple mount turret and thicker belt and deck armor. Her offensive capability relies on her heavy broadside to smash enemy battleships or destroy anything smaller should the rounds connect. She has the heaviest broadside and the best DPM of any battleship in the game. Although her guns are the second smallest of her fellow Tier X battleships her super-heavy shell (SHS) AP rounds do as much damage as the 420mm guns on Großer Kurfürst (while firing faster and more accurately) and exceed the AP damage of Conqueror. Her HE rounds are also decent, but characteristically weaker than Japanese and British HE but stronger than the high explosive found on German battleships. She also has an extremely powerful anti-aircraft suite and is more than capable of protecting herself from lower-tiered aircraft carriers, but will likely require the assistance of teammates to fend off a determined strike by a Tier X flattop.
While she can reach a top speed of 30 knots, her large size and slow rudder shift time make her vulnerable to torpedo attack. Further, her main battery of 16-inch guns are not able to overmatch the 32mm thick bow armor found on most Tier IX and X battleships like Yamato's main battery can. This means that Montana captains may sometimes be forced into firing high explosive shells at well-angled enemy battleships.
The dispersion of her main guns has been improved since the game launched, but her dispersion is still worse than Yamato's even after the Artillery Plotting Room Modification 2 (
) upgrade is installed. They are, however, more accurate than Großer Kurfürst's main battery at range while having a slower turret traverse (45 seconds versus Kurfürst's 40 seconds). Her secondaries are not as numerous as those of her Tier X counterparts, but they are better armored. Cruisers firing high explosive rounds are far less likely to destroy her secondary battery turrets, something that Yamato and Kurfürst cannot claim. Additionally, they have have the best rate of fire and the highest fire chance of all Tier X battleship secondary guns.
Montana
is a "jack of all trades" battleship. With that said, in a close-range fight she will easily outpace
Yamato
's turret traverse, though not that of
Kurfürst
. While at range she will be more accurate than
Kurfürst
but not as accurate as
Yamato
. Flexibility is her strength.
Pros:
Twelve 16-inch (406mm) rifles.
Second highest broadside alpha strike damage in the game: a 162,000 alpha strike.
Decent turret traverse speed.
Secondaries have the best fire chance (9%) of the Tier X battleships with a fast rate of fire (15 rounds per minute per gun).
One of the best anti-aircraft suites in the game.
Faster than most other Tier X battleships.
Improved Repair Party consumable heals 30% more damage per second than her peers.
Cons:
Sluggish to accelerate.
Bow armor can be overmatched relatively easily.
Longest citadel among Tier X battleships, with height just at the waterline, though it is well armored.
Secondaries are relatively short-ranged for anti-surface work.
Citadel is quite easy to hit as it is above the waterline, unlike Grosser Kurfurst
Research
As a Tier X ship, Montana doesn't have any upgrades to research.
Optimal Configuration
Upgrades
Keep in mind that Montana can also be equipped with Spotting Aircraft Modification 1 (

) in Slot 1 to increase the spotter plane flight time.
Commander Skills
  Recommended Commander Skills  
Cost
(points)

Attack

Defense



1

★

 

★★

 

 

★★



2

★

 

 

 

 

★★



3

★

 

★★

★★

 

★★



4

 

 

 

★★

 

★★

Key: ★★★ - Extremely Useful      ★★ - Frequently Useful      ★ - Occasionally Useful     No stars - Not Useful
Consumables
Montana equips the following consumables
It is advisable to equip Spotting Aircraft (

) rather than Catapult Fighter (

) as it adds more range.
Camouflage
Type 1, 2, or 5 camouflage can be equipped for Credits 

; Types 1 or 5 are recommended at a minimum to reduce the detection range.
Players who wish to spend Doubloons 

can equip Montana with Type 20 camouflage for doubloons that lowers her detection radius, reduces the accuracy of incoming shells, halves her repair costs, increases her credit earnings, and increases the amount of experience she earns.
Signals
Recommended Signal Flags
Combat

★★

★★

 

 

 

★

★★

★★★

★★★

★

★★★

★

 

 

Economic

★★

★★★

 

★★★

★

Special

★

★★

★★★

★★

★★

 

★★

 

Key: ★★★ - Extremely Useful       ★★ - Frequently Useful       ★ - Occasionally Useful      No stars - Not Useful
Note: Use of the Juliet Charlie signal makes detonation impossible.
Gallery
References

Cite error: <ref> tags exist, but no <references/> tag was found