Somers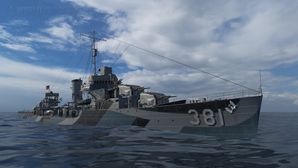 Tech Tree Position
127 mm/38 Mk.12 on a Mk.22 mount
4 х 2 

pcs.
Rate of Fire
10 

shots/min.
Reload Time
6 

sec.
Rotation Speed
14.7 

deg./sec.
180 Degree Turn Time
12.24 

sec.
Firing Range
11.72 

km.
Maximum Dispersion
102 

m.
HE Shell
127 mm HE Mk32 
Maximum HE Shell Damage
1,800 
Chance of Fire on Target Caused by HE Shell
5 

%
Initial HE Shell Velocity
792 

m./s.
HE Shell Weight
24.5 

kg.
AP Shell
127 mm AP/SC Mk38 
Maximum AP Shell Damage
2,100 
Initial AP Shell Velocity
792 

m./s.
AP Shell Weight
25 

kg.
533 mm Mk14
3 х 4 

pcs.
Rate of Fire
0.46 

shots/min.
Reload Time
130 

sec.
Rotation Speed
25 

deg./sec.
180 Degree Turn Time
7.2 

sec.
Torpedo
Mk17 
Maximum Damage
17,900 
Torpedo Speed
66 

knot
Torpedo Range
16.5 

km.
12.7 mm Browning M2 mod. 2
2 х 1 

pcs.
. . . Average Damage per Second
7.6 
. . . Firing Range
1.2 

km.
28 mm/75 Mk2 mod. 2
2 х 4 

pcs.
. . . Average Damage per Second
4.6 
. . . Firing Range
2.4 

km.
Maximum Speed
38.6 

knot
Turning Circle Radius
620 

m.
Rudder Shift Time
3.9 

sec.
Surface Detectability Range
7.38 

km.
Air Detectability Range
3.12 

km.
Battle Levels
Somers — American promo premium Tier X destroyer.
A destroyer flotilla leader equipped with eight guns that had the largest number of torpedoes per salvo among all the ships of the U.S. Navy.

Somers was released to the Armory on August 21st, 2019.
Modules
Compatible Upgrades
 Slot 1 
 Slot 2 
 Slot 3 
 Slot 4 
 Slot 5 
 Slot 6 
Player Opinion
Performance
Somers is a Tier X U.S. Navy destroyer equipped with three torpedo launchers, similar to the Japanese destroyer, Shimakaze. Somers is also equipped with decent guns, which, combined with her concealment and long-lasting American Smoke Generator (

), make her a very formidable opponent. She has a decent hit point (HP) pool, but her lack of armor makes her extremely susceptible to enemy fire in a gunfight, especially high-explosive (HE) from destroyers. This means that Somers is best played somewhat conservatively, with focus given to her ability to launch up to twelve long-range torpedoes from concealment.
Although
Somers
may not win in an even gunfight against armored destroyers such as
Harugumo
or
Khabarovsk
, her main guns are still capable of dealing significant damage due to their fast reload time. At short range, her guns will shred most other destroyers, and her armor-piercing (AP) rounds are capable of inflicting serious harm to the aforementioned armored destroyers. However, at medium to long-range, her shells tend to have high arcs and long flight times, a phenomenon that U.S. destroyer captains will likely be used to. Her versatility provides players with the option to fulfill many different roles, such as contesting objectives, hunting capital ships from concealment, and stalking the enemy to spot for allied ships. Take note, however, that she will be an easy target for aircraft due to her poor anti-aircraft armament. In matches with an aircraft carrier, it may be wise to avoid wandering too far from allied ships capable of providing some protection from aircraft attack.
Pros:
Great torpedo armament with long firing range, as well as decent speed and damage values.
Good concealment with enormous window to fire torpedoes from stealth.
Long-lasting American Smoke Generator ()
Great speed and agility.
Cons:
Poor anti-aircraft armament.
Highly susceptible to low-caliber HE shells.
Low shell velocity and mediocre stock gun range.

Research
As a premium ship, Somers doesn't have any upgrades to research.
Optimal Configuration
Upgrades
The recommended upgrades for Somers are as follows:
Commander Skills
The following information is provided for players who wish to create a permanent captain for the ship. Those players who are retraining captains or using the ship to gain extra experience for a captain should consult the page relevant to the ship to which the captain will be assigned.
Recommended Commander Skills
Cost
(points)

Endurance

Attack

Support

Versatility



1

★★★

★★★

 

Χ

Χ

Χ

 

Χ



2

 

★

 

★

★

Χ

★★★

★★★



3

 

★★★

★★★

Χ

 

★★

★

 



4

 

 

 

Χ

★★

 

★

★★★

Key: ★★★ - Extremely Useful      ★★ - Frequently Useful      ★ - Occasionally Useful     No stars - Meh     

Χ

- Not recommended
Consumables
Somers can equip the following consumables:
Camouflage
As a premium ship, Somers comes included with Type 20 camouflage that lowers her detection radius, reduces the accuracy of incoming shells, reduces her repair costs, and increases the amount of experience she earns.
Signals
Recommended Signal Flags
Combat

 

 

★★

★★

★★★

★

★★

★★★

 

★

★★

★★★

 

 

Economic

★★

★★

★★

★★

★★

Special

★★

★★★

★★

★★★

★★★

★★★

★★★

★★★

Key: ★★★ - Extremely Useful       ★★ - Frequently Useful       ★ - Occasionally Useful      No stars - Not Useful
Gallery
References