Dalarna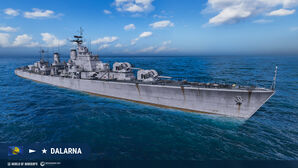 Tech Tree Position
120 mm/50 Model 1950 in a turret
3 х 2 

pcs.
Rate of Fire
21.43 

shots/min.
Reload Time
2.8 

sec.
Rotation Speed
25 

deg./sec.
180 Degree Turn Time
7.2 

sec.
Firing Range
11.15 

km.
Maximum Dispersion
98 

m.
HE Shell
120 mm HE M1950 
Maximum HE Shell Damage
1,750 
Chance of Fire on Target Caused by HE Shell
8 

%
Initial HE Shell Velocity
825 

m./s.
HE Shell Weight
23.5 

kg.
AP Shell
120 mm AP M1950 
Maximum AP Shell Damage
2,100 
Initial AP Shell Velocity
825 

m./s.
AP Shell Weight
23.5 

kg.
533 mm Quintuple
2 х 5 

pcs.
Rate of Fire
0.67 

shots/min.
Reload Time
90 

sec.
Rotation Speed
25 

deg./sec.
180 Degree Turn Time
7.2 

sec.
Torpedo
Torped M1947 mod 2 
Maximum Damage
10,700 
Torpedo Speed
86 

knot
Torpedo Range
15 

km.
120 mm/50 Model 1950 in a turret
3 х 2 

pcs.
. . . Average Damage per Second
183.6 
. . . Firing Range
5.19 

km.
57 mm/60 SAK Model 1950 on a Model 1950 mount
2 х 2 

pcs.
. . . Average Damage per Second
100.4 
. . . Firing Range
3.99 

km.
40 mm/70 SAK-40/L70-350 on a SAK-40/L70-350 mount
5 х 1 

pcs.
. . . Average Damage per Second
130.5 
. . . Firing Range
3.51 

km.
Maximum Speed
36 

knot
Turning Circle Radius
720 

m.
Rudder Shift Time
4.4 

sec.
Surface Detectability Range
7.51 

km.
Air Detectability Range
3.9 

km.
Battle Levels
Dalarna — European Tier ★ destroyer.
According to the plans for the development of the Swedish Navy, the main tactical unit was to be a squadron of several destroyers with a leader. Cruisers of the Tre Kronor class acted as leaders, but in the mid to late 1940s, an alternative was considered to build a special squadron leader. In 1947, three draft designs were submitted for consideration, implying a standard displacement of 2,400, 3,000, and 4,660 tons. The 3,000-ton leader project provided for the installation of three 120 mm twin-gun mounts and two torpedo launchers.
Modules
Compatible Upgrades
| | | | | |
| --- | --- | --- | --- | --- |
|  Slot 1  | | | | |
|  Slot 2  | | | | |
|  Slot 3  | | | | |
|  Slot 4  | | | | |
|  Slot 5  | | | | |
|  Slot 6  | | | | |
Player Opinion
Performance
Warning. The data presented in the AA Defense sidebar section may be incorrect.
For a graphic summary of ships Tiers VIII thru XI see LittleWhiteMouse's "Actual AA DPS".
Combat Capability - Alternative Torpedoes
Dalarna can switch between
Alternate Torpedo-Types
in battle.
Requirements:
Alternative torpedo mode can be toggled at will.
Effects:
Torpedo-type switching time: 5 seconds
Torped M1947 mod 2: 86knts, 15km range, 10700 damage
Torped M1927 mod 1: 70knts, 8km range, 17500 damage



Dalarna is the supership of the original Pan-European destroyer line. She shares similar characteristics to Halland, including identical torpedo armaments, Swedish Anti-Aircraft capabilities, and good concealment. She also gains the Alternative Torpedo-Types mechanic to switch torpedoes in battle.
Armament:
Dalarna carries six 120 mm guns housed in three double turrets. These guns have a short range of 11.2 km and have a reload time of 2.8 seconds. The turrets on Dalarna are decently fast, with a 180-degree turn time of 7.2 seconds. Her shells are identical to Halland — 1,750 damage, 20 mm of penetration, 8% fire chance for her HE, and 2,100 maximum damage for her AP. Like the previous tech tree Pan-European destroyers, her shells have long flight times and high arcs. While the damage per minute is not terrible, her guns should primarily be used for self defense or for farming from behind cover, as she lacks disengagement tools such as a Smoke Generator 

.
Dalarna carries ten torpedoes in two quintuple launchers. These torpedoes have both a very fast speed and a long 15km range, but a low alpha damage of 10,700. Her torpedoes reload very quickly to offset this, with a 69-second reload time when fully built for torpedoes. She also features the Alternative Torpedo-Types mechanic, which allows her to switch torpedoes in battle, at the cost of 5 seconds in switching time. The alternative torpedoes have a shorter range of 8 km, but deal a higher 17,500 damage. To offset this, the torpedoes do not go as fast as the 15 km option. As a Pan-European destroyer, she gets a super narrow spread as an option for her torpedoes.
Hull:
Dalarna has an average health pool of 20,300, and a base speed of 36 knots. It is recommended to always take the commander skill Survivability Expert, as it bumps her HP to a healthy 24,150. Her maneuverability is poor, with a mediocre 4.4-second rudder shift and a large 720-meter turning radius. Her concealment is good, with a minimum concealment of 6.1 km.
While Dalarna is the Supership successor to Halland, her hull is much longer in size. Combined with her poor maneuverability, she is an easy target to hit, and is susceptible to torpedoes if not careful.
Consumables:
Dalarna comes with the Repair Party 

consumable, which has 3 charges that each heal for 14% of her maximum HP. In addition, she also gets access to the Defensive AA Fire 

consumable, which increases continuous damage and flak damage. As Dalarna lacks disengagement tools, her heals and AA damage boost help her mitigate damage and plane spotting. Her Engine Boost 

is standard, providing an 8% increase to her maximum speed, with a 120-second action and cooldown time.
Anti-Aircraft:
Dalarna carries one of the best Anti-Aircraft capabilities of any super destroyer. She has good long- and short-range AA DPS (210 and 378 respectively), with 9 flak. The addition of the Defensive AA Fire consumable increases her DPS and flak damage further. The biggest strength of Dalarna's Anti-Aircraft is the ability to stay dark and activate Defensive AA Fire once she is spotted by planes, trapping said planes in her Anti-Aircraft aura. However, it is important to note that Dalarna is a very big destroyer, and can be easily hit with bombs and torpedoes dropped from planes.
Battle Performance:
Dalarna serves the role of a torpedo destroyer with added survivability, with her Repair Party and decent guns. Her torpedoes are good at denying key areas and attacking large targets with their good speed and reload time.
While her armaments are similar to that of Halland (with the addition of the Alternative Torpedo-Types mechanic), it is important to note that Dalarna has worse maneuverability, and can struggle to dodge torpedoes and maneuver during knife fights. While not her primary role, Dalarna can contest key areas with the use of her concealment. Players should always reverse into cap circles and be ready to maneuver away from torpedoes, radar, and planes.
The addition of the Alternative Torpedo-Types mechanic allows
Dalarna
to deal heavy damage to unaware targets at closer ranges. However, due to the low range of these torpedoes, players must be careful about nearby radar cruisers, submarines, and planes that can spot
Dalarna
easily.
Cons:
Large target
Poor shell velocity
Low main battery range
Mediocre rudder shift time
Poor turning radius
Optimal Configuration
Upgrades
The recommended upgrades are:
Commander Skills
  Recommended Commander Skills  
Cost
(points)

Attack

Defense



1

 

 

 

 

 

★★★



2

 

★★

 

 

 

★★★



3

 

★★

★★★

 

★

★★★



4

 

 

★★

 

★★★

 

Key: ★★★ - Extremely Useful      ★★ - Frequently Useful      ★ - Occasionally Useful     No stars - Not Useful
Consumables
Dalarna equips the following consumables:
Signals
Note: Use of the Juliet Charlie signal makes detonation impossible.
Gallery
References
See here for links to Update notes.

Available for testing by supertesters in the game starting from Update 0.11.6.
Update 0.11.8:

Available in limited Early Access as part of a Lighthouse Auction event, as a single-price auction with 500 ships available across all servers. The winning bid was 250,000,000 credits. Lots were delivered to winners on October 3, 2022.

Update 0.11.10:

Minor fixes to the geometry and textures of the ship.

Update 0.11.11:

Added to the European tech tree as a special ship unlocked once the player reaches Tier 10 destroyer Halland, then purchased for credits.