Marceau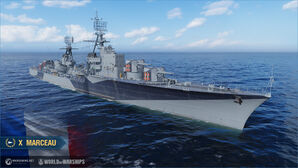 Tech Tree Position
127 mm/54 Mle 1948
4 х 2 

pcs.
Rate of Fire
17.14 

shots/min.
Reload Time
3.5 

sec.
Rotation Speed
30 

deg./sec.
180 Degree Turn Time
6 

sec.
Firing Range
11.5 

km.
Maximum Dispersion
101 

m.
HE Shell
127 mm HE Mark 41 
Maximum HE Shell Damage
1,850 
Chance of Fire on Target Caused by HE Shell
7 

%
Initial HE Shell Velocity
808 

m./s.
HE Shell Weight
31.5 

kg.
AP Shell
127 mm AP Mark 42 
Maximum AP Shell Damage
2,450 
Initial AP Shell Velocity
808 

m./s.
AP Shell Weight
32.5 

kg.
550 mm tube lance-torpilles
4 х 3 

pcs.
Rate of Fire
0.42 

shots/min.
Reload Time
142 

sec.
Rotation Speed
25 

deg./sec.
180 Degree Turn Time
7.2 

sec.
Torpedo
550 mm 23DT 
Maximum Damage
14,833 
Torpedo Speed
60 

knot
Torpedo Range
9 

km.
127 mm/54 Mle 1948
4 х 2 

pcs.
. . . Average Damage per Second
62.8 
. . . Firing Range
5.19 

km.
40 mm/56 Bofors Mk2
3 х 4 

pcs.
. . . Average Damage per Second
47.7 
. . . Firing Range
3.51 

km.
20 mm/70 Mk20
4 х 2 

pcs.
. . . Average Damage per Second
24.4 
. . . Firing Range
2.01 

km.
40 mm/56 Bofors Mk1
2 х 2 

pcs.
. . . Average Damage per Second
22.6 
. . . Firing Range
3.51 

km.
Maximum Speed
44 

knot
Turning Circle Radius
740 

m.
Rudder Shift Time
4.8 

sec.
Surface Detectability Range
8.88 

km.
Air Detectability Range
4.84 

km.
Battle Levels
Marceau — French Tier X destroyer.
A variant of the 3,000-ton reconnaissance project developed between 1939 and 1940, armed with post-World War II weapons, including a multi-purpose main battery.
Modules
Compatible Upgrades
| | | | | |
| --- | --- | --- | --- | --- |
|  Slot 1  | | | | |
|  Slot 2  | | | | |
|  Slot 3  | | | | |
|  Slot 4  | | | | |
|  Slot 5  | | | | |
|  Slot 6  | | | | |
Player Opinion
Performance
Marceau is the coal alternative to Kleber. She shares Kleber's hull but her differences warrant a completely different play style. She mounts the 127mm guns of Colbert, at the tradeoff of reduced HE alpha damage and slower shell ballistics in exchange for higher AP alpha. She also enjoys a concealment advantage over Kleber, and has longer range torpedoes.
Marceau differs from her sister Kleber in many ways, primarily her guns, which boast the highest DPM of any tier 10 destroyer. However, in exchange for the powerful guns, she still suffers from the lack of a smokescreen consumable, and her torpedoes are rather underwhelming due to their poor range and reload.
This leads to a destroyer hunter type role, where she contests caps and runs down enemy destroyers with her extremely high speeds in order to make up for her poor concealment, while gunning them down with her powerful guns before quickly turning away and going dark to search for her next prey. Marceau is a poor counter to cruisers due to her poor ballistics, and her limited range means that unless the player takes upgrades, she must venture dangerously close to battleships to deal damage to them with her guns. Overall, Marceau is best played as a destroyer hunter or as a battleship farmer, while also making a mediocre torpedo boat on the side.
For those more acquainted with the style of gunboat play, a different play style can be taken on by taking full advantage of Marceau's speed and damage output. At first, Marceau may hang back, using her speed and handling to fire at enemy battleships and cruisers with more sluggish shells that she can dodge. As the game progresses however, she can get closer to the battlefield, beginning to exhibit control of capture zones and hunt down enemy destroyers, as well as even rushing down battleships if the situation calls for it.
Overall this leads to a play style that rotates around her powerful guns, but is limited by her short range and poor ballistics.
Marceau
is a powerful destroyer with the potential to turn around games in the right hands.
Pros:
Very quick main battery traverse speed
Excellent main battery reload speed
Amazing HE DPM and fire starting capability
Unique midsection saturation mechanics allow Marceau to take more hits compared to non-French destroyers
Best speed among Tier 10 destroyers, tied with Kleber
decent AA defenses that can fight against t8 cvs and access to the Defensive AA Fire () consumable
Better torpedo range and stealth than Kleber
Cons:
Poor main battery range
Poor shell velocity and high shell arcs make hitting targets at long range difficult
Very slow torpedo reload speed, individual torpedoes have less speed and damage than Kleber's
Large turn radius and fairly slow rudder shift
Poor concealment, the minimum surface detectability is 7km at best
Easy to detonate
Research
As a premium ship, Marceau doesn't have any upgrades to research.
Optimal Configuration
Upgrades
The recommended upgrades for Marceau are as follows:
Commander Skills
  Recommended Commander Skills  
Cost
(points)

Attack

Defense



1

 

 

★★

 

★★

★★★



2

★

 

 

★

★

★★★



3

★★

★

★★★

 

 

★★★



4

★★★

 

★★

★★

★★★

 

Key: ★★★ - Extremely Useful      ★★ - Frequently Useful      ★ - Occasionally Useful     No stars - Not Useful
Consumables
Marceau equips the following consumables:
Camouflage
As a premium ship,
Marceau
comes with
Type 20 camouflage
that lowers her detection radius, reduces the accuracy of incoming shells, reduces her repair costs, and increases the amount of experience she earns.
Gallery
References