Grozovoi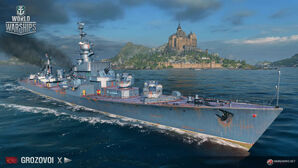 Tech Tree Position
130 mm/58 SM-2-1
3 х 2 

pcs.
Rate of Fire
14.29 

shots/min.
Reload Time
4.2 

sec.
Rotation Speed
18 

deg./sec.
180 Degree Turn Time
10 

sec.
Firing Range
12.3 

km.
Maximum Dispersion
107 

m.
HE Shell
HE-42 
Maximum HE Shell Damage
1,800 
Chance of Fire on Target Caused by HE Shell
8 

%
Initial HE Shell Velocity
950 

m./s.
HE Shell Weight
33 

kg.
AP Shell
SAP-42 
Maximum AP Shell Damage
2,600 
Initial AP Shell Velocity
950 

m./s.
AP Shell Weight
33.4 

kg.
533 mm Quintuple PTA-53-68-bis
2 х 5 

pcs.
Rate of Fire
0.47 

shots/min.
Reload Time
129 

sec.
Rotation Speed
25 

deg./sec.
180 Degree Turn Time
7.2 

sec.
Torpedo
53-49M 
Maximum Damage
14,600 
Torpedo Speed
66 

knot
Torpedo Range
8.01 

km.
25 mm 4M-120
2 х 4 

pcs.
. . . Average Damage per Second
16.8 
. . . Firing Range
3.09 

km.
45 mm SM-20-ZIF
4 х 4 

pcs.
. . . Average Damage per Second
82.4 
. . . Firing Range
3.51 

km.
130 mm/58 SM-2-1
3 х 2 

pcs.
. . . Average Damage per Second
50.7 
. . . Firing Range
5.19 

km.
Maximum Speed
39.5 

knot
Turning Circle Radius
720 

m.
Rudder Shift Time
4.6 

sec.
Surface Detectability Range
7.62 

km.
Air Detectability Range
3.82 

km.
Battle Levels
Grozovoi — Soviet Tier X destroyer.
A product of Project 40N, this ship was designed as a "large destroyer" based on experience gained in World War II. Unlike her predecessors, she had greater dimensions and carried dual-purpose artillery and enhanced AA guns.


Modules
Compatible Upgrades
| | | | |
| --- | --- | --- | --- |
|  Slot 1  | | | |
|  Slot 2  | | | |
|  Slot 3  | | | |
|  Slot 4  | | | |
|  Slot 5  | | | |
|  Slot 6  | | | |
Player Opinion
Performance
Compared to the 3,400 tons of Soviet "pride" that is the Khabarovsk, Grozovoi provides a more balanced performance of a typical destroyer, while still retaining some of the attractive qualities of Soviet destroyers.
There are plenty of trade-offs between Khabarovsk and Grozovoi. For starters, Grozovoi is slower than Khabarovsk - though she is still fast at 39.5 knots - and lacks her cousin's 50 mm chestplate. This means that Grozovoi has to rely more on hiding in smoke screens and remaining undetected to stay alive. Thankfully, Grozovoi has a much better detection range than Khabarovsk (7.6 km vs 10 km) which makes this easier. Additionally, Grozovoi has a far superior rudder shift time, but this is somewhat hampered by a disappointingly large turning circle, which makes dodging fire and evading torpedoes just a little bit harder.
In terms of firepower, Grozovoi is nothing to scoff at, even alongside its counterpart. Uniquely, she uses HE-42 shells instead of the standard HE-46 shells common to high tier Soviet destroyers. These shells deals less damage, in exchange for a slightly faster shell velocity. These are small differences, but they are noticeable, especially with two less gun barrels compared to Khabarovsk. On the flipside, her torpedoes, both stock and upgraded, are faster and travel much farther, allowing Grozovoi to deal massive amounts of damage and flooding to enemy ships from beyond her detection range, something Khabarovsk captains can only dream of doing.
Finally, Grozovoi has an expansive toolkit of consumables: in addition to the standard destroyer loadout of Damage Control Party (

), Smoke Generator (

), and Engine Boost (

), she also gets Defensive AA Fire (

) and Repair Party (

) in dedicated slots for a total of five consumables. However, these have a small number of charges each, with only one charge per consumable (two for Defensive AA Fire (

)), making premium consumables and Superintendent more of a must-have than usual.
Like
Udaloi
,
Grozovoi
is a worthy alternative to the "flotilla leader" line where
Khabarovsk
sits. With a proper build and a careful hand, she can be a prominent threat to any unprepared opponent.
Pros:
Good concealment for a Soviet destroyer.
Torpedoes have fairly good range and have decent speed.
Excellent shell ballistics; long-range gunnery is easy and effective.
Main batteries have a rapid rate of fire.
Five consumables, all in their own dedicated slots, allows for plenty of utility.
Best anti-air defense of any destroyer, when specced for it.
Large "effective" health pool, thanks to her Repair Party ().
Cons:
Is quite slow in comparison to other Soviet destroyers (still fast in comparison to other nations' destroyers).
Besides speed, it has the poor maneuverability characteristic of the Soviet destroyer line.
Slow torpedo reload and low damage per torpedo; despite having better torpedoes in comparison to other Soviet destroyers, she is certainly not a "torpedo boat".
Few charges per consumable limits her utility, especially in long matches
Running a full slate of premium consumables can get expensive.
Research
There is only the torpedo module upgrade for Grozovoi, which increases the range of the torpedoes by 2.0 km and decreases the speed by only one knot. Captains are encouraged to research and mount the upgraded module at their leisure.
Optimal Configuration
Upgrades
The recommended upgrades for Grozovoi are as follows:
Grozovoi is best compared to American counterpart Gearing when it comes to upgrades, as no other Tier X destroyer can also mount Defensive AA Fire (

). Packing this consumable gives Grozovoi captains some interesting choices when it comes to outfitting their ship.
Captains who opt for a full-on Anti-Aircraft Build, should install AA Guns Modification 1 (

) into Slot 3 at a minimum, and are advised to consider equipping AA Guns Modification 2 (

) in Slot 6 as well. By stacking these upgrades with the Basic Firing Training commander skill and a November Echo Setteseven (

) flag, Grozovoi's AA becomes brutally punishing, even more so if points are invested into the Manual Fire Control for AA Armament commander skill.
Captains who prefer a more Generalist Build should stick with Aiming Systems Modification 1 in Slot 3, though they could also consider Torpedo Tubes Modification 3 (

) in Slot 6 depending on how they want to play the ship.
Captains who have one of the rare Engine Boost Modification 1 (

) upgrades and have the Sierra Mike (

) signal equipped are encouraged to replace the Propulsion Modification 1 upgrade, as it extends the Engine Boost (

) consumable duration by 50%, thereby allowing her to maintain a max speed of 44.8 knots for three minutes.
Commander Skills
Recommended Commander Skills
Cost
(points)

Endurance

Attack

Support

Versatility



1

★★★

★★

★

 

 

 

★

 



2

★

★★

★

 

★

 

★★

★★★



3

★

★★★

★

 

★★

★★★

★★

★



4

 

 

 

 

★★

★★

★

★★★

Key: ★★★ - Extremely Useful       ★★ - Frequently Useful       ★ - Occasionally Useful      No stars - Meh    

Χ

- Not recommended
Consumables
Grozovoi can equip the following consumables:
Grozovoi's suite of consumables allow for plenty of utility, both for her captain and team. Having Defensive Fire allows her to become the best AA destroyer in-game, and makes her an ideal choice for high-tier competitive game play where Aircraft Carriers are present.
Premium versions are recommended, as she only has one charge of each consumable (except Defensive Fire) available when played stock.
Camouflage
Type 1, 2, or 5 camouflage can be equipped for credits; Types 1 or 5 are recommended at a minimum to reduce detectibility range.
Players who wish to spend doubloons can equip Grozovoi with Type 20 camouflage that lowers her detection radius, reduces the accuracy of incoming shells, reduces her repair costs, and increases the amount of experience she earns.
Signals
Recommended Signal Flags
Combat

★★

 

★★★

★★

★★★

 

★★

★★

★★★

 

★★

★★★

Economic

★★

★★

★★

★★

★★

Special

★

★

★

★

★

 

 

 

Key: ★★★ - Extremely Useful       ★★ - Frequently Useful       ★ - Occasionally Useful      No stars - Not Useful
Gallery