Minsk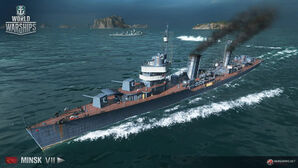 Tech Tree Position
130 mm B-13
5 х 1 

pcs.
Rate of Fire
12 

shots/min.
Reload Time
5 

sec.
Rotation Speed
9.7 

deg./sec.
180 Degree Turn Time
18.56 

sec.
Firing Range
11.08 

km.
Maximum Dispersion
106 

m.
HE Shell
HE-46 
Maximum HE Shell Damage
1,900 
Chance of Fire on Target Caused by HE Shell
8 

%
Initial HE Shell Velocity
870 

m./s.
HE Shell Weight
33.4 

kg.
AP Shell
SAP-46 
Maximum AP Shell Damage
2,500 
Initial AP Shell Velocity
870 

m./s.
AP Shell Weight
33.5 

kg.
533 mm Quad N-7
2 х 4 

pcs.
Rate of Fire
0.59 

shots/min.
Reload Time
101 

sec.
Rotation Speed
25 

deg./sec.
180 Degree Turn Time
7.2 

sec.
Torpedo
53-39 mod. 1 
Maximum Damage
15,100 
Torpedo Speed
70 

knot
Torpedo Range
4.02 

km.
45 mm 21-K
6 х 1 

pcs.
. . . Average Damage per Second
12 
. . . Firing Range
2.49 

km.
76 mm 34-K
2 х 1 

pcs.
. . . Average Damage per Second
4.4 
. . . Firing Range
3 

km.
Maximum Speed
43 

knot
Turning Circle Radius
690 

m.
Rudder Shift Time
5.1 

sec.
Surface Detectability Range
7.74 

km.
Air Detectability Range
3.46 

km.
Battle Levels
Minsk — Soviet Tier VII destroyer.
This ship was developed as part of a series of Soviet destroyer flotilla leaders created under Project 38. She was built as a modified version of the destroyer leader Leningrad, retaining the same distinctive features like powerful artillery and a very high speed.


Modules
Compatible Upgrades
Player Opinion
Performance
Tier VII's Minsk is extremely similar to her premium sister Leningrad, but there are a key few differences.
Most notable are the torpedoes. Minsk's torpedoes only travel 4.0 km; however, the upgraded torpedoes travel at 65 knots and have 17,933 maximum damage, compared to the 60 knot, 15,100 damage torpedoes of Leningrad. Her main battery also has just over 0.6 km more firing range with the upgraded Fire Control System module, and after changes in Update 0.7.7, the turrets are 9.7 seconds faster to turn 180 degrees. Minsk also has less AA then Leningrad, though neither ship will shoot down very many enemy aircraft, anyways. Minsk's gun power is still formidable, and her torpedoes, while short ranged, pack a strong punch that must be respected around islands and in close-range combat.
Minsk stands apart from the ships in her tier — and those before and after her in her own tech tree — because of her blazing speed. A base speed of 43 knots places her in rarified company as one of the fastest ships in the game alongside Tier X's Khabarovsk. This speed is key to her defense and longevity, as many opposing captains will struggle mightily to land shells on Minsk at ranges past 11 or 12 km. The catch, of course, is that puts her right on the edge of her maximum gun range; however, if her commander invests skill points into Advanced Firing Training, her range pushes out to more than 14.6 km, giving her a comfortable window to harass enemy capital ships from while nimbly dodging the majority of return fire. Captains working up the Russian destroyer line are encouraged to learn how to execute this type of run-and-gun playstyle, as more of it lies ahead of them in the likes of Kiev, Tashkent, Udaloi, and the aforementioned Khabarovsk.
Minsk
isn't really stealthy enough to reliably capture control points, but she is a great backfield unit, supporting friendly destroyers while they contest cap circles and harassing enemy capital ships until they make a mistake that her teammates can exploit.
Pros:
Strong guns.
Ludicrous top speed. With Engine Boost () active and Sierra Mike mounted, Minsk can reach up to 48.7 knots!
Torpedoes good for close combat.
Cons:
Short range torpedoes.
Large detection radius.
Slow turret traverse cannot keep up with hard turns during maneuvers.
Research
Research either Hull (B) for better rudder shift and increased health pool, or research the Gun Fire Control System VI mod. 2 for better range; then pick up whichever of these two wasn't chosen. Then research the torpedoes, as they lead to the branched line of VMF destroyers that have access to the
Defensive AA Fire
(

) consumable in exchange for
Engine Boost
(

) consumable. Otherwise, skip the upgraded torpedoes and research
Kiev
.
Optimal Configuration
Upgrades
The recommended upgrades for Minsk are as follows:
Propulsion Modifications 1 and 2 help reduce the chance of Minsk losing her engine and are the best options for Slot 2 and Slot 4.
Players who have the rare Engine Boost Modification 1 (

) upgrade and equip the Sierra Mike (

) signal should consider replacing replace the Propulsion Modification 1 upgrade, as it extends the Engine Boost (

) consumable duration by 50%, allowing Minsk to maintain a max speed of 48.8 knots for three minutes.
Commander Skills
Key skills for Minsk commanders include Level 1's Preventative Maintenance, Level 2's Last Stand, Level 3's Survivability Expert, and Level 4's Advanced Firing Training. There are a variety of highly useful skills worthy of investing in after those first 10 skill points are spent, including: Priority Target for better information on how popular a target Minsk is to the enemy team; Expert Marksman to improve her turret rotation speed; Adrenaline Rush for the faster reload on her main battery as she takes damage; Basic Firing Training for a flat buff to her base rate of fire; and Inertia Fuse for HE Shells for maximizing the damage output of her main battery guns.
Recommended Commander Skills
Cost
(points)

Endurance

Attack

Support

Versatility



1

★★

★★★

 

Χ

Χ

Χ

 

Χ



2

★

★

★★

 

★

Χ

★★

★★★



3

 

★★★

 

Χ

★★

★

★★★

★★



4

 

 

★★★

Χ

★★★

 

★

★

Key: ★★★ - Extremely Useful      ★★ - Frequently Useful      ★ - Occasionally Useful     No stars - Meh     

Χ

- Not recommended
Consumables
Minsk can equip the following consumables:
Camouflage
Type 1, 2, or 5 camouflage can be equipped for credits; Types 2 or 5 are recommended at a minimum to reduce the accuracy of incoming shells.
Players who wish to spend doubloons can equip Minsk with Type 17 camouflage that lowers her detection radius, reduces the accuracy of incoming shells, reduces her repair costs, and increases the amount of experience she earns.
Signals
Sierra Mike (

) is strongly recommended in order to maximize Minsk's speed, while captains are encouraged to equip both Red Dragon (

) and Equal Speed Charlie London (

) in order to maximize experience gains in unlocking module upgrades and progressing up the line. India X-Ray (

) and Victor Lima (

) will help boost the fire chance out of her main battery shells and should also be flown, if available.
Recommended Signal Flags
Combat

 

 

★★

 

★★

 

★★

★★★

 

 

 

★

Economic

 

 

★★★

★★

 

Special

 

★★★

★★

 

 

 

 

 

Key: ★★★ - Extremely Useful       ★★ - Frequently Useful       ★ - Occasionally Useful      No stars - Not Useful
Gallery
References