V-25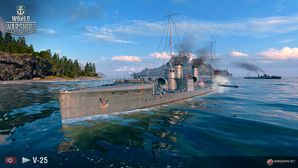 Tech Tree Position
88 mm L/45 Tbts LC/13
3 х 1 

pcs.
Rate of Fire
15 

shots/min.
Reload Time
4 

sec.
Rotation Speed
10 

deg./sec.
180 Degree Turn Time
18 

sec.
Firing Range
7.57 

km.
Maximum Dispersion
77 

m.
HE Shell
88 mm Spr.Gr. 
Maximum HE Shell Damage
1,000 
Chance of Fire on Target Caused by HE Shell
3 

%
Initial HE Shell Velocity
750 

m./s.
HE Shell Weight
9.5 

kg.
AP Shell
88 mm P.Spr.Gr. 
Maximum AP Shell Damage
1,800 
Initial AP Shell Velocity
750 

m./s.
AP Shell Weight
9.5 

kg.
500 mm Einzeln
2 х 1 / 2 х 2 

pcs.
Rate of Fire
1.58 

shots/min.
Reload Time
38 

sec.
Rotation Speed
25 

deg./sec.
180 Degree Turn Time
7.2 

sec.
Torpedo
G/6 
Maximum Damage
9,067 
Torpedo Speed
49 

knot
Torpedo Range
5.01 

km.
Maximum Speed
36 

knot
Turning Circle Radius
440 

m.
Rudder Shift Time
2.9 

sec.
Surface Detectability Range
5.4 

km.
Air Detectability Range
1.99 

km.
Battle Levels
V-25 — German Tier II destroyer.
This ship was designed for escorting the battle fleet and belonged to the most numerous series of destroyers in the German Navy. She boasted a very high speed for her time. Initially ships of this class carried weak artillery, but during World War I many were re-equipped with more powerful guns.


Modules
Compatible Upgrades
Player Opinion
Performance
As the smallest ship in the game and one of the fastest for her tier, V-25 is arguably one of the best destroyers for her tier. Having a powerful torpedo armament array, decent main batteries, great concealment, and is the fastest ship for her tier, she can easily sneak up to her enemies and annihilate them with ease. However, this powerful combination of attributes does not reflect the same potential of the later tier destroyers in the line, as noted with Z-52 having only decent torpedo armament and concealment relative to her tier of destroyers. Nonetheless, because of how powerful V-25 is for her tier, she can be considered the best introductory destroyer to new players wishing to play this ship type.
Pros:
Lowest detection of all ships in the game, with a base value of 5.4 km.
Very fast and very small, making her hard to hit.
Has single torpedo launchers that can almost fire forwards.
Can fire torpedoes from beyond detection range.
Guns have fastest rate of fire of all Tier II destroyers.
Fastest Tier II destroyer (36 knots).
Aforementioned forward-firing torpedoes allow V-25 to assault smoke screens with greater ease than other destroyers, given that she can charge in presenting a much smaller target.
Cons:
High shell arcs.
Weak armor might as well be non-existent.
Slowest torpedo reload of all Tier II destroyers.
Smallest health pool of all Tier II destroyers.
very low gun caliber
Research
V-25 has quite a number of upgraded modules to choose from. The best one for her to invest in first is likely the torpedo upgrade. Her torpedo arcs are incredibly generous, and provide the majority of her damage output. After that, pick up Hull (B) followed by the improved main battery. The Fire Control System module upgrade that boost her main battery range can be saved for last.
Optimal Configuration
Upgrades
The recommended upgrades for V-25 are as follows:
V-25 only has one upgrade slot; either Main Armaments Modification 1 (

) or Magazine Modification 1 are the recommended picks.
Commander Skills
Low-tier German DDs need skills that allow them to survive longer. Priority Target, Preventative Maintenance, High Alert, Last Stand, Vigilance, Survivability Expert, Concealment Expert, and Advanced Firing Training will all help in this regard.
Recommended Commander Skills
Cost
(points)

Endurance

Attack

Support

Versatility



1

★★★

★★★

★

Χ

Χ

Χ

★

Χ



2

★★★

★

★★

★★

★

Χ

★★

★★★



3

★

★★

★★

Χ

★★

★★

★★

★★★



4

 

 

 

Χ

★★★

 

★★

★★★

Key: ★★★ - Extremely Useful      ★★ - Frequently Useful      ★ - Occasionally Useful     No stars - Meh     

Χ

- Not recommended
Consumables
V-25 equips the following consumables:
Camouflage
Type 1, 2, or 5 camouflage can be equipped for credits; Types 1 or 5 are recommended at a minimum to reduce detectibility range.
Signals
Juliet Charlie (

), Sierra Mike (

), India X-Ray (

), Victor Lima (

), and November Foxtrot (

) signals are good signals to mount for this ship.
Recommended Signal Flags
Combat

 

 

★★★

 

★★★

 

★★

★★★

 

 

 

★★

Economic

 

 

★★★

★★

 

Special

 

★★

★★

 

 

 

 

 

Key: ★★★ - Extremely Useful       ★★ - Frequently Useful       ★ - Occasionally Useful      No stars - Not Useful
Gallery
References