Romulus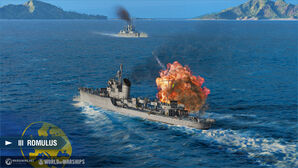 Tech Tree Position
100 mm/47 Model 1931 on an OTO 1932 mount
3 х 1 

pcs.
Rate of Fire
12 

shots/min.
Reload Time
5 

sec.
Rotation Speed
10 

deg./sec.
180 Degree Turn Time
18 

sec.
Firing Range
8.61 

km.
Maximum Dispersion
86 

m.
HE Shell
100 mm HE 
Maximum HE Shell Damage
1,450 
Chance of Fire on Target Caused by HE Shell
6 

%
Initial HE Shell Velocity
840 

m./s.
HE Shell Weight
13.8 

kg.
AP Shell
100 mm AP 
Maximum AP Shell Damage
1,650 
Initial AP Shell Velocity
840 

m./s.
AP Shell Weight
13.8 

kg.
450 mm Quadruple
1 х 4 / 1 х 2 

pcs.
Rate of Fire
1.5 

shots/min.
Reload Time
40 

sec.
Rotation Speed
25 

deg./sec.
180 Degree Turn Time
7.2 

sec.
Torpedo
Torped M1913 
Maximum Damage
4,200 
Torpedo Speed
55 

knot
Torpedo Range
8.01 

km.
20 mm/65 Breda Model 1935 on a Model 1935 mount
2 х 2 

pcs.
. . . Average Damage per Second
6.6 
. . . Firing Range
2.01 

km.
Maximum Speed
34 

knot
Turning Circle Radius
440 

m.
Rudder Shift Time
2.9 

sec.
Surface Detectability Range
5.96 

km.
Air Detectability Range
2.02 

km.
Battle Levels
Romulus — European Tier III destroyer.

A
Spica
-class destroyer built for the Italian Navy and transferred to Sweden in 1940. The ship was notable for her compact dimensions and the peculiar arrangement of her torpedo tubes.
Modules
Compatible Upgrades
Player Opinion
Performance
Warning. The data presented in the AA Defense sidebar section may be incorrect.
For a graphic summary of ships Tiers VIII thru XI see LittleWhiteMouse's "Actual AA DPS".
Romulus
is an improvement from
Tatra
, as it has one more main gun and two more torpedo tubes. The tubes have a rather odd arrangement - the first tube has two whereas the second has four, the only time when a Tier II destroyer has a quadruple launcher. That said, the torpedoes do not deal much damage to enemies, which is a trait of European destroyers. As with most destroyers at its tier, it has great speed and rudder shift times. When playing
Romulus
, it is important to know her weaknesses in a destroyer to avoid mistakes - these include her poor torpedo firing angles and slow turret rotation.
Pros:
Good reload speed (5 sec.)
Quad torpedo tube
Good speed and rudder shift time
Cons:
Hp on the lower side even when upgraded
Low armor
No smoke generator
Only one quad torpedo tube, and poor firing angles
Very low torpedo damage
Slow main gun rotation
Research
Available researchable modules for Romulus, in suggested order:
Main Battery: 120mm/45 Bofors M1924 has significantly faster reload and shell damage.
Hull: Upgrade to Hull (B) for more health. Research of this module unlocks progression to Tier IV Klas Horn.
Gun Fire Control System: Upgrade to SUO Mk 3 Mod. 2 for an extra 10% range on the main battery.
Optimal Configuration
Upgrades
Recommended upgrades:
Commander Skills
  Recommended Commander Skills  
Cost
(points)

Attack

Defense



1

 

 

 

 

 

★★



2

 

★★

★★

 

 

★★



3

 

★★

★★

 

 

 



4

 

★★

 

 

★★

 

Key: ★★★ - Extremely Useful      ★★ - Frequently Useful      ★ - Occasionally Useful     No stars - Not Useful
Consumables
Romulus equips the following consumables:
Signals
Note: Use of the Juliet Charlie signal makes detonation impossible.
Gallery
References
See here for links to Update notes.

Available for testing by supertesters in the game starting from Update 0.9.0.
Dec 5, 2019:

Preliminary characteristics.

Jan 10, 2020:

Main battery reload time decreased:

For stock guns from 6 to 5 s.
For upgraded guns from 6.5 to 5.5 s.

Detectability ranges decreased:

By ships from 6.94 to 6.14 km.
After firing main guns in smoke from 2.47 to 2.2 km.
By aircraft from 2.28 to 2.02 km.

Mar 6, 2020:

Parameters of researchable main battery guns changed:

Reload time increased from 5.5 to 6.5 s.
Maximum HE shell damage decreased from 1,700 to 1,600.
HE shell fire chance decreased from 8 to 7%.

Torpedo parameters changed:

Maximum damage decreased from 5,100 to 4,200.
Probability of causing flooding decreased from 79 to 63%.
Introduced in Update 0.9.3.
Update 0.9.4:

The incorrect naming of the AA guns was fixed.

Update 0.9.5:

Minor changes to geometry and textures.

Update 0.9.6:

Fixed geometry and textures.