Błyskawica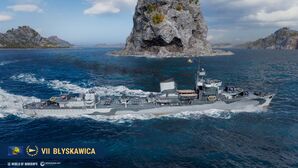 Tech Tree Position
120 mm/50 wz.36 Bofors on a shielded mount
3 х 2 / 1 х 1 

pcs.
Rate of Fire
10 

shots/min.
Reload Time
6 

sec.
Rotation Speed
10 

deg./sec.
180 Degree Turn Time
18 

sec.
Firing Range
12.01 

km.
Maximum Dispersion
105 

m.
HE Shell
120 mm HE 
Maximum HE Shell Damage
1,700 
Chance of Fire on Target Caused by HE Shell
8 

%
Initial HE Shell Velocity
900 

m./s.
HE Shell Weight
24 

kg.
AP Shell
120 mm AP 
Maximum AP Shell Damage
2,200 
Initial AP Shell Velocity
900 

m./s.
AP Shell Weight
24 

kg.
533 mm potrójna
2 х 3 

pcs.
Rate of Fire
0.86 

shots/min.
Reload Time
70 

sec.
Rotation Speed
25 

deg./sec.
180 Degree Turn Time
7.2 

sec.
Torpedo
533 mm Mk 10 
Maximum Damage
14,400 
Torpedo Speed
57 

knot
Torpedo Range
8.01 

km.
13.2 mm Hotchkiss wz.1930
4 х 2 

pcs.
. . . Average Damage per Second
14 
. . . Firing Range
1.2 

km.
40 mm/56 Bofors wz.1936
2 х 2 

pcs.
. . . Average Damage per Second
22.2 
. . . Firing Range
3.51 

km.
Maximum Speed
39 

knot
Turning Circle Radius
610 

m.
Rudder Shift Time
5.8 

sec.
Surface Detectability Range
7.51 

km.
Air Detectability Range
3.07 

km.
Battle Levels
Błyskawica — European premium Tier VII destroyer.

The most powerful destroyer of her time in Europe. The ship greatly surpassed rival navies' destroyers in terms of speed and artillery power. When commissioned, she had the most powerful AA defense among all destroyers in the world.
ORP
Błyskawica
is now preserved as a
military museum ship
in Gdynia, Poland.
Błyskawica
was first released for sale on 20 December 2015 for the EU server and 25 December 2015 for the NA server.
Modules
Compatible Upgrades
 Slot 1 
 Slot 2 
 Slot 3 
 Slot 4 
Player Opinion
Performance
Warning. The data presented in the AA Defense sidebar section may be incorrect.
For a graphic summary of ships Tiers VIII thru XI see LittleWhiteMouse's "Actual AA DPS".

Tier VII's Błyskawica is a stalwart ship that can fill the niche of a premium credit earner for aspiring destroyer captains. Sporting several 120mm guns in fast turning turrets and a reasonable set of torpedoes, she is effective whether fighting other destroyers at close range, performing stealth torpedo attacks on enemy capital ships, or harassing them with long-range fire.
Once her commander has the Level 4 skill Concealment Expert, Błyskawica's detection radius is low enough that she is capable of the ninja torpedo tactics that characterize the Japanese destroyer line. Her main battery is strong enough to do her well in gunnery engagements with opposing destroyers, especially if they are already down hit points from previous engagements. Błyskawica's commander can also pick up the Level 4 skill Advanced Firing Training to extend her main battery range significantly; her shells are comfortable to fire at such ranges — with similar shell performance to Soviet counterparts Minsk and Leningrad — but they will struggle to do consistent damage to larger targets. The best she can hope for against enemy battleships and heavy cruisers is to light fires for extra damage output.
As is typical of destroyers, her anti-aircraft suite is abysmal. While she packs a top speed in excess of most other same-tier rivals, Błyskawica's handling is a mixed bag; she has a good turning radius, but has the least-responsive rudder of all Tier VII destroyers. This particular flaw can be mitigated somewhat with the Steering Gears Modification 1
upgrade.
Whether played as a gunboat or a torpedo boat,
Błyskawica
is a very balanced ship that can dish out the damage and rake in the credits.
Pros:
Surprisingly potent guns; good chance of fire when using high explosive shells.
Long firing range at 12km.
Guns have acceptable turning and reload time, similar to Soviet destroyers.
Large health pool for a Tier VII destroyer.
Torpedoes have solid punch.
With signal Sierra Mike (), she can reach 41 knots.
Cons:
Below-average detection values for her tier.
Slow torpedoes with poor firing arcs.
Weak anti-aircraft armament; main guns are not dual-purpose.
Poor rudder shift time.
Large turning circle radius.
Torpedo range is within a few hundred meters of her base detection radius.
Research
As a premium ship, Błyskawica doesn't have any upgrades to research.
Optimal Configuration
Upgrades
The recommended upgrades for Błyskawica are as follows:
Commander Skills
Key skills for Błyskawica commanders include Level 4's Concealment Expert, Level 3's Survivability Expert, and Level 2's Last Stand. When up-tiered into Tier IX games, Błyskawica will need all the extra concealment she can get to avoid being focus-fired by the enemy team; Survivability Expert will provide additional health in case it happens anyway. Last Stand will keep her engines and rudder functioning even while under sustained fire. Skills with additional utility include Demolition Expert at Level 3, Adrenaline Rush and Expert Marksman at Level 2, and Advanced Firing Training at Level 4.
  Recommended Commander Skills  
Cost
(points)

Attack

Defense



1

★★

 

 

 

 

★★



2

★★

 

 

 

 

★★★



3

★★

 

★★

 

 

★★



4

★★

 

 

★★

★★★

 

Key: ★★★ - Extremely Useful      ★★ - Frequently Useful      ★ - Occasionally Useful     No stars - Not Useful
Consumables
Błyskawica equips the following consumables:
Camouflage
As a premium ship, Błyskawica comes with Default permanent camouflage and a set of permanent combat bonuses.
Signals
Błyskawica captains should equip Victor Lima (

) and India X-Ray (

) signals to maximize the fire chance of her main battery shells, as well as Sierra Mike (

) to maximize her ability to disengage when needed.
Note: Use of the Juliet Charlie signal makes detonation impossible.
Gallery
References
See here for links to Update notes.

Available for testing by supertesters in the game starting from Update 0.5.0.1.
First appeared on sale in December 2015.
Update 0.5.3.2:

Type 7 camouflage renamed to Type 10.

Returned to the premium store on March 18, 2016.
Update 0.5.6:

Added for sale for doubloons directly in the game client (previously only available in the premium store).

Update 0.5.7:

Fixed errors in the geometry and texture of the ship.
Improved the quality of the coat of arms.
Refined the hull armor model.

Update 0.5.10:

Fixed the display of the coat of arms, with which there were problems on some graphics settings.

Update 0.6.0:

Adjusted the appearance using a special technology for improved rendering of thin elements.

Update 0.6.12:

Detectability when firing main guns in smoke changed to 2.78 km.

Update 0.6.13:

Fire extinguishing time now 30 s instead of 60 s.

Update 0.6.15:

Added a 10% discount to the cost of post-battle maintenance bonus to the "Type 10" permanent camouflage.

Update 0.8.7:

Moved to the nation of Europe.

Update 0.8.9:

Main battery reload time reduced from 6.5 to 6 s.

Update 0.9.0:

Extended the horizontal firing angles of her main guns on both sides:

First turret: by 10 degrees.
Second turret: by 1 degree.
Fourth turret: by 15 degrees.

Extended the traverse angles of her torpedo tubes by:

8 degrees to the bow.
2 degrees to the stern.

Update 0.11.5:

Minor fixes to geometry and textures of the ship.

Update 0.11.8

Fixed textures for the Szarza camo.